U of T committee seeking student volunteers to help set direction of student mental health research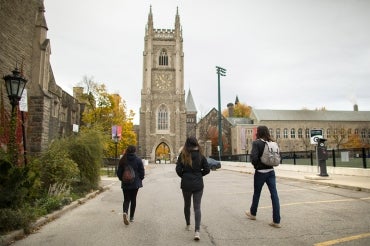 Experts from the University of Toronto and the Centre for Addiction and Mental Health (CAMH) are seeking U of T students' help to shape the direction of a multi-disciplinary and collaborative research initiative focused on student mental health.
Students from each of U of T's three campuses are invited to apply before Jan. 11 to be part of the Mental Health for Students & Youth Research Initiative Student Advisory Committee.
The student advisory committee should reflect the diversity of U of T's vast student body, including domestic and international students, undergraduate and graduate.
"The student advisory committee students are equal collaborators in this research initiative," says Kristin Cleverley, the steering committee chair and an assistant professor in the Lawrence S. Bloomberg Faculty of Nursing and Temerty Faculty of Medicine, as well as a senior scientist at CAMH.
"One of the most important expert groups is students because the research is with, for and about them."
The research project is one of the initiatives launched in response to the recommendations made by the Presidential & Provostial Task Force on Student Mental Health last year. The others include a review of campus-based mental health services; integrated care pathways between campus-based services and CAMH and other Toronto hospitals; and enhanced clinical education programs on student mental health for trainees.
Students on the mental health research advisory committee will have the opportunity to make their voices heard and collaborate with U of T and CAMH researchers on designing a "roadmap" for research initiatives.
Cheryl Regehr, U of T's vice-president and provost, says students will be essential partners in the research initiative and that their participation is crucial to the development of best evidence regarding approaches for addressing students' mental health needs now and into the future.
"The University of Toronto can lead the way in expanding what is known about student and youth mental health and how to best ameliorate distress," she says. "But we need students' participation to ensure researchers are asking the right questions and developing answers that will ultimately be useful for students and young people more broadly.
"Students are at the heart of everything we do at the university – and that's particularly the case with this critical research initiative."
The advisory committee will be made up of at least six students who are in good academic standing and have a track record of personal, academic, volunteer or professional expertise in student and youth mental health or research.
They will be charged with helping to define the formal vision of the research network and securing broad support from CAMH and across the three campuses. That includes assisting with activities of the Mental Health for Students & Youth Research Initiative Steering Committee and helping to develop a centralized model for ongoing student engagement in student mental health research that ensures diversity, accountability, sustainability and appropriate recognition.
Every U of T student can contribute based on their understanding of mental wellness, whether or not they have experience with mental illness, Cleverley says. Like youth mental health researchers at CAMH, the U of T committee's definition of mental health encompasses mental wellness, mental illness and substance misuse.
Students' participation will be essential to the research effort, according to Christine Allen, U of T's associate vice-president and vice-provost, strategic initiatives.
"While we have a tremendous breadth and depth of clinical and research expertise in mental health at U of T and CAMH, the involvement and input of students through the Student Advisory Committee and additional outreach efforts is critical to ensuring that knowledge is being leveraged in a way that meets students' needs," Allen says.
To help engage the U of T community, the committee will rely on Emma McCann, a U of T alumna and knowledge translation and engagement specialist in the Cleverley Lab, to act as a bridge between the researchers and students.
McCann describes her role in the Cleverley Lab as one that involves translating research – both the process and impact – to the people it affects to make it more understandable and relevant.
She says her goal for the student mental health research initiative is for students to have an equal say in its direction. In a blog post on U of T's Innovation Hub co-written with Cleverley, McCann outlines the purpose of the student mental health advisory committee and the wider research initiative.
"We're really looking to hear and let that community voice guide what we're building here to ensure that what we're building is going to be incredibly effective and quickly move into practice so that we have the best possible impact for our campus community," she says.
UTC