U of T collaborates with Naver, Wattpad on AI research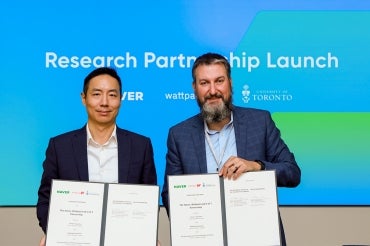 The University of Toronto will work with South Korean technology company Naver Corp. – and its Toronto-based subsidiary Wattpad – on artificial intelligence research aimed at harnessing technology to empower human creativity.
Guided by a partnership framework agreement, Naver will collaborate with U of T on four research projects spanning subject areas ranging from human-computer interaction to natural language processing. Two of the projects will be carried out in partnership with Wattpad, a digital storytelling platform that was founded by U of T alumni and acquired by Naver in early 2021.
The five-year research partnership – which would train dozens of master's, PhD and post-doctoral researchers – was recently announced following a visit by senior leaders from U of T's Office of the Vice-President, International to South Korea.
"The partnership with Naver and Wattpad is a landmark corporate partnership," said Alex Mihailidis, U of T's associate vice-president, international partnerships. "It allows us to pair the support of a Toronto-based business in Wattpad with the global ambitions of their corporate parent, Naver, all while combining two of U of T's greatest strengths in computing: artificial intelligence and human-computer interaction.
"This partnership is multi-disciplinary, multi-party and multi-year. It is a great testament to the power of comprehensive expertise – something that U of T is uniquely positioned to deliver."
The project will see Naver, one of the largest companies in South Korea and a global powerhouse in AI research and development, provide funding for research projects led by Anastasia Kuzminykh and Tony Tang of the Faculty of Information, and Daniel Wigdor, Fanny Chevalier, Frank Rudzicz and Gerald Penn of the department of computer science in the Faculty of Arts & Science.
The projects will address one of the biggest challenges in the field: how to establish an effective human-computer conversation architecture and realize the AI's power in writing and social reading technologies – all while ensuring that diversity and fairness are incorporated into AI text recommendations.
"AI is a powerful technology, but its true value is only realized when paired with world class human-computer interfaces," said Jung-Woo Ha, head of Naver AI Lab. "We are excited to be working with some of the foremost experts in these topics through the partnership with U of T."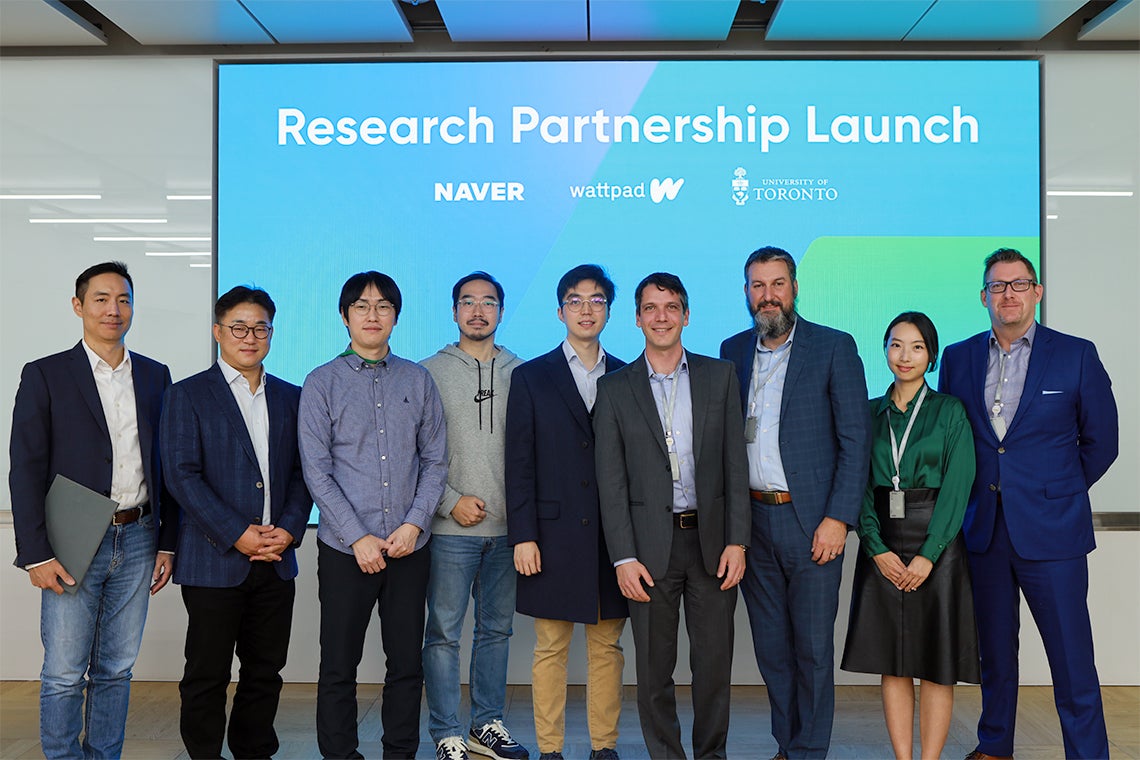 From left: Namsun Kim, Suk-geun Chung, Jung-woo Ha, Sang-doo Yun, Young-ho Kim, Illan Kramer, Alex Mihailidis, Catherine Lee and Trevor Novak (photo courtesy of Naver)
The announcement comes on the heels of South Korean President Yoon Suk-yeol's recent visit to U of T's St. George campus, where he met with U of T President Meric Gertler and discussed the growth and applications of AI with leaders and luminaries in the field, including University Professor Emeritus Geoffrey Hinton.
The event included presentations on avenues for AI research and collaborations by South Korean tech companies, including Naver.
Kuzminykh says her research with Naver will examine how human perceptions of – and interactions with – conversational "agents" (like chatbots and virtual assistants) are affected by various aspects of "conversational architecture," or the structure and flow of conversation.
"The lack of understanding of these effects, [which are] critical for informing the agent's speech synthesis, leads to shortcomings in the current human-agent interaction design," says Kuzminykh.
She noted current conversational user interfaces are dominated by transactional exchanges that convey information, rather than prolonged back-and-forth interactions. "If agents are truly to be communication partners to human users and to provide meaningful input, their operations should support extended conversations, augmenting transactional interactions with social ones used to establish and maintain social relationships," Kuzminykh says.
Rudzicz, meanwhile, said his project with Wattpad will focus on disentangling linguistic information in modern language models so that the syntactic, semantic and rhetorical aspects of texts within neural networks are better understood. 
"This will be applied to identify sources of bias in text and in the model, towards more fair machine learning," he says.
Headquartered in Seongnam, a satellite city of South Korea's capital Seoul, Naver boasts several companies and services including its eponymous search engine, the Line instant communications app, Naver Clova interactive AI engine and digital comics platform Webtoon.
In early 2021, Naver acquired Wattpad, founded by U of T alumni Allen Lau and Ivan Yuen, for $600 million US. At the time, Lau told U of T News that the opportunity to tap into Webtoon's digital comics audience was a key driver behind the acquisition, which he said would help take Wattpad "to the next level."
"We are very excited to partner closely with both U of T and Naver in developing research that will help us provide more innovative experiences to our users," said Brendan Cone, Wattpad's head of engineering. "Between Wattpad's content platform, with millions of stories from diverse voices around the world, Naver's impressive hyperscale AI technology, and U of T's comprehensive AI expertise, we hope to help our users find and create more of the content they love."
Patrycja Thompson, U of T's partnerships officer and lead on the Naver relationship, said the collaboration between U of T and Naver will provide significant training opportunities for graduate and postdoctoral students. 
"We hope that both Naver and Wattpad see this partnership as a launchpad to a long-term relationship with the university and will continue to leverage U of T innovations to further support their missions to empower human creativity."
UTC