U of T cities experts explore the legacy of Jane Jacobs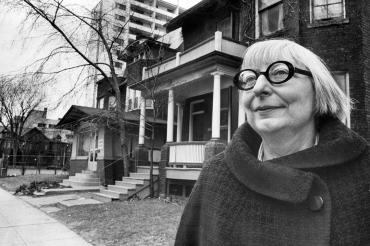 Jane Jacobs's contribution to city building is undeniable – the famed urbanist influenced generations of academics, city planners and activists. 
To help mark what would have been her 100th birthday, the University of Toronto brought together a panel of city experts. The Nov. 14 event was part of a larger series of events to commemorate Jacobs's legacy that have been taking place in New York City – where she lived much of her life – and Toronto – where she spent the last 37 years before her death in 2006. 
Here in Toronto, Jacobs was influential in halting construction of the Spadina Expressway in 1971 – a clash that pitted downtown dwellers against suburbanites. Her views on what makes a livable city have been adopted by city projects like the almost two-kilometre park set to be built under the Gardiner Expressway. 
"Jane Jacobs was an individual who stood out and stood up in support of people and places," said Shauna Brail, an associate professor-teaching stream and the director of the urban studies program at Innis College. "She stood for ideas like inclusivity and authenticity." 
The Faculty of Arts & Science's urban studies program organized a panel discussion called, "A Good City? Toronto Tensions," in partnership with the department of geography & planning, the Martin Prosperity Institute at the Rotman School of Management and the John H. Daniels Faculty of Architecture, Landscape, and Design. 
The event was moderated by Brail, who is also the urban affairs adviser to President Meric Gertler. 
Panelists included:
Richard Florida, director of the Martin Prosperity Institute and a professor at Rotman School of Management
Erica Allen-Kim, historian of modern architecture and urban design, and assistant professor at the Daniels Faculty of Architecture, Landscape and Design
Michael Piper, an architect and urban designer, and assistant professor at the Daniels Faculty of Architecture, Landscape and Design
Paul Hess, associate professor in the Faculty of Arts & Science's department of geography & planning
Patricia O'Campo, professor at the Dalla Lana School of Public Health.

Professor Richard Florida speaking at the event (photo by Romi Levine)
Jacobs, who moved to Toronto in 1968, stressed the importance of city centres and main streets to connect neighbourhoods, said Allen-Kim. 
"Jacobs sought to understand the underlying order of the city's ecology, the way that the most economically vital neighbourhoods were interdependent with other parts of the city, region, and even other countries," she said.
For Florida, Jacobs's impact is a lot more personal. 
"I got to know Jane pretty well before I moved to Toronto," he said. 
Jacobs told him that real power comes from urban centres.
"The reason economies grow is it comes from new work, new innovations, technological big things – those things don't come from companies. They come from people being together in cities," Florida said, recounting a conversation he had with Jacobs. 
Florida said Jacobs was always a decade ahead of her time. In her last book, Dark Age Ahead, she made some prescient observations about the world we live in today, Florida said, drawing comparisons to the recent U.S. election. 
"I think given these divides – not just in the United States – this divide in Toronto, one of the most progressive, diverse, socially cohesive cities on the planet, it begs us to at least open our minds and think about how we build great urban neighbourhoods for everyone," he said. "How do we build great suburban neighbourhoods? How do we not lecture at people that 'my view' or 'your view' is better?"
Jacobs was not without foes – often taking aim at planners and architects for favouring design over sociability. Today, however, some of her former adversaries are now her biggest fans, said Hess.
The ideas in her book Death and Life of Great American Cities have now become "planning orthodoxy," he said.
"It's really very interesting that a book written in 1961 as an attack on planning is actually an inspiration to planning students wanting to come in and change the world," Hess said.
One of the best ways to honour Jacobs is through the citizen-led city walks held globally in her name, he said.
"Jane's Walk… can be used as her real legacy in her call to pay attention to the daily lives of neighbourhoods and streets, and the people who live in them."
Although Jacobs did not address public health issues, the field could learn a lot from her, O'Campo said, emphasizing how important it is to "consider the needs, wants and desires of people and community residents." 
Jacobs's ideas were both critical and caring, which are hard qualities for city builders to balance today, Piper said.
"The challenge I believe is to find ways to design without having to replace, to embrace the contrarian ethos that seeks to understand the world as it exists yet still be able to critique aspects of our cities that, as professionals, we deem to be problematic," he said.