U of T cancels spring convocation ceremonies as Canada battles COVID-19 pandemic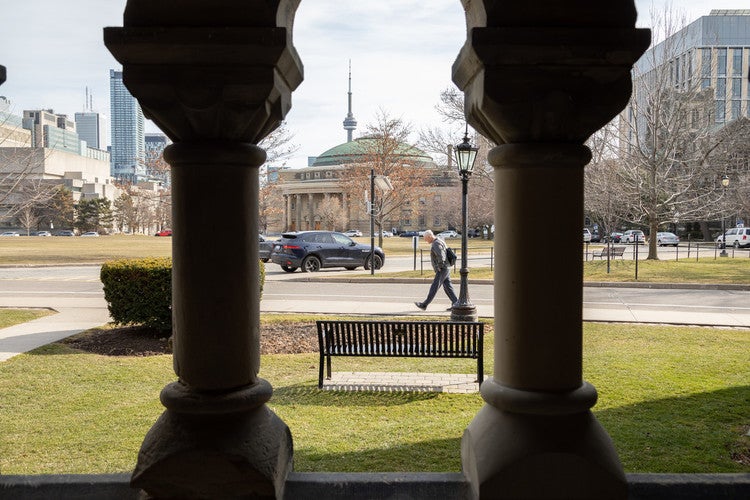 With the world in the grips of the COVID-19 pandemic, the University of Toronto has taken the difficult decision to cancel spring convocation ceremonies – an annual event that brings nearly 50,000 people to campus over the course of three weeks and 32 ceremonies.
U of T President Meric Gertler said Wednesday that the university decided to call off the graduation ceremonies amid ongoing public health directives that prohibit large gatherings that could further the spread of the dangerous new coronavirus.
"We appreciate that this decision will come as a huge disappointment to our graduating students, their families, friends, teachers and mentors," President Gertler said in a letter to the community.
"While many other universities have come to a similar decision, this does little to diminish our shared disappointment."
The current public health directives meant there was no safe way for U of T, among the largest public universities in North America, to proceed with spring convocation ceremonies, which last year involved 12,400 graduating students in attendance and 34,000 guests – many of whom travelled to Toronto from elsewhere in Canada and overseas.
"From the beginning of this crisis, we had hoped that [this] particular decision [to cancel convocation ceremonies] would not be necessary," Gertler wrote in his letter, emphasizing that the university is exploring alternative ways of celebrating the class of 2020.
The large size of the graduating class, the number of ceremonies involved and the limitations of Convocation Hall – both in terms of seating capacity and availability (it is used as a classroom throughout the year) – meant that simply postponing the event, in its traditional form, was not a viable option, particularly since there is no clear sense of when the measures aimed at containing COVID-19 will be relaxed. Nevertheless, the university is actively considering a variety of creative ways to mark this key milestone for this year's graduating class at some point in the future.
The move to cancel spring convocation ceremonies follows U of T's decision on March 13, also based on the advice of health officials, to cancel in-person classes on all three campuses in favour of other means of instruction.
Like U of T, universities around the world have had to adjust their plans for graduation ceremonies in response to the public health threat posed by COVID-19 and authorities' warnings to avoid large, non-essential gatherings. McGill University, Dalhousie University and the University of Michigan are but three examples of institutions across North America that have taken similar steps to cancel ceremonies because of COVID-19.
In Canada, the federal and provincial governments have ramped up measures in recent days to mitigate the spread of the global pandemic. On Monday, the Ontario government closed all non-essential businesses for at least two weeks. On Wednesday, Health Minister Patty Hajdu announced that all travellers returning to Canada must undergo 14 days of mandatory self-isolation.
Such social distancing efforts are crucial to limit the spread of the illness and avoid a deluge of COVID-19 patients that will overwhelm hospitals, according to infectious disease experts and the World Health Organization. They, in turn, could save doctors from being forced to choose which patients receive potentially life-saving treatments.
"We have consistently relied on the guidance from public health authorities as we have navigated our way through the pandemic," President Gertler said in his letter. "Unfortunately, the latest guidance indicates that the need for physical distancing to limit or slow the spread of the virus will continue for some time."
President Gertler later added that the entire U of T community – including students, staff and faculty – are making a shared sacrifice as the university joins other organizations in Canada, big and small, that have shuttered all but essential services.
"We understand the disruption this has caused to the lives of our community members, but U of T remains committed to doing its part to stem the spread of this potentially deadly virus," he said.
U of T's office of convocation has published a frequently asked questions page, and students unsure about their graduation status are encouraged to contact their registrar's office. Parchments, the legal document embossed with the university seal and the graduate's name and degree, will be mailed after the degrees have been conferred. Students are asked to update their permanent mailing address in ACORN so that they can be sure to receive their parchments.
Due to the large volume of recipients, some students may have found out about the university's convocation decision on social media before they received a message directly from U of T. Going forward, the university remains committed to keeping students apprised of its actions in as timely a manner as possible during the COVID-19 crisis through its various communication channels.
In his letter, President Gertler praised the resolve of U of T students for finishing their courses under extraordinarily difficult circumstances.
"Convocation is an occasion to look back with pride and to look forward with hope," he said. "Even though we cannot gather in person, we remain tremendously proud of the Class of 2T0. And from what I have seen and heard of your leadership in this most difficult time, we have all the more reason to hope – both for your own success in the years to come, and for the future of our society."
UTC