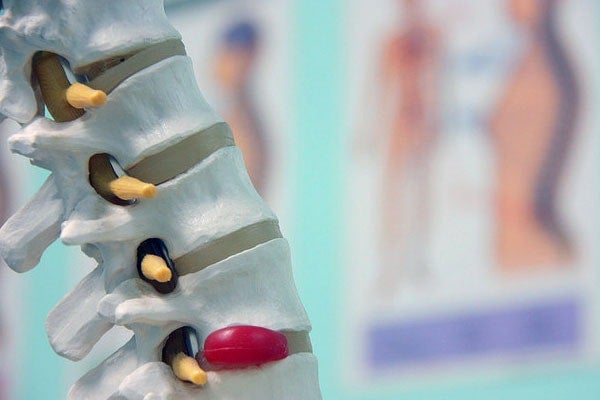 U of T, Canadian Memorial Chiropractic College to work together
"We're delighted to partner with an organization committed to improving health with an evidence-based approach," says Faculty of Medicine dean
The Canadian Memorial Chiropractic College (CMCC) has signed an official Memorandum of Understanding to explore education and research collaborations with the University of Toronto, through the Faculty of Medicine, Leslie Dan Faculty of Pharmacy and the Faculty of Kinesiology and Physical Education. 
"This collaboration shows our commitment to expanding research and educational opportunities across the health care spectrum," said Professor Catharine Whiteside, U of T's dean of medicine and vice-provost, relations with healthcare institutions. "We're delighted to partner with an organization committed to improving health with an evidence-based approach."
The memorandum, a first between the two institutions, provides the opportunity for cooperation in areas of research and education, Whiteside said. For example, the memorandum could lead to: joint applications for funding; joint educational courses; graduate and undergraduate student mobility; exchange of faculty and participation in, and co-hosting of lectures, meetings, seminars, symposia and conferences.  
"We are delighted to have reached this historic moment between our two institutions," said CMCC President Dr. David J. Wickes. "CMCC is deeply committed to developing meaningful partnerships with health care professionals and educators of all disciplines to study ways and models to improve the care and ultimately the health of our patients. We look forward to developing many collaborative activities with our colleagues at the University of Toronto."
Representatives from CMCC and the three U of T faculties described the memorandum as an important step forward in advancing research initiatives. 
"This agreement formalizes research collaborations which have been ongoing between the two institutions for many years," said Professor Heather Boon, dean of U of T's Leslie Dan Faculty of Pharmacy. "We look forward to continuing to collaborate on studies that answer important health system and patient care questions."
Professor Ira Jacobs, dean of U of T's Faculty of Kinesiology and Physical Education, said the Faculty was looking forward to expanding its collaborative health science education and research network to include CMCC, adding "our scientists are already engaged in some research collaborations with CMCC colleagues and many of our students use their undergraduate kinesiology degrees as a foundation for subsequent studies in a variety of health disciplines, including chiropractic." 
Dr. Silvano Mior, the CMCC research scientist who spearheaded the partnership, is a proponent of collaboration between academic institutions and between chiropractors and physicians in the community primary health care setting. 
"We have worked collaboratively with a number of U of T faculty in areas of research and education," Mior said. "This agreement is an acknowledgement of the quality of that work and provides a wonderful opportunity to expand into new areas of mutual benefit."