U of T breaks ground on state-of-the-art building for training health professionals in Scarborough
A dynamic new facility will house the vital Scarborough Academy of Medicine and Integrated Health – and help meet an urgent need for health professionals in the Eastern GTA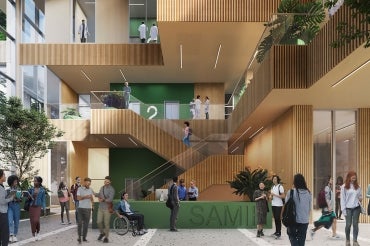 The University of Toronto has made history, breaking ground on a building that will house a much-needed new medical academy.
The first of its kind in Scarborough, the Scarborough Academy of Medicine and Integrated Health (SAMIH) will train physicians, nurse practitioners and other health-care professionals right in the region – to serve the region.
A recent $25-million gift from Orlando Corporation will support the construction of the building. SAMIH itself has received funding as part of the Government of Ontario's plan to increase the number of health-care workers in the province.
"We are so grateful for the gift from the Orlando Corporation and the investment by the Ford Government, which have led us to this exciting day," said U of T President Meric Gertler. "This state-of-the-art building will enable U of T to cultivate a bold new generation of health leaders who reflect the communities they serve."
"We expect that the Scarborough Academy of Medicine and Integrated Health will attract many local students from Scarborough and the Eastern GTA," said Wisdom Tettey, U of T vice-president and principal of U of T Scarborough. "These talented individuals will play an important role in meeting the health-care needs of under-served communities and helping to advance health equity."
The purpose-built, five-storey building will occupy 144, 482 square feet and sit at the corner of Military Trail and Morningside Avenue – a prominent gateway to U of T Scarborough, directly across from the Toronto Pan Am Sports Centre.
"This vibrant new hub for health education in Scarborough is critical to increasing access to health care," said Patricia Houston, interim dean of the Temerty Faculty of Medicine and interim vice-provost, relations with health-care institutions. "It will help provide equitable, integrated and compassionate care in the Eastern GTA – and, ultimately, it will help improve lives across the region."
To support the vision for this new academy, the Temerty Faculty of Medicine and U of T's Lawrence S. Bloomberg Faculty of Nursing will expand their training to U of T Scarborough. Building on the university's history of educating tens of thousands of health professionals – a legacy that extends back over a century – SAMIH will graduate approximately 40 physicians, approximately 60 physician assistants, 30 nurse practitioners and 40 physical therapists per year. More than 300 new health sciences students will join U of T Scarborough's campus, further strengthening SAMIH as a key hub for health education in the Eastern GTA. The newly revamped health sciences undergraduate program offers unique placement opportunities and paid co-ops, enabling students to learn in a close-knit campus setting.
This new generation of health-care professionals will help fill a serious gap, with the Ontario Ministry of Health and Long-Term Care having identified Scarborough as an area in high need of physicians. The shortage includes family doctors, as well as other specialists such as child and adult psychiatrists, geriatricians, nurse practitioners and emergency medical physicians.
"Our government is proud to support this historic medical school expansion," said Premier Doug Ford. "The Scarborough Academy of Medicine and Integrated Health will build on the investments we're making to help ensure Scarborough and the Durham Region have the health care workers they need now and into the future."
The impact on the region will be significant. Projected to open in September 2026, the building will include a clinical psychology clinic; a pharmacy clinic (Discovery Pharmacy) led by faculty and students from U of T's Leslie Dan Faculty of Pharmacy; and clinical settings in which nurse practitioner students, under supervision, can provide direct care to the community. The building will also feature an anatomy lab for medical students, two large technology-enhanced active learning (TEAL) classrooms, a 21-bed clinical skills lab and 10 case-based learning instructional labs.
"A dynamic learning space can make all the difference in education – especially when attracting the best and brightest students," said Anna Kennedy, chair of U of T's Governing Council. "This building is an example of one such space. We anticipate that many of the students who will fill its hallways will go on to become some of the region's top health-care professionals."
Construction began on the site in early fall 2023, with a ground blessing conducted by U of T Scarborough's Office of Indigenous Initiatives in October. Excavation is anticipated to start in January 2024. The project team includes the construction services company EllisDon and the architecture firms Diamond Schmitt and MVRDV.
The Scarborough Academy of Medicine and Integrated Health will strengthen connections across numerous hospitals and networks. Its partners will include the Scarborough Health Network, Michael Garron Hospital, Lakeridge Health and Ontario Shores Centre for Mental Health Sciences. U of T will build upon existing relationships with local community partners to develop new research and teaching opportunities.
This dynamic hub will bring U of T's nurse practitioner program to the region. The program is highly sought after for its approach to providing personalized, holistic and high-quality health care to clients and patients across their lifespans.
"This incredible building will help foster a vital pipeline for nurse practitioners," said Linda Johnston, dean of the Lawrence S. Bloomberg Faculty of Nursing. "Nurse practitioners play a critical role in the health of communities, and future graduates of the Scarborough Academy of Medicine and Integrated Health have the potential to make a huge difference in the lives of people in Scarborough and the Eastern GTA."
Similarly, the Discovery Pharmacy at SAMIH will provide pharmacy services and interprofessional experiential learning opportunities for students in the Doctor of Pharmacy program. It will also help enhance connections with practising pharmacists in health networks in the surrounding area.
"As the scope of practice for pharmacists in Ontario continues to expand, finding new ways to collaborate across health professions is central to redefining health education and how we deliver health care" said Lisa Dolovich, dean of Leslie Dan Faculty of Pharmacy.  
The new building is poised to bring enormous benefits to the region. In addition to enabling the Scarborough Academy of Medicine and Integrated Health to meet the health-care professional shortage by creating a pool of talented graduates, the new facility will help drive innovation and economic growth.
"The Orlando Corporation's benefaction stands as a model for visionary philanthropy," said David Palmer, U of T's vice-president of advancement. "It's a beacon of extraordinary generosity with the potential to inspire other transformative investments in Scarborough and the Eastern GTA."
Advancement