U of T artificial intelligence startups make big splash at Elevate tech fest
The Elevate 2019 technology festival underway in Toronto held a day-long program dedicated to AI on Wednesday, with University of Toronto startups stirring up excitement with announcements about key project milestones.
The third day of Canada's largest technology festival saw Brendan Frey, CEO of Deep Genomics, reveal that the company's cutting-edge AI drug discovery platform has identified a genetic mutation linked to Wilson disease, a rare and potentially life-threatening genetic disorder, and honed in on a molecule that holds treatment potential, Betakit reported.
"We are delighted to nominate the first ever AI-discovered therapeutic candidate and are eager to move it rapidly into the clinic for the potential benefit of patients," said Frey, a professor in U of T's Faculty of Applied Science & Engineering with cross appointments in the department of computer science in the Faculty of Arts & Science and the Donnelly Centre for Cellular and Biomolecular Research, in a press release.
Betakit also reported that AI-powered customer analytics platform ODAIA, whose co-founders include Assistant Professor Periklis Andritsos of the Faculty of Information and Adjunct Professor Helen Kontozopoulos (also a co-founder of the Department of Computer Science Innovation Lab, or DCSIL) used the event to announce it has raised $1.6 million in seed funding.
Enthusiasm surrounding U of T's startup ecosystem also extends to students, Keri Damen, managing director of U of T Entrepreneurship, told Global News. 
"There's a huge appetite coming from the students themselves that they want to work for new companies, startups and scale-ups, especially in the social innovation and social entrepreneurship space," Damen said.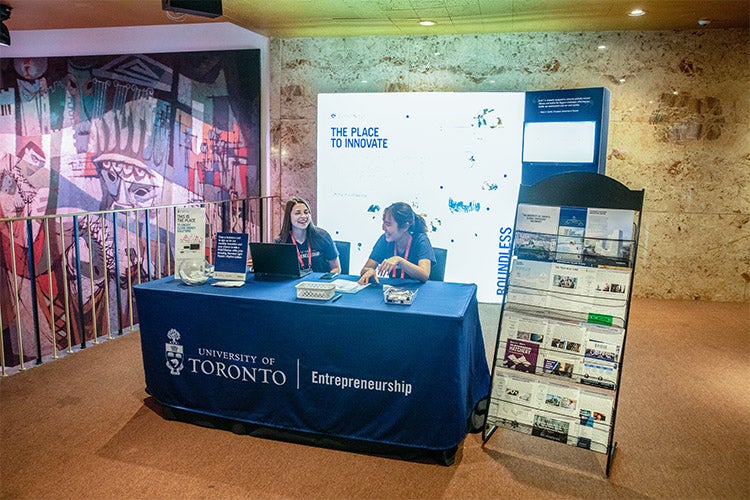 The U of T Entrepreneuship booth at the Elevate tech festival (photo courtesy of the Elevate Tech Festival)
UTC