U of T announces members of task force on student mental health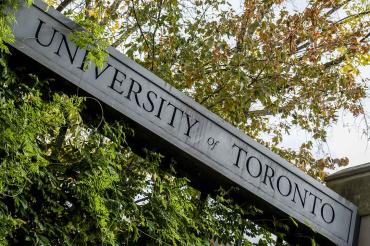 The University of Toronto's Presidential and Provostial Task Force on Student Mental Health has announced the members of its 10-person group – many of them students.
The task force, chaired by Faculty of Medicine Dean Trevor Young, also includes three faculty members and three administrative staff. Task force members were chosen from among hundreds of nominees based on their demonstrated interest in mental health issues as volunteers, researchers or professionals, and to ensure broad representation of U of T's diverse community.
The task force members have expertise in mental health service delivery through professional and volunteer experience.  Some also report personal experiences in managing mental health challenges.
"The members of the Provostial and Presidential Task Force on Student Mental Health will harness the feedback and expertise of the students – along with the knowledge of faculty and staff – to chart a way forward. Our goal is to improve and expand our support system for U of T community members dealing with mental health challenges," said President Meric Gertler.
Part of a four-point action plan announced in April, the task force is charged with reviewing the university's mental health supports and making recommendations for improvement. Its findings are scheduled to be submitted to President Gertler and Vice-President and Provost Cheryl Regehr in December.
In order to engage and hear from all parts of the U of T community, there will be open sessions with undergraduate and graduate students across the three campuses in addition to direct meetings with student leaders, societies and other interested members of the university community.
The first phase of outreach and engagement will begin in July via an online form and in-person meetings. The process will continue into the fall semester so that students who are away for the summer can participate.
There also will be "consultations on the outreach and engagement plan" as the university seeks feedback on its Draft Outreach and Engagement Plan. Questions can be submitted online by June 21.
"Mental health distress is a pressing issue in our society and on our campuses.  Members of our community are passionate about sharing their wisdom, experiences, and suggestions to create conditions to support optimal mental health." said Regehr.
"We encourage students to take part in the consultations as we come together to explore how we can improve mental health services, build partnerships within and beyond the university and create an environment where students are empowered to share their struggles and get the support they need to thrive."
Jayson Jeyakanthan, a fourth-year criminology student at U of T Mississauga and one of two undergraduate students on the task force, has had plenty of first-hand exposure to mental health struggles on campus. As a volunteer first responder with the Erindale College Special Response Team – a division of St. John Ambulance located at U of T Mississauga – Jeyakanthan has often had to come to the aid of emotionally distressed students.
"One of my first calls was a student suffering an anxiety attack. That was the first exposure I had to a mental health emergency on campus," he said.
As he continued his training and acquired more experience as a first responder, Jeyakanthan said he found himself exposed to a variety of situations that "really opened my eyes to issues in mental health."
Jeyakanthan said he's particularly interested in finding ways to improve access to mental health services for students from lower-income backgrounds. "That's something that interests me because personally… it's hard to afford school for myself – I'm working two jobs right now so I'd be interested to see how financial barriers to access affect other students," he said.
As part of the university's commitment to outreach and engagement – particularly student participation – the task force will be supported by two outreach and engagement co-leads: Bonnie Kirsh, a professor in the department of occupational science and occupational therapy; and Caroline Rabbat, the director of critical incidents, safety and health awareness.
The idea behind the task force's consultation phase is to compile as much data and feedback from students as possible – a goal Corey McAuliffe, a PhD candidate in social and behavioural sciences at the Dalla Lana School of Public Health and another task force member, says will be vital to the initiative's success.
"Students are the ones going through this," McAuliffe said. "They're the ones who are going to have the best understanding of what that feels like, what has worked for them, what hasn't worked, what feels supportive, what doesn't feel supportive.
"I think we have really bright, creative, forward-thinking and innovative students out there who have had these experiences and who have ways to be able to contribute and suggest ways to better support the well-being and health of all students."
One of those students is task-force member Aurora Nowicki, an undergraduate student in the Faculty of Applied Science & Engineering who acknowledges dealing with mental health challenges herself, and wants to help other students who don't know where to turn.
"I thought I was the only one [dealing with mental health issues] – which seems silly now in retrospect because it's very common – but that's the thing, you think you're alone but then you start talking to other people and you realize how pervasive it is," she said.
Nowicki says her struggles forced her to navigate her second year as a part-time student.
"I want to be able to bring my perspective as someone who has experienced a lot of challenges that have held me back from being a full-time student – and then becoming full-time and dealing with those pressures and being in a demanding program."
It's a perspective that resonates with Egag Egag, a graduate student at the Factor-Inwentash Faculty of Social Work and the fourth student on the task force.
"The stigmatizing views about mental health that I internalized throughout my life, among other factors, prevented me from seeking out support on campus until the last few weeks of my undergraduate studies," said Egag, who is currently doing a practicum working with youth with addiction and other mental health issues, and has previously worked at the Centre for Addiction and Mental Health (CAMH).
Egag said he wants to bring the perspective of someone who has been both a "consumer and provider" of mental health-care services.
"As a consumer, I can relate to the urgency of relief that many students experience when seeking out support, and I am also aware of the various access barriers students might have to endure. This informs my understanding of the importance of mental health services being able to acknowledge the variation in presenting concerns of all students, and to adapt as their concerns evolve over time."
The task force – the first element of President Gertler's four-point action plan on student mental health – comes amid a growth in the demand for mental health services at universities.
In his letter announcing the action plan, President Gertler noted that U of T last year provided more than 31,300 mental health counselling appointments across its three campuses, an increase of nearly 30 per cent from 2013-14.
A recent survey also found that 46 per cent of post-secondary students in Ontario reported feeling so depressed in the previous year that it was difficult for them to function, 65 per cent reported experiencing overwhelming anxiety and 2.2 per cent reported attempting suicide.
One in five Canadians experience a mental health issue in their lifetime, with people aged less than 25 especially vulnerable, according to CAMH.
---
Here is the complete list of task force members, as well as the task force's chair and senior assessors:
Chair
Trevor Young, Vice-Provost, Relations with Health Care Institutions and Dean of the Faculty of Medicine
Students
Jayson Jeyakanthan, University of Toronto Mississauga
Aurora Nowicki, Faculty of Applied Science & Engineering
Egag Egag, Factor-Inwentash Faculty of Social Work
Corey McAuliffe, Dalla Lana School of Public Health
Faculty
Chloe Hamza, assistant professor, department of applied psychology and human development, Ontario Institute for Studies in Education
William Ju, associate professor, teaching stream, human biology program, Faculty of Arts & Science
Ruth Ross, chair and professor, department of pharmacology and toxicology, Faculty of Medicine
Administrative Staff
Elsie Obeng-Kingsley, student welfare case coordinator, University of Toronto Scarborough
Melinda Scott, dean of students, University College, University of Toronto
Sherry Yuan Hunter, associate registrar, University of Toronto Mississauga
Senior Assessors
Joshua Barker, vice-provost, graduate research & education and dean of the School of Graduate Studies
Sandy Welsh, vice-provost, students
---
Feeling distressed? Find someone to talk to right now – and if there is an immediate risk, call 911.
The following are some of the mental health services available to students on all three campuses:
Downtown Toronto: Health and Wellness Centre (416-978-8030), located at Koffler Student Services
U of T Scarborough: Health & Wellness Centre 416-287-7065 
U of T Mississauga: Health & Counselling Centre 905-828-5255
Round-the-clock support
Free 24/7 support is available outside the university. Students, staff and faculty can speak to a trained crisis worker at any hour of the day.
Good 2 Talk Student Helpline 1-866-925-5454. Professional counselling, information and referrals for mental health, addictions and well-being.
Gerstein Crisis Centre 416-929-5200 
Distress Centres of Greater Toronto 416-408-HELP (4357)
The Centre for Addiction and Mental Health at 250 College Street
Anishnawbe Health Toronto Mental Health Crisis Line 416-360-0486
My SSP for U of T Students 1-844-451-9700. Immediate counselling support is available in 35 languages and ongoing support in 146 languages.
Appointed faculty and staff have access to the Employee & Family Assistance Program (EFAP), offered through Homewood Health, online and by phone at 1-800-663-1142.
UTC