U of T and Max Planck Society establish centre to study neural science and technology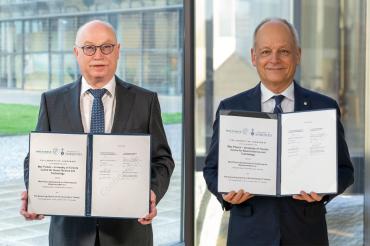 The University of Toronto has joined forces with Germany's Max Planck Society, one of the world's foremost scientific institutions, to establish a centre for the study of neural science and technology.
Hosted by both institutions, the Max Planck-University of Toronto Centre for Neural Science & Technology aims to develop and deploy advanced technologies to study brain circuits for the improvement of human health, while charting new territory in computing.
There are plans to train more than 25 doctoral students over the next five years.
"Max Planck and U of T are ideally suited to form a close collaboration," said U of T President Meric Gertler during a virtual launch event this week.
"This is especially true when we consider our combined talent in brain function and health."
The virtual event was attended by Martin Stratmann, president of the Max Planck Society, Stéphane Dion, Canada's ambassador to Germany and special envoy to the European Union and Europe, and Dion's diplomatic counterpart, Sabine Sparwasser, Germany's ambassador to Canada.
Ted Sargent, U of T's vice-president, research and innovation, and strategic initiatives, told attendees the collaboration would give PhD students access to resources and expertise not only at U of T and the Max Planck network, but also at the University Health Network (UHN), the Hospital for Sick Children and the Centre for Addiction and Mental Health.
"It's a partnership that's going to drive not only cutting-edge research, but also innovative education and research translation in neuroscience and technology," he said.
(Clockwise from top left) U of T President Meric Gertler, Max Planck Society President Martin Stratmann, German Amassador Sabine Sparwasser and Stéphane Dion, Canada's ambassador to Germany and special envoy to the European Union and Europe.
The new centre will divide its research focus into four main streams: micro/nanotechnology for neural interfaces and sensors; understanding the neural basis of memory and behaviour; human neurons, microcircuits and cellular/molecular neurobiology; and neuroscience-inspired artificial intelligence and computing.
The plan calls for PhD students to spend their first year in Toronto and up to three years with a Max Planck partner institute before graduating with a U of T degree. Frequent exchange between the two institutions will take place throughout the students' studies.
Stratmann, who joined the virtual inauguration from Munich, said Max Planck's academic partners represent a "who's who in science."
"This new centre is special, I have to say, because it is truly interdisciplinary," Stratmann said, citing Toronto's expertise in neuroscience, neurosurgery and artificial intelligence.
"The Vector Institute [for Artificial Intelligence], for example, is highly regarded in Europe – even reaching attention on the federal political level.
"I have talked many times with (Chancellor) Angela Merkel about the Vector Institute."
Dion and Sparwasser saluted the new partnership, which was inaugurated two days before the 50th anniversary of an agreement solidifying German-Canadian scientific and technological co-operation.
"What we see today is a match made in heaven," said Sparwassser, noting U of T's prowess in brain science, computing and other fields, and Max Planck's history of success, including 20 Nobel laureates.
Joyce Poon, director of the Max Planck Institute for Microstructure Physics in Halle, Germany, worked with Taufik Valiante, an associate professor in U of T's department of surgery in the Temerty Faculty of Medicine and scientist at the Krembil Brain Institute in the University Health Network, to make the Max Planck-U of T Centre a reality.
"It is another major pillar of the growing neurotechnology 'ecosystem' here at the University of Toronto and participating TAHSN [Toronto Academic Health Science Network] hospitals," Valiante said.
"It is also exemplary of the much-needed cross-disciplinary work that needs to be done to advance brain science."
Researchers such as Poon, who specializes in integrated photonic devices and circuits for communications and neurotechnology, bring an engineering background that complements experts such as Valiante, a neurosurgeon and scientist who has researched memory, epilepsy and the biophysical properties of neurons, among other topics.
Valiante said the new Max Planck-U of T Centre's creation comes at a key time.
"There is a great sense of societal urgency given an aging population and the fact that neurological conditions have a greater societal burden than heart disease and cancer combined," he said.
Illan Kramer, U of T's director of international research partnerships, said interdisciplinary and global collaboration with a world-class institution such as the Max Planck Society will allow local researchers to see complex scientific questions in a new light.
"You really can see the problem from a 360-degree perspective when you look at it in through an interdisciplinary and international lens," he said.
Moreover, the agreement creates new opportunities for U of T graduate students to work with top researchers in their fields, giving the university a competitive edge in recruiting promising students.
"It winds up being an excellent net benefit from a variety of perspectives," Kramer said.
"Not only does it help experts do better research, but we get to attract the absolute highest calibre researchers."
UTC