U of T and Hebrew University of Jerusalem launch research and innovation partnership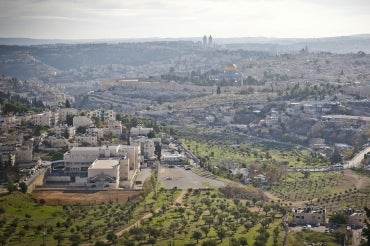 How did environmental conditions and climate change influence early human evolution? Can protein engineering be harnessed to block the virus that causes COVID-19?  How do quantum mechanics affect biological functions, and how do our memory and learning work on a cellular level in the brain?
These are some of the big questions that will be explored by researchers at the University of Toronto and the Hebrew University of Jerusalem (HUJI) as part of a new strategic partnership that will allow faculty and students from the two institutions to combine resources to carry out high-impact research.
Each year, the University of Toronto – Hebrew University of Jerusalem Research and Innovation Alliance will select projects to receive funding of $150,000 a year for up to four years, with each research group comprising faculty drawn from both universities and covering a range of disciplines. The alliance will also occasionally provide one-time seed funding to help get promising projects off the ground.
Initially launched with endowed funding of $5.9 million from the Canadian Friends of Hebrew University and the family of Roz and Ralph Halbert, the alliance aims to raise another $14 million and eventually construct an innovation pipeline between U of T and HUJI to connect the entrepreneurship ecosystems in Toronto and Jerusalem and provide student entrepreneurs with exposure to each other's universities and markets.
"[HUJI's] mandate with respect to research is very closely aligned to U of T's in terms of leading the world in a variety of areas, and that's always the kind of partner we're looking for," said Alex Mihailidis, U of T's associate vice-president of international partnerships and a professor in the Faculty of Medicine's department of occupational science and occupational therapy, as well as the Institute of Biomaterials and Biomedical Engineering.
"We both recognize that international collaborations strengthen the research within each university, and that's why we're excited to partner with them."
He added that the timing of the partnership speaks to U of T's commitment to forge ahead with research partnerships despite the challenges of working and collaborating amid the pandemic.
"From an international partnerships perspective, it's business as usual," said Mihailidis, who is also cross-appointed to the department of computer science in the Faculty of Arts & Science. "We've not shut anything down and we've not stopped collaborations. We're going full-speed ahead – it's looking a bit different, but we are still moving ahead both with existing and new partners."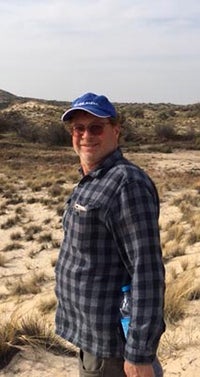 The funding will enable Professor Michael Chazan of U of T's department of anthropology in the Faculty of Arts & Science to work closely with geologist Ari Matmon at HUJI's Institute of Earth Sciences to build a more comprehensive picture of how climate affected the evolution of early humans in the Kalahari Basin. The basin covers more than 2.5 million square kilometres across South Africa, Botswana and Namibia.
Both researchers developed an interest in the Kalahari – Chazan as an archeologist analyzing early evidence of human activity and Matmon as a geologist carrying out dating techniques to study the evolution of the landscape – and they're now looking to combine their perspectives.
"The next phase of work with this funding is to expand Ari's geological work, particularly looking for evidence of wet environments, so we can try and understand when there was a shift to modern arid conditions," said Chazan. "At the same time, I'll be working in the town of Kathu in South Africa, which is a major mining area today, and we're looking at some very large sites and trying to understand what the conditions were when this place supported large groups of people.
"So it's a really new area of study that combines geological perspectives on how the landscape and hydrology evolved with an archeological perspective which is asking – in more narrowly focused locations – what the human behaviour was and what was drawing people to these sites."
Oron Shagrir, vice-president for international affairs at HUJI, said the partnership brings together "the two leading universities in Israel and Canada," and that the call for research proposals resulted in several exciting submissions.
"In these challenging and unprecedented times for societies and universities alike, international partnerships are an invaluable source of support and inspiration," said Shagrir, a professor of philosophy and cognitive science. "They are not only an important asset and tool in advancing universities on all levels, but also serve as a valuable platform to promote and support collaborative research projects."
Chazan points to his project as an example of how the two universities can combine their respective strengths.
"At U of T, we're strong in terms of field archeology and geophysics," he said. "Hebrew University is particularly strong in looking at the evolution of landforms over the period of the last two to five million years ... [and] that requires some very specialized labs."
Among the labs that Chazan and his students will have access to is a high-tech facility that "blocks out any modern magnetic signals" to precisely study fluctuations in the earth's magnetic field. "Having access to that is a major asset for the project and for our students, who get to learn how to operate in that kind of system," said Chazan.
Meanwhile, Sachdev Sidhu, a professor appointed to U of T's Donnelly Centre for Cellular and Biomolecular Research, the department of molecular genetics and the Institute of Biomaterials and Biomedical Engineering, will be working with Professor Julia Shifman of HUJI's Alexander Silberman Institute of Life Science to study how the fast-growing fields of protein engineering and design can be leveraged to develop treatments for diseases, including COVID-19.
Their project will use insights gained from past outbreaks of coronaviruses to understand the functions of the proteins that power SARS-CoV-2 – the virus that causes COVID-19 – and to develop molecules with the potential to disarm the virus and pave the way to a potential cure.
Additionally, the U of T – HUJI Research and Innovation Alliance is providing $5,000 in seed funding to two projects.
The first will see Professor Dvira Segal of U of T's departments of chemistry and physics and Professor Roi Baer of HUJI's Fritz Haber Research Center for Molecular Dynamics and Institute of Chemistry explore the role of quantum processes in natural and engineered quantum systems. 
The second aims to better understand how the brain acquires and stores information in order to help prevent and treat debilitating memory and learning disorders. The principal investigators are Associate Professors Sheena Josselyn and Paul Frankland of the department of physiology in U of T's Faculty of Medicine, Professor Melanie Woodin of the department of cell and systems biology and HUJI scholars Adi Mizrahi, Ami Citri and Inbal Goshen.
Ronald Appleby, a U of T alumnus and campaign chair for the partnership, said the research efforts made possible by the partnership speak to the two universities' "shared commitment to advancing interdisciplinary teams of researchers and students working on translational research, bolstered by mutual respect and friendship.
"The attention paid to research in engineering and medicine, the sciences, the social sciences, humanities, and law reflects our mutual interest in creating novel solutions for some of the most pressing current issues," Appleby said. 
UTC