U of T alumnus back from New York City to lead Four Corners strategy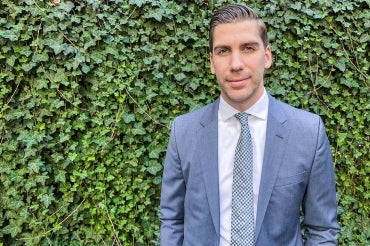 Born and raised in Canada's largest city, Josh Mitchell was eager to apply his knowledge in a new urban context upon completing his master's degree in urban planning at the University of Toronto.
But after spending six years at the New York City Economic Development Corporation, most recently as a senior vice-president of real estate transactions, Mitchell is ready to return home after accepting a position as U of T's director of real estate, where he will take the reins on the ambitious Four Corners real estate strategy.
The new strategy not only addresses the need for more student and faculty housing, innovation space and active retail space, but also sets a goal of generating revenue for the university.
"It was always my intention when leaving U of T to go and look at another city, take those skills and experiences and bring it back home and do something impactful," Mitchell says. "The Four Corners strategy is incredibly comprehensive and has a thoughtful vision.
"Coming into it with that groundwork already locked in, I'm excited to finally take that vision and excel when the rubber hits the road and negotiate the best deals for the institution."
Recently approved by Governing Council, the Four Corners strategy focuses on building commercially viable non-academic amenities and services on the edge of U of T's downtown Toronto campus as well as at U of T Scarborough and U of T Mississauga. An example of such a project is the new Schwartz Reisman Innovation Centre, a 750,000-square-foot innovation complex made possible through a $100-million investment by Onex founder and CEO Gerald Schwartz and Indigo founder and CEO Heather Reisman.
Revenue generated from Four Corners projects will be used to set up a strategic investment fund for the university, with a goal of eventually matching the annual revenue generated by U of T's endowment.
Mitchell says Four Corners' "double-bottom line" real estate strategy is what attracted him.
"We're making sure that this project is financially feasible, but more importantly, the strategy is about enhancing academic and non-academic elements of the U of T student experience," he says.
"It's not just about financial returns – there's a greater purpose there."
Scott Mabury, U of T's vice-president of operations and real estate partnerships, calls Mitchell "the best possible person" to roll out Four Corners.
"This is a bit of a homecoming for Josh after going down to New York City, arguably one of the most competitive real estate markets in the world," Mabury says. "There, he demonstrated an ability to succeed in creating projects that bring people together even if their interests are disparate or perhaps not aligned."
One of the New York projects Mitchell recently spearheaded is the forthcoming Union Square Tech Training Center, located in Manhattan's "Silicon Alley." The 240,000-square-foot mixed-use building will have 70,000 square feet reserved for a training centre, which has been touted as helping bridge the gap between the tech industry and New Yorkers seeking affordable job training.
"He understands the business from top to bottom, east to west, and we're extremely fortunate to be getting someone with this track record and experience to the U of T team," said Mabury.
As for Four Corners, Mabury cites the new 23-storey student residence at the corner of Spadina and Sussex Avenues as an example of how the development strategy aims to meet the university's – and the city's – needs. He adds that plans to develop more housing at U of T Scarborough and U of T Mississauga are also under way.
Finding innovative ways to fulfil the needs of the U of T community is something Mitchell is looking forward to doing through the Four Corners strategy.
"There's basically a laundry list of amenities that would really enhance the downtown Toronto campus, as well as the Scarborough and Mississauga campuses," he says. "Those are incredibly opportunistic portfolios. There's underutilized land to do really interesting things with."
Another plus: coming back to work at his alma mater after a six-year hiatus from the city means seeing U of T with fresh eyes.
"Being born and raised in Toronto, you grow up with certain biases about the city," he says.
"But when you leave for five or six years and come back, you see everything with a fresh perspective. I'm really looking forward to doing that."
UTC