U of T alumna Tina Singh drew on her graduate studies to create helmet for Sikh kids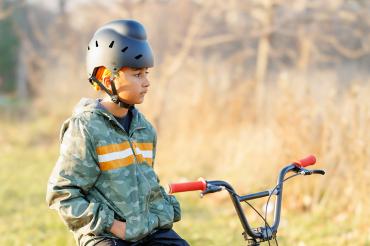 For years, occupational therapist Tina Singh felt frustrated when trying to find helmets that would fit her three active young sons – they wear a patka, or cloth head covering, that is smaller than a turban but still covers their long hair – as they began to ride bicycles and play team sports such as hockey.
"As an occupational therapist, of course it was important that my kids had to have a helmet," Singh says. "But when I tried to put helmets on them and they didn't fit, my husband and I tried to tie their hair a different way – we tried a bunch of things and still nothing quite fit right.
"I wanted an option for Sikh kids and other children who needed a properly fitted helmet, and I decided that it was going to be a real goal to get it designed."
A therapist whose work focused on patients with acquired brain injuries, Singh dove into the process of designing a proper helmet that includes a small domed section on the top to accommodate a child's hair – and found herself thinking back to her master's studies at the University of Toronto.
Singh graduated in 2007 from the occupational science and occupational therapy program in what is now the Temerty Faculty of Medicine. She says the program's holistic, comprehensive approach made her realize she could use her skills in many different ways.
"I felt there was a lot of practical application in everything we were studying," Singh says from her home in Brampton, Ont. "Occupational therapy is such a broad area and we got a little taste of everything in the program. I knew that I would always have the opportunity to do different things within the field, such as universal design, product development and business – all of which I ended up doing for my current project."
After having an engineer produce renderings of her design, Singh found a manufacturer to produce a prototype that could be tested. A few iterations later, the helmet – which is designed for kids aged five and up and can be used for skateboarding, kick-scootering or rollerblading – passed the required safety testing and is now available for preorders in Canada
Singh, who worked as a rehab coach during her undergraduate years, says she chose to do a master's degree at U of T after deciding to become an occupational therapist.
"The program really felt like the ideal fit. It's the foundational skills I still find useful to this day, such as looking at the whole person and how we look at everyday life. That way of thinking just sticks with you – and it doesn't just apply to your work, but to everything around you," she says.
The teachings and encouragement of one professor in particular has stayed with Singh many years after graduation.
"Andrea Duncan really helped guide me and it felt like I always had someone to look to when I needed advice on how to move forward. I feel like even if I saw her today, I could have those same open conversations with her about my career."
Duncan, an assistant professor in the department of occupational science and occupational therapy, says she's delighted to have made an impact on one of her former students – and to hear how Singh used her learnings in the program to innovate.
"Tina took my professional practice course, which is dedicated to developing systems thinking and business skills for occupational therapy students. Tina definitely stood out amongst her peers, and I am not surprised that she has gone on to become an 'OTpreneur,'" Duncan says. "We are very proud of her and all her endeavours."
Singh's helmet design has attracted attention from media all around the world, including in some of India's top publications – which has been gratifying but also challenging.
"I'm so glad it had such a big reach, but when something gains so much traction, along with the positive also comes critiques," Singh says, adding that she ended up changing the original name of her helmet company from "Sikh Helmets" to "Bold Helmets" after pushback from some in the Sikh community.
"I fully acknowledge that not every parent is going to want this for their child. Some people feel very strongly that they don't want anything covering up the patka or a turban," Singh says. "But my main message is that for those already using helmets, let's give them one that works better for them."
For Singh, seeing her own kids wear the helmet for the first time underscored why she had set out to create it in the first place.
"I honestly didn't even want to admit how good it felt because I was worried that something was going to go wrong," she says. "But to see them put it on was amazing – it was a really overwhelming experience.
"I've heard from so many parents that are faced with a choice between their faith or culture and trying to participate in sports and other activities. We should be making options for kids so that they never have to choose – they shouldn't have to think twice about it."
UTC