U of T alumna Julie Payette to be next Governor General
Prime minister has announced the appointment today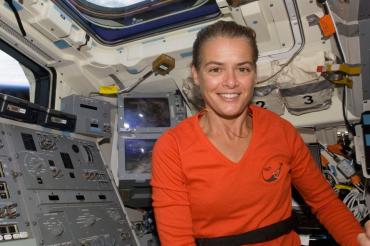 Julie Payette, one of two U of T alumnae astronauts to go to space, has been named Canada's next Governor General.
"This is a very great honour for me and for my family, for my friends and my colleagues here around the country, on the planet and even a few outside the planet," she said at an event on Thursday in Ottawa.
Introducing Payette, Prime Minister Justin Trudeau said she was "unquestionably qualified" for the role. 
Payette, who speaks six languages, earned her master's of applied science in electrical and computer engineering from the University of Toronto in 1990, after earning her undergraduate degree at McGill University. In 2001, she received an honorary degree from U of T.
"Julie Payette is an absolutely brilliant choice for Canada's next Governor General," said U of T president Meric Gertler. "The U of T community is already incredibly proud to call her an alumna, and so excited to see her take on this crucial role in the life of our country."
Currently on an official visit to Beijing, Governor General David Johnston also offered a congratulatory message for his successor.
"I am certain that she will fulfil this role with intelligence, grace and energy, and that she will bring qualities of curiosity, courage and compassion to her mandate," he writes. 
Payette, who joined the Canadian space program in 1992, spent more than 600 hours in space aboard the space shuttle Discovery in 1999 and aboard the Endeavour in 2009. On Discovery, she served as a Mission Specialist, was responsible for the station systems, supervised the spacewalk and operated the Canadarm robotic arm – and became the first Canadian astronaut to board the International Space Station. On Endeavour, she operated all three robotic arms: the shuttle's Canadarm, the station's Canadarm2 and a special-purpose Japanese arm on Kibo.  She retired from the Canadian Space Agency in 2013.
Payette wrote her master's thesis on computer-based second-language instruction, an area of artificial intelligence.
"Engineering is extremely useful for being an astronaut because it's extremely applied," she told U of T Magazine. "What engineering teaches you in particular is to look at a problem, analyze that problem, look at what you've got available to solve that problem or to improve a system or to repair something or to design something new.
"That's exactly what we do in space. You need to be able to repair things and design new things, and you certainly have to have an inclination to look at a problem and try to solve it. Operational, we call it. So if you don't like that stuff, don't go into the astronaut business. It's all we do."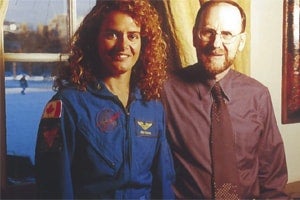 U of T computer science Professor Graeme Hirst remembers how ambitious and personable Payette was when he co-supervised her master's thesis.
"She worked hard, she thought hard – that's important to her career success," he says.
Hirst has no doubt in Payette's ability to thrive as Governor General.
"I'm sure she can deal with the technical aspects of it – all the governmental things she needs to do and I'm equally sure that she can deal with the ceremonial and people aspects of it because she's always been good at that," he says.
Fluent in French and English, she can also speak German, Italian, Russian and Spanish – and sing in those languages. Payette – who played softball, squash and badminton and was co-chair of the Lionel Massey Fund while at U of T, helping to organize cultural, social and musical events for students –  was also a member of the Tafelmusik Baroque Orchestra Choir from 1989 to 1992.
"People who have demonstrated that they can do more than one thing in their life have a better chance of being noticed during an astronaut selection, because they're looking for jacks-of-all-trades," she told U of T Magazine. "In space, we're the only ones on board. We're the Maytag repairman, we're the cook, we're the photographer, we're the document keeper, we're the cleaner, we're the proxy scientist, the robotics operator, the spacewalker. We basically do everything. So it's not about being the top in one field, it's about being able to adapt to several."
Payette is one of two U of T alumnae to go space. In I992, Dr. Roberta Bondar flew on Discovery, where she performed experiments in the Spacelab and on the middeck.
"Julie Payette's tremendous accomplishments transcend disciplines and borders — as an engineering researcher, pilot, musician, leader and as a woman in STEM, she is truly an inspiration to aspiring engineers across Canada and around the world," said Cristina Amon, dean of the Faculty of Applied Science & Engineering. "On behalf of our Faculty and the entire U of T community, I extend my heartfelt congratulations to Julie on this richly earned honour and responsibility."
UTC