U of T alumna fosters next generation of scientists through Visions of Science
A high school mentorship program played a big part in helping Eugenia Duodu find success in the sciences. Now, the award-winning chemist and chief executive officer of Visions of Science Network for Learning pays it forward, ensuring that other young people from marginalized communities can also see themselves as future scientists.
The University of Toronto alumna grew up in Etobicoke, where she lived in social housing as the only child of a single mother. Watching Bill Nye the Science Guy on television sparked her childhood love of science and, in high school, Duodou attended the Faculty of Medicine's Summer Mentorship Program for students of Indigenous and African ancestry. It gave her the opportunity to shadow scientists – and, suddenly, Duodu saw a different future for herself.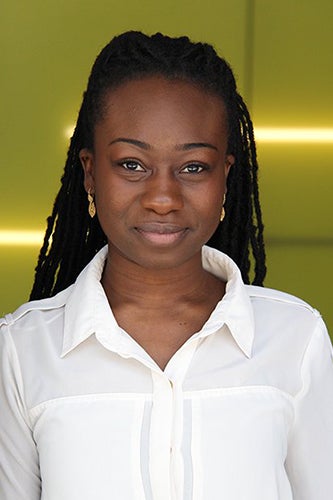 She applied to U of T Mississauga, earned a bachelor's degree and then a PhD in medicinal chemistry. During her studies, she volunteered with Visions of Science, a charitable program delivering free STEM (science, technology, engineering and math) programs to marginalized youth in low-income communities across the Greater Toronto Area.
"I wanted to engage with an organization that connected STEM and the community," says Duodo (pictured left), who volunteered as a facilitator for hands-on science workshops. By 2015, she was leading the growing organization as its new chief executive officer.
"Youth in low-income communities face barriers to programming, especially in STEM," Duodu says. "The barriers are structural, but also social and sometimes psychological."
As a result, students from low-income communities are underrepresented in STEM fields and research. It is a familiar and personal topic for many of the staff and volunteers with Visions of Science.
"We also come from those neighbourhoods and understand, first-hand, what those barriers are," Duodu says. "We are trying to bridge the inequities that exist by offering programming in an accessible way."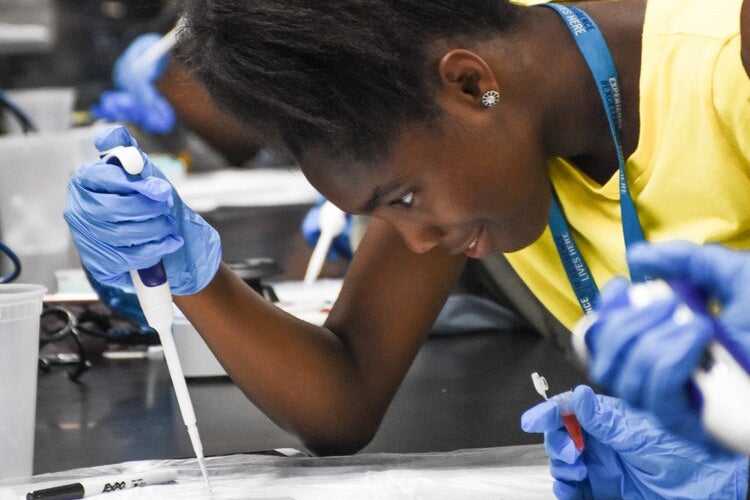 "I hope that my story will open doors for other people to decide for themselves where they want to be,"  Duodu says
Under Duodu's leadership, Visions of Science has grown from six communities to serve more than 500 students in 29 communities across the Greater Toronto Area.
Its flagship Community STEM Club programs offer year-round weekly workshops, field trips and science days at post-secondary institutions to students in Grades 3 to 8. In 2019, the organization added new STEM-themed summer day camps in three communities. In the Peel Region camp, students conducted lab experiments with the Amgen Biotech Experience and collected water samples from nearby Erindale Park.
"The experience lets students take the knowledge they learned in the program to implement it in real-life situations," says Hamna Awan, manager of communications and marketing with Visions of Science. "The data they collected went into a real database that will be used by scientists."
In 2017, Visions of Science created the STEM Community Leaders program for high school students. It offers leadership skills development and experiential learning with a particular focus on career and education paths in STEM. The program included a three-day retreat at U of T Mississauga where participants live in residence and attend STEM workshops.
"The experience shows high school-age youth what life at UTM looks like and helps them envision themselves as post-secondary students," says Awan. "They take part in hands-on workshops facilitated by UTM staff and faculty, and get to see what science looks like at the post-secondary level.
"They will be graduating soon. We're excited to see where they take their learning."
Duodo says the organization's programs are supported by a network of partnerships, as well as mentorship from volunteers and staff.
"All of those components work together to provide meaningful engagement and programming," she says.
Volunteering is the backbone of the program, drawing on a pool of about 100 volunteer facilitators, half of whom are U of T students.
As new programs are added, the Visions of Science leadership team is growing, too. The current leadership of the organization is also comprised of former volunteers, like Awan, who first got involved during her undergraduate studies.
"We get to reach out to students while they are students at the campus, engage them in our programming and then ultimately seek to grow them and engage them in larger ways in the organization," Awan says.
Duodu continues to hold close ties with her alma mater, returning often as a featured guest speaker and to host Visions of Science events on campus.
"I hope that my story will open doors for other people to decide for themselves where they want to be," she says.
UTM