U of T alumna co-founds company after spotting blemish in skin-care industry: Lack of natural and affordable products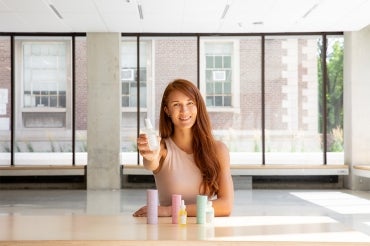 As early as her second year in engineering at the University of Toronto, Laura Burget knew she wanted to be an entrepreneur.
"I actually ran two businesses while I was in school – I managed the engineering bookstore and a College Pro franchise," says Burget, who graduated with a bachelor's in chemical engineering. "The business knowledge I gained from these two experiences made me realize I had the skills to turn my natural skin-care products into a business."
In January 2017, Burget and Connie Lo, who has a background in business and accounting, gave themselves a challenge: equipped with only $4,000, they would try to launch an natural, vegan and cruelty-free skin-care brand in just three months.
They succeeded.
Their company, Niu Body, was inspired by a course Burget took while pursuing her chemical engineering degree at U of T.
"In my fourth year, I took the entrepreneurship course Entrepreneurship and Small Business, which required us to develop business ideas," she says. "As a consumer, I was really interested in natural skin-care products. I loved learning about natural ingredients and trying different home remedies – I was basically conducting chemistry experiments in my own kitchen which fostered a sense of curiosity in me for the natural beauty space."
The course inspired her to delve deeper into researching the skin-care industry, leading her to  discover a nearly untapped market for affordable, natural products. 
"The main issue we want to address is inflation in the natural skin-care industry," says Burget. While natural ingredients tend to be more expensive than chemically produced ones, Burget says the markup on finished products, such as face serums, can be 100 per cent or even higher.
"Consumers are demanding better quality, more natural ingredients and at an affordable price," she says. "Our company's mission is to create natural skin-care products that won't break the bank." 
The first ingredient Burget worked with was coconut oil, which inspired the name of the company – niu means coconut in Hawaiian – and the company's first product, a coconut oil-based makeup remover.
In addition to using high-quality, natural ingredients, overall product sustainability is important to Burget in building her brand.
"We've designed our packaging in a way that it's sturdy enough to be reused and repurposed for travel," says Burget. "And because it's made of paper, it's much easier to recycle and break down compared to a lot of brands that use plastic. All of our manufacturing is done in Toronto. We try to source locally as much as possible to limit our carbon footprint."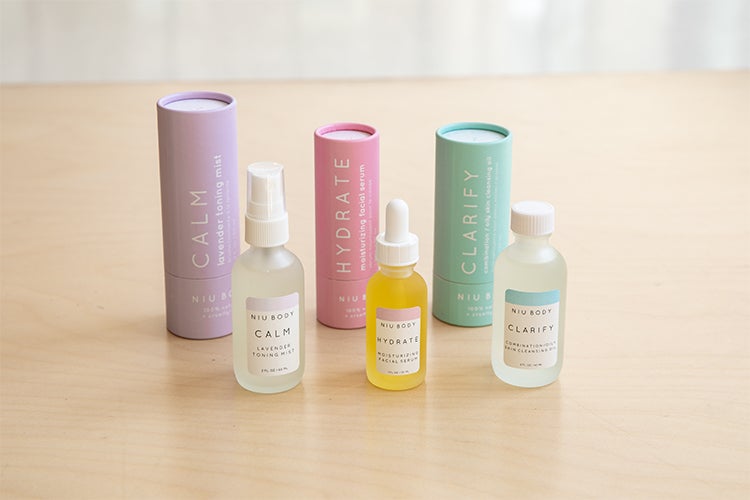 Niu Body uses primarily paper and glass packaging for their products, so the packaging can break down more easily in the recycling process (photo by Roberta Baker)
Burget says that launching a startup can be intimidating, but that her chemical engineering courses were great preparation.
"[My background] helped with problem solving, which is one of the crucial skills engineering graduates leave with," she says. "You're trained to break down problems into their smallest form and determine where inefficiencies might be and how to develop a new system."
Burget's engineering background also gave her the confidence to communicate and work effectively with manufacturers and prospective investors.
"When I tell manufacturers and investors I have a chemical engineering degree, it tells them I know what I'm talking about and what I'm capable of," she says.
In just two years, the number of retailers carrying Niu Body products has grown from one to over 300, with shipping available across Canada and the U.S. In the year ahead, Burget is focusing on product development and forming new retail partnerships.
"We have a busy 10 months ahead of us," says Burget. "We're launching six new products and we're headed to New York for the largest cosmetics trade show in North America to showcase our company."
For engineering students thinking about starting their own business, Burget's advice is to take advantage of entrepreneurship offerings at the university, and not let the fear of failure get in the way: "Remind yourself that life is going to throw you curveballs, but amazing things can come out of failures, and your studies have well equipped to find solutions," she says. 
UTC