U of T alumna – and medical resident – honoured with one-of-a-kind Barbie doll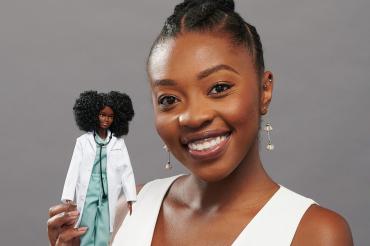 Chika Stacy Oriuwa is no stranger to the spotlight – but this week the alumna of the University of Toronto's Temerty Faculty of Medicine will receive an unexpected honour: a Barbie doll made in her likeness. 
Mattel this week revealed six one-of-a-kind dolls honouring frontline health-care workers who are participating in the fight against COVID-19 as part of its #ThankYouHeroes campaign.
The sole Canadian honouree, Oriuwa was selected by Mattel for her work as advocate against systemic racism in health care, an issue that has been further highlighted by the pandemic. 
"I believe that if you can see it, you can be it," Oriuwa says. "A Barbie who looks like me sends the message to children that they have what it takes to become a doctor."
The dolls, which will not be available for sale, are modeled on women working in health care around the world. They include a real-life emergency room nurse in Brooklyn, N.Y., a professor of vaccinology from the United Kingdom who helped develop the Oxford/Astrazenca vaccine and a biomedical researcher credited for sequencing the genome of a COVID-19 variant in Brazil.
Oriuwa's doll was revealed during a televised presentation on Aug. 4.
Now in the second year of a psychiatry residency, Oriuwa entered U of T's MD program in 2017, where she was the sole Black student in her class of 259.
In 2020, Oriuwa, who is also a spoken word performer, was selected to address her graduating class, becoming the first Black woman selected to be the standalone valedictorian in the program's history.
Those experiences fueled Oriuwa's advocacy for inclusion and diversity in medical education, and her ongoing work to empower Black doctors and other underrepresented groups in the field.
Oriuwa says she wants to change people's perceptions of what a doctor looks like. She says patients, families and even other doctors are often surprised to learn she is a doctor.
Oriuwa adds that she was delighted when Mattel reached out to feature her in the campaign.
"Barbie is a quintessential staple of childhood play," says Oriuwa. "To be included in Mattel's campaign as a health-care hero is a huge honour. I'm incredibly proud.
"Children begin playing with Barbies and other dolls at a young age. Through play, we start to understand the world around us and our place in it. It shapes our self-esteem."
Oriuwa has been involved with every step of the doll's design process, from sending photos of herself to designers to providing input about key details of her doll's attire and, importantly, hairstyle.
"It was important to me to create a Barbie with a natural Afro-textured kinky hairstyle," she says. "My sisters and I grew up playing with Barbies, but they were all white. Even when I did finally get my first Black Barbie, her hair was straight like the other dolls.
"Black women get the message that Black hair is not beautiful, professional or well-kempt. I want this doll to stand as a testament to my pursuit to redefine what a physician looks like. We don't have to change our natural hair to fit in in this profession."
Barbie, who has been depicted as holding more than 200 jobs in her more than 60-year history, is widely known for her fashion sense – and Oriuwa's doll will be no different. She says she worked closely with the doll's designers to ensure her Barbie accurately reflected the realities of her occupation.
As a result, Oriuwa's doll wears scrubs and white coat – staple wardrobe pieces for any MD. The doll also sports tennis shoes, a reminder of the comfortable black sneakers Oriuwa wears on the job.
"It's not always glamorous," she says.
And although she no longer wears a stethoscope, Oriuwa requested one to accessorize her doll.
"The stethoscope was a huge part of my medical journey and training," Oriuwa explains. "It encapsulates and represents what many people imagine when they think of a doctor.
"I hope this inspires the next generation of physicians. It's exciting and fun to be seen as a hero. At a time when the entire world is turning to scientists and nurses and doctors for answers, I hope there is a continued appreciation for those who have worked so tirelessly on the front lines."
The bespoke dolls help raise awareness about the doctor, nurse and paramedic dolls in Mattel's product line. In the U.S., a portion of the proceeds from sales of those dolls will be donated to the First Responders Children's Foundation, which benefits the children of first responders.
"We know the pandemic has been felt directly by children across the globe," Lisa McKnight, senior vice-president and global head of Barbie and dolls at Mattel, said in a statement. "As the number one doll brand, we take great pride in leveraging Barbie's platform to teach children about role models who are making a positive impact in our world, especially those who rose to the occasion during this challenging time. Our hope is to nurture and ignite the imaginations of children playing out their own storyline as heroes."
While her doll won't be found on toy store shelves, Oriuwa has a special place in mind to display her Barbie. She is expecting her first child – a son – in the fall, and plans to place the doll on a shelf in his nursery.
"Barbie is for everyone," she says. "I want him to see that."
Medicine