U of T alumna aims to bring the history of Emancipation Day, on Aug. 1, to a wider audience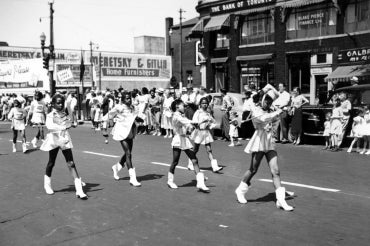 Before COVID-19 struck, the city of Windsor, Ont. was looking forward to its biggest Emancipation Day celebrations in recent years on Aug. 1. And, thanks to the efforts of local history buffs, it was well on its way to bringing back an event that recalled the days when Windsor attracted famous civil rights activists and Motown stars to celebrate the anniversary of the abolition of slavery in most of the British colonies in 1834.
The history – and recent revival – of Windsor's Emancipation Day is being closely followed by Tonya Sutherland, who graduated from the University of Toronto with a master's degree in museum studies this year. Building on research for her 2018 capstone project, Sutherland and two other women from the Toronto area – retired teacher Catherine MacDonald and actor and producer Audra Gray – sought to bring this chapter of Black Canadian history to a wider audience. 
In the 1950s and early1960s, hundreds of thousands of people would arrive in Windsor for the multi-day festivities that took place the first weekend in August. They heard from figures like Martin Luther King Jr., Rosa Parks, Adam Clayton Powell Jr. and Eleanor Roosevelt – and watched the Supremes, Stevie Wonder and the Temptations, who crossed the Detroit River to perform at Windsor's Jackson Park. But by the late 1960s, Windsor's Emancipation Day festivities had begun to lose steam.
"These celebrations were some of the biggest in North America, but they didn't remain in people's consciousness," says Sutherland. "It's a bit of a shame how they've been mostly forgotten."
But efforts are underway to make Emancipation Day a big deal again. When Windsor's Emancipation Day Committee announced it was cancelling this year's events, it also said it was planning for an significant event in 2021.
In the meantime, the Royal Ontario Museum in Toronto will mark Emancipation Day with a special ROM Connects talk moderated by Sutherland on Aug. 5, which follows an earlier talk given this month.
Working under the umbrella of the Jackson Park Project, named for the park where the Emancipation Day celebrations were held in Windsor, Sutherland's goal is to create a digital archive of historical material.
As for Sutherland's partners in the project, MacDonald is aiming to create educational resources for use in classrooms that would be hosted by the digital archive while Gray wants to produce a drama television series based on the annual festivities as well as a documentary. The documentary would chronicle both the team's behind-the-scenes journey and a proposal before Parliament to formally recognize Emancipation Day nationally (Ontario officially recognized the day in 2008).
"Audra was watching TV one day and came across this documentary, The Greatest Freedom Show on Earth. It was a larger history of Emancipation Day, somewhat focused on Windsor, but with a broader view," says Sutherland. "She wondered why she had never heard of it."
Thinking it a story worth dramatizing, Gray linked up with MacDonald, her former teacher who was also interested in Canada's Black history. MacDonald's husband mentioned the project to his co-worker, Sutherland's father, who in turn told his daughter about it.
"I tend to get really invested in the personal element of history," says Sutherland who also earned an undergraduate degree in English and history from U of T in 2016. That interest caused her friends to suggest she might want to check out the Faculty of Information's museum studies program. The idea resonated with Sutherland, who had also been inspired watching the TV program Mysteries at the Museum. 
During their first research trip to Windsor in 2018, Sutherland, MacDonald and Gray spent a week researching and filming. Irene Moore Davis, president of the Essex County Black Historical Research Society, shared a wealth of information with the visitors. "While we say this is a history that's not known to a broader audience, people from Windsor – whose families were involved – are very aware," says Sutherland. "Irene has been really key to our project because she has quite a large collection of family history including boxes of documents. Her family was very involved in Emancipation Day."
While in Windsor, Sutherland visited the University of Windsor archives, looked at hundreds of photographs and examined the programs printed annually, which typically included a letter from the mayor of Windsor and sometimes featured messages from prominent speakers. "From magazines, you could see who was buying ad space and supporting the celebrations," she says, adding that the documents helped with her primary research.
Sutherland digitized the materials as part of her capstone project with the goal of creating a permanent digital archive. "I've learned all the things that go into creating an archive and a digital archive," she says. "The more I learn, the more it teaches me what I don't know."
That also goes for Black Canadian history, says Sutherland, who adds that Canadians often don't know what became of the people who arrived in places like Windsor via the Underground Railroad. "Was everything amazing? Did they face racism and struggle?"
The holes in our knowledge "speak to a larger unknowing," she says. "This whole thing has been extremely eye-opening to me."
MacDonald says the history of Windsor's Emancipation Day is a perfect subject for teaching because it is so multi-faceted. "It's the story of Canada and the Black diaspora. It's the story of English and French, and the story of Canada and the U.S. It's the story of two cities."
Black families were often divided between Detroit and Windsor with cousins walking across the frozen Detroit River in winter and holding large family get-togethers at Emancipation Day events in the summer. A Detroit historian, Kimberly Simmons, has spent more than a decade trying to get the Detroit River declared a UNESCO World Heritage site for the role it played in the underground railroad.
Meanwhile Sutherland, MacDonald and Gray continue to move forward on their Windsor projects. The teaser for Gray's documentary debuted last summer at Emancipation Day. MacDonald is working with local Black educators, members of Windsor's Black historical society and the Ontario Black History Society to produce lesson plans. And Sutherland has produced a digital archive feasibility report as her capstone project in museum studies.
In some ways, the work they are doing emulates that done almost a century ago by Windsor citizens. In 1932, they, too, decided that they wanted to build up their small Emancipation Day celebrations into a much bigger event – and eventually turned their vision into reality. 
Despite COVID-19, the work behind the scenes on bringing Emancipation Day to a wider audience continues. "We're now trying to seek out and establish viable and more stable sources of funding," Sutherland says.
Faculty of Information