Award-winning science student – who started university at 13 – graduates from U of T Scarborough
Now a sustainability advocate, Charlotte Wargniez was inspired to switch her major to environmental geoscience after taking a first-year geology course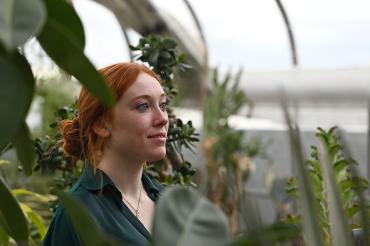 Charlotte Wargniez's rapid academic climb –  one that will see her graduate from the University of Toronto Scarborough this month at just 17 – began the day she broke her leg.
When she was 10, Wargniez was a competitive skier with a packed schedule – eight hours on the slopes and one hour studying – until a fall left her in bed with nothing to do but learn.
She had been homeschooled all her life through virtual education – a necessity for her family as they bounced around the world every summer, spending six months travelling across the United States, India, Malaysia and Mexico, then living in ski resorts for the rest of the year.
"I got really eager to learn in that time," says Wargniez. "My parents gave me this legacy to be open-minded to new theories, experiences, ideas and perspectives."
Her school's online curriculum let her go at her own pace, and within three months she had finished eighth-grade math – four grades ahead of her age bracket. She took an entrance exam to enrol in a French virtual high school and from then on completed a grade per year.
Wargniez graduated high school at age 13 and was soon enrolled at U of T Scarborough for neuroscience – she'd watched her brother grow up with Epidermolysis bullosa simplex, a genetic condition that made his skin extremely fragile, and picked her program accordingly.
"It made me want to go into medicine, because I saw people like my brother and I really wanted to help them," she says.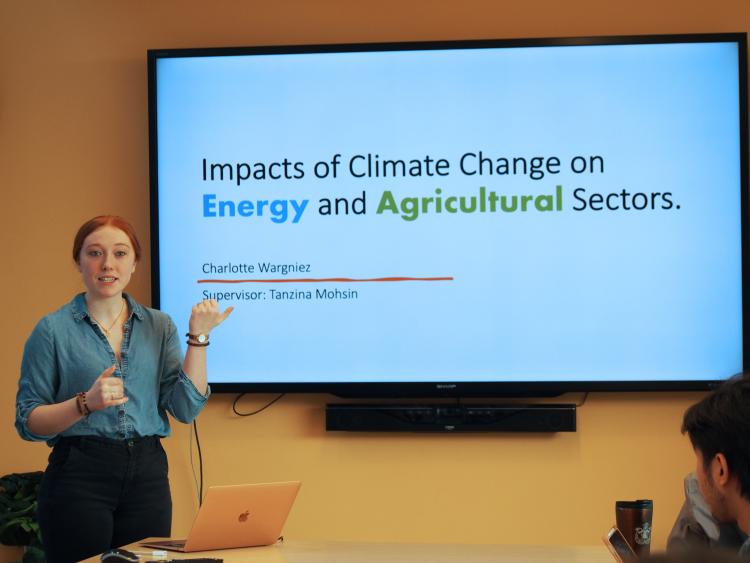 Her academic goals shifted after a first-year geology course taught by Nick Eyles, former professor of geology in U of T Scarborough's department of physical and environmental sciences (DPES). She says a fascination with the Earth had been brewing after visiting almost every national park in America – and the course inspired her to embrace that interest. She switched her major to environmental geoscience and never looked back. 
"I'd wanted to go to medical school to help people, but then I realized how much of what's happening in the world is about climate change," she says. "I realized I could also help people through environmental geoscience."
Eyles became a mentor to Wargniez, teaching several of her courses and enjoying chats during office hours.
"She's exceptional – not just academically, but in being a competitive skier and the breadth of experience she has," Eyles says. "It was a real pleasure to work with her. I think she's got a fantastic future – students like her are why you teach."
Environmentalism was the cornerstone of Wargniez's extracurricular life too – largely through Regenesis UTSC, a student group dedicated to creating and raising awareness of environmental and sustainability initiatives. She led the team as co-president to revive U of T Scarborough's free store and create a bike-sharing centre on campus – projects that won Adams Sustainability Grants from U of T.
She also became vice-president of academic affairs with the Environmental and Physical Science Students' Association, a group that works with the department to host programming, outreach, tutoring and field trips.
Wargniez says starting university so young didn't present many challenges during her undergraduate experience. While the pandemic hit during her first year, she still made lasting friendships while living on campus and partook in research projects. 
She says she did sometimes feel the need to hide her age – particularly from students when she became a teaching assistant. She notes that many of the people she connected with at university may only learn how young she is by reading articles such as this one.
Wargniez is the first and only student to graduate with U of T Scarborough's new minor in applied climatology. She was also this year's recipient of the Rose Sheinin Award, given to the highest-performing woman student in science across U of T's three campuses, and received a DPES excellence and leadership award.
In the fall, she'll head to the University of Oxford to pursue a master's of science in sustainability, enterprise and the environment, a unique program examining how businesses and organizations can reach net-zero carbon emissions.
"I think she's just the sort of person we need in the realm of policymaking for environmental problems and issues – someone who has a thorough understanding of science, how the world works, is experienced, has met a lot of people and has that discipline," Eyles says.
As she looks to the future, Wargniez has no specific career path in mind yet, just a resolve to create change – and plans to join Oxford's ski team.
"I want to keep my mind open to anything that will come," she says. "I know how I want to impact this world, and whatever I find that will work best for me, I'll take it." 
UTSC