Truth and Reconciliation: KPE digs deep on issues of race and Indigeneity
The University of Toronto's Faculty of Kinesiology and Physical Education has long led the charge for equity and diversity, from increasing women's participation in sport, to implementing campaigns such as the Change Room Project for a more inclusive locker-room culture, to running SOAR, a March Break program for Indigenous teens. 
Now, KPE has set up a task force to improve equity and diversity in all its programming, including sports, recreation, intramurals, curricula and research.
Its Task Force on Race and Indigeneity, which has been meeting since the summer, was inspired by U of T's Truth and Reconciliation efforts, says Ira Jacobs, dean and professor at KPE.
"Our faculty has a unique opportunity and responsibility to connect with more students than almost any other division," says Jacobs. "Our co-curricular programs must welcome, invite and contribute to the health and well-being of all of our students."
KPE is aiming to release the task force's final report and recommendations by late summer or early fall.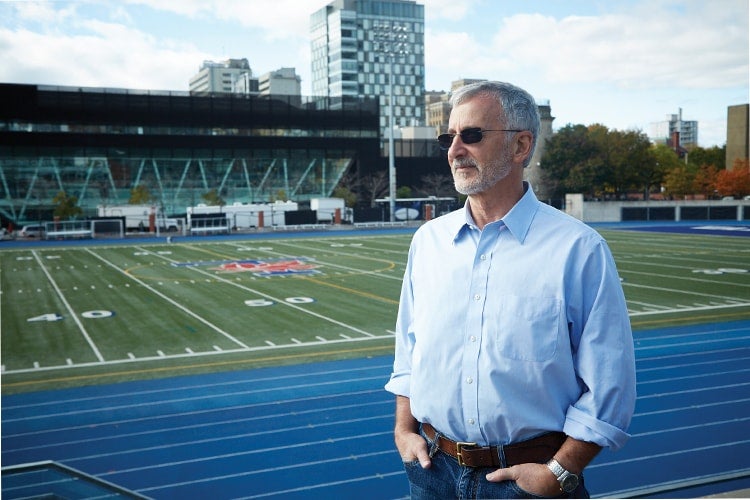 Dean Ira Jacobs says equity and diversity have long been a priority for KPE, but the TRC prompted the faculty to take a deeper look at its programming through the lens of race and Indigeneity (photo courtesy of Seed9)
Almost one year ago, U of T's Truth and Reconciliation steering committee released its final report, with 34 calls to action for the university to improve its relationship with Indigenous people. The report, called Wecheehetowin, which means "working together" in Cree, highlights that the work to be done at U of T will need to be a collective journey.
At KPE, the Task Force on Race and Indigeneity has set out four aspects of programming that might not fully support racial diversity and Indigeneity and is addressing each with working groups  of staff, faculty, students, an Indigenous Elder and community members. The working groups are looking at:
Student recruitment, admissions, success and retention
Staff and faculty recruitment, retention and advancement
Curriculum, research, pedagogy and learning 
Recreation and sport, community outreach and recruitment
There were more than 90 applications from people wanting to participate in the working groups, says Sharon Grandison, KPE's director of human resources and task force co-chair. "The tremendous response to our call for applicants to join our working groups is indicative of just how timely this initiative is," she says. "We couldn't be more pleased to have this level of engagement."
Other task force members include: Ernie Sandy, a member of the Indigenous Elders' Circle at U of T; Lamia Aganagic, an undergraduate student at KPE; Cathy Amara, assistant professor, teaching stream, at KPE; Shannon Simpson, director of First Nations House; Juan Carlos Rodriguez-Camacho, a PhD candidate at OISE and researcher at Waakebiness-Bryce Institute for Indigenous Health; Greg Gary, former Varsity Blues football head coach; Sarah Bear, a recent U of T graduate and peer mentor in KPE's SOAR program; Sandra Carnegie-Douglas, anti-racism and cultural diversity officer at U of T; Simon Darnell, assistant professor at KPE and task force co-chair; Debra Kriger, a graduate student at KPE; and John Leung, an undergraduate student at New College.
The working groups are expected to deliver their recommendations to the task force in June, so the final report can be ready in late summer or early fall.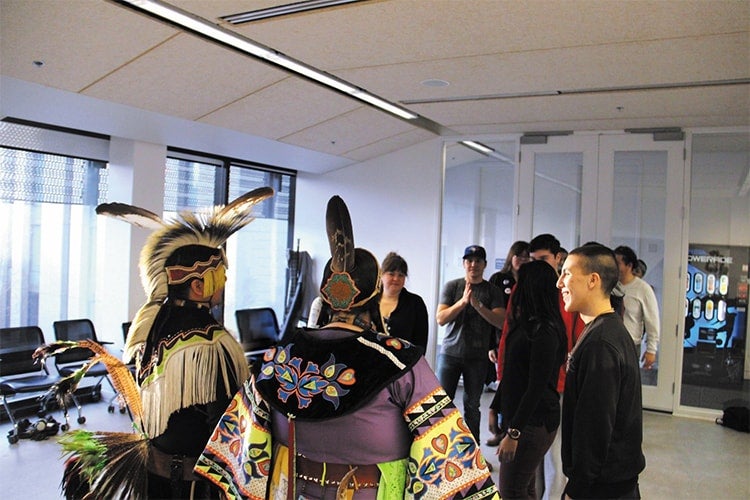 Dancers in regalia join the SOAR program for an afternoon of traditional drumming and dance (photo by Lynda Li)
Tackling issues of race and diversity in an environment that's as complex and multi-dimensional as U of T is no easy task, says Jacobs. "It will require a range of strategies, and we're looking for some wonderfully creative suggestions on how to do that."
"We are grateful to have this opportunity to improve our programming to better reflect the racial and cultural diversity of our campus community, in particular our current and future Indigenous students, faculty and staff," he says. 
UTC