Trudeau at U of T: Canada and U.S. are "two countries that have grown up together"
Martin Prosperity Institute hosts talk with New York Times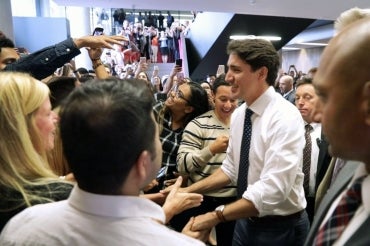 In navigating the complexities of the Canada-United States trade relationship, it's important for both countries to remember that "mutual benefit is the only thing that has benefit," Prime Minister Justin Trudeau said at the University of Toronto today.
With an estimated nine million jobs and a trillion dollars in trade at stake, the importance of the North American Free Trade Agreement (NAFTA) can't be understated, he said in a sold out, 60-minute conversation with The New York Times.
The talk, which featured chief White House correspondent Peter Baker and Canadian bureau chief Catherine Porter, was organized with the Martin Prosperity Institute at U of T's Rotman School of Management.
Trudeau entered Desautels Hall to the sound of cheers from students lined up on the pink staircase at Rotman eager to get his photo.
Once inside, he was jokingly described by Baker as "the Trump whisperer" as he was questioned about how his government is negotiating Canada's relationship with its superpower neighbour.
As "two countries that have grown up together," there are "massive levels of intersectionality" between us making it "extremely important for the prime minister and the president to have a constructive working relationship," Trudeau told the packed room.
"He's a businessman, a dealmaker. He's someone who knows how to interact socially at a very effective level. And one of the things I've learned is he actually does listen," Trudeau said of Trump.
"I can understand the laughter," he said, reacting to the audience. "He will  be open to shifting his position and that's something we can definitely work with."
As an example, Trudeau referred to a conversation he had with Trump a few weeks ago after news leaked the president was seriously considering tearing up NAFTA.
Trudeau said he told Trump that abruptly terminating the 25-year-old agreement would cause "tremendous disruption" to businesses, communities and workers on both sides of the border – but Canada was open to "renegotiating or updating" the agreement.
"There was an openness to that" by Trump, he said.
Instead of focusing on areas where they disagree, he said the two world leaders discuss issues on which they share common views. He also disagreed with a Times story that his government is using a "doughnut" approach to American relations by going around Trump to reach out to mayors, governors and business leaders to further its interests.
"I think of it is as a bun – there is no hole," Trudeau said, adding Canada's "whole government" approach makes sense since states and provinces, not to mention industries and cities, have longstanding relationships with each other.
The talk marked the first major sit-down interview with Trudeau on Canadian foreign policy after a speech by Canadian Foreign Affairs Minister (and U of T area member of Parliament) Chrystia Freeland to the House of Commons on June 6.
Freeland was among the notable Canadians in the room today, along with alumna and former governor general Adrienne Clarkson.
Although it was interpreted by media and experts as a significant change in Canada's foreign policy direction in the age of Trump's more inward-looking, protectionist stance, Trudeau said "it was a bit of a sequel" to a speech by Louis St-Laurent in the 1940s that laid out Canadian foreign policy independence from Great Britain.
Canada will continue to chart its own path, he explained and "even close friends like the United States . . . don't want Canada either to be or be seen as simply an extension of American  policy."
U of T President Meric Gertler, who officially welcomed the Times and the prime minister to campus, praised the Trudeau government for its "deft handling" of Canada's "most important international relationship."
"It has been very encouraging to see Canada reasserting its traditional role as a constructive, outward looking, globally engaged player on the world stage," Gertler said.
"And this in turn is a source of hope for all those — including the citizens of our greatest friend and ally — who share our commitment to freedom, democracy, human rights and the rule of law."
Watch a video of the entire event below:
UTC