Trudeau meets Trump: U of T experts on what's at stake for Canada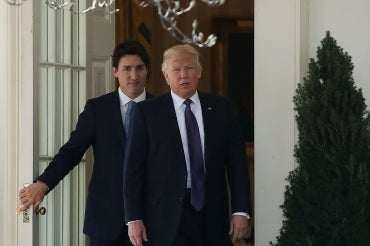 University of Toronto experts spoke with reporters ahead of Prime Minister Justin Trudeau's meeting with U.S. President Donald Trump today, discussing the Canada-U.S. relationship. 
Irvin Studin, editor of the Canadian foreign policy magazine Global Brief  and a researcher at U of T's School of Public Policy & Governance, said in a CBC Radio interview that Canada has been stuck in America's shadow for too long, and it's now time for us to think for ourselves.
"We're going to have to take some decisions," Studin said on CBC's The 180. "Some of them will be aligned with American decision-making, but it will be very unsentimentally in our national interest. In the short term, whereas the Americans have been picking off Canadian talent, consciously and unconsciously over the last 70 years, now is an opportunity for us to do the reverse.
"We must be very unsentimental about it. We should be picking off American talent across the sectors. In sciences, in culture, in business, and everything in between. This is an opportunity for Canada to create some of the strategic bulwark to think for itself."
While we don't share a border with Latin America like the United States, we do share borders with China and Russia, Studin said.
"Another way of looking at it is these are Great Powers at our borders this century, and they're going to squeeze us if we don't bulk up and think for ourselves," he said. 
U of T political scientist Renan Levine of U of T Scarborough spoke to CTV, saying he didn't think we would see a repeat of the relationship Trudeau had with former President Barack Obama.
"Prime Minister Trudeau along with President Obama famously enjoyed this long bromance – I don't think we're going to expect that," Levine said.
But like British Prime Minister Theresa May and Japanese Prime Minster Shinzo Abe – the other two leaders Trump recently met – Trudeau will be wanting "to seek assurance that whatever the most incendiary or most volatile radical statements candidate Trump made...will be walked back by President Trump," Levine said.
It's uncertain whether the asssurances ever materialized.
In a joint statement following the meeting, both sides said they found common ground on a range of issues including military cooperation, securing the border and empowering women business leaders. The two leaders said in the statement that they recognized "profound shared economic interests," pledged to work tirelessly to boost growth and generate jobs in both countries and vowed to move forward on the Keystone XL pipeline.
UTC