Trudeau makes subtle reference to landmark foreign policy speech given at U of T
Prime minister cites speech delivered at U of T in 1947 as inspiration for current foreign affairs minister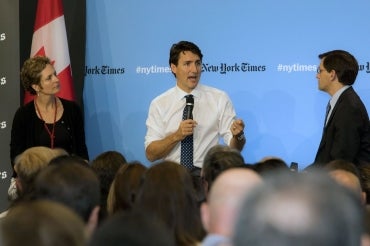 Speaking at the University of Toronto yesterday, Prime Minister Justin Trudeau described Foreign Affairs Minister Chrystia Freeland's first major speech – in which she espoused a global outlook – as a "sequel" to a 70-year-old lecture delivered by her predecessor, Louis St-Laurent.
Canadian history buffs might have gotten the reference, which has its own U of T connection.
Although Trudeau got the date wrong, it was an unmistakeable reference to St-Laurent's Gray Lecture, delivered in U of T's largest classroom, Convocation Hall, according to historian and U of T professor Robert Bothwell.
Here's what Trudeau told the The New York Times at U of T on Thursday:
"In 1948, Louis St-Laurent gave a speech defining Canada as having an independent foreign policy from Britain at that point that said, for which Canadian foreign policy was just an extension of British foreign policy, and since that moment we have always had an independent-minded foreign policy. Obviously we're broadly aligned with many of our friends and values but the choices we make have always been based on Canadian values, Canadian priorities, a Canadian approach to solving problems."
In January 1947, St-Laurent, then minister of external affairs, spoke at U of T, plotting an independent Canadian foreign policy based on principles such as the rule of law and a "willingness to accept international responsibilities."
The Gray Lecture was endowed by George Gray in the memory of his sons, Duncan and John.
Bothwell says Freeland's speech on June 6 is a direct descendent of St-Laurent's speech.
"It's a sequel. It rings some of the same chimes," he said. "The Gray Lecture defines Canada as a liberal democratic state and defines Canadian values and how they should be expressed in foreign policy." 
"That's exactly what Freeland did. The structure, the ideology is the same."
While Bothwell usually considers ministerial speeches a "step above the phone book" in terms of their interest value, he plans to add Freeland's to his syllabus.
Was he disappointed that Trudeau was a year off? 
"Oh no, I just took a grade off his talk," he said.
UTC