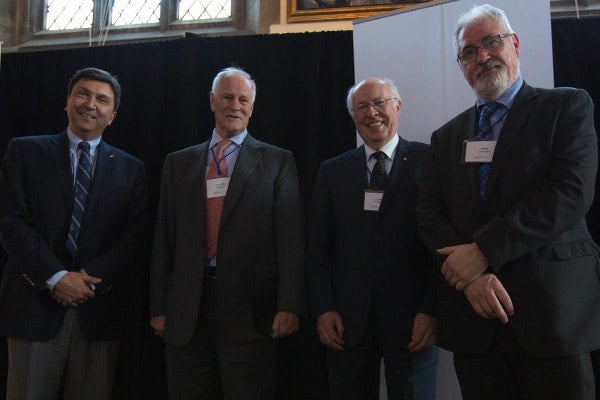 Trinity Chancellor announces landmark gift
The Honourable Bill Graham, Chancellor of Trinity College, is donating $5 million to the Centre for Contemporary International History, providing a new "coherent, central home" for students and researchers.
Trinity College Provost Andy Orchard announced the gift at a luncheon Tuesday during a conference organized by the centre on the 50th anniversary of the Lester B. Pearson government, which took power in April 1963.
The Centre for Contemporary International History (CCIH) is a joint venture between Trinity College and the Munk School of Global Affairs. It was founded two years ago and will be renamed the Bill Graham Centre for Contemporary International History.
Orchard, calling Graham "a true champion" of the University of Toronto and Trinity College, said the Chancellor and his family's "vision and commitment" will allow the new centre to "flourish further" after "growing like topsy" in recent years.
The $5 million donation is the biggest single gift ever to Trinity, the Provost said, and follows earlier donations Graham made to help establish the centre.
Graham said he wanted to "pay back somewhat for the rich educational experience I received here. I feel that this university is an important part of my life. I feel I owe what I achieved later in life to what I learned at this university."
He said it was appropriate that the funding announcement was made during a day when a conference was being held about Lester Pearson, a "Canadian who lifted Canada into a new place in the world. If this centre can do something to help lift our students into a new place in the world so that they themselves can contribute to making a better city, better province, better Canada – if we can do that I will be grateful. And thank heavens we can help young people have better, more interesting, stimulating and productive lives."
Graham said the centre "is designed to complement the International Relations program" at Trinity, and "complement the work being done at the Munk School of Global Affairs." In an interview, Graham said "Trinity's vocation for international relations certainly drew me to the fact that it was a logical place to benefit undergraduate students." The funding will also enhance the centre's ability to build relationships around the world, he said, pointing to one that already exists with the National University of Australia.
Professor John English, the first director of the new centre, said "Chancellor Graham's extraordinary generosity will make the centre a major focus for innovative research and teaching on contemporary international history. It is an important gift that recognizes the value of interaction among students, academics and those with experience in public life."
Dr. David Naylor, President of the University of Toronto, thanked Graham for his "catalytic gift" and said he remains a "figure of considerable public influence."
Few people are more closely tied to their alma mater as Chancellor Graham, President Naylor said. "In many ways, Bill, we are grateful for you as fellow Canadians, for your generosity of spirit and leadership and for this landmark gift today."
Graham, a former senior cabinet minister in the governments of former prime ministers Jean Chrétien and Paul Martin, is donating his papers to Trinity. The centre itself is generating books from two conferences – one in Toronto last year on Afghanistan – and one this year in Australia on Iraq.
Graham (B.A. Trinity, 1961; LL.B 1964) has financially supported the centre since its inception. Several years ago he made a major contribution to establish the William C. Graham Chair in International Law and Development at the Faculty of Law.
Orchard said the centre, now located at Trinity College, will be expanded immediately and could take over additional space over the coming years.  In an interview prior to the announcement, Orchard said the centre "has started as an undergraduate program at Trinity, which has a great reputation for international relations coming from eminent professors such as Bob Bothwell and my predecessor, Margaret MacMillan."
Graham has taught international law at the U of T Law Faculty and will teach a course at the centre.  Orchard said "you can imagine how wonderful it is for Trinity undergraduates to have their own Chancellor coming in to share his experiences."
There will likely be more internships at the centre because of the gift by Chancellor Graham. "It will give people not just another line on their CV but allow them to do something fairly important," Graham said.