Trevor Young appointed U of T's vice-president and provost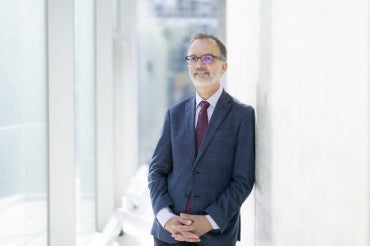 Trevor Young, dean of the Temerty Faculty of Medicine and an internationally recognized scholar on bipolar disorder and the molecular basis of mood disorders, has been appointed the University of Toronto's new vice-president and provost.
Approved Tuesday by U of T's Governing Council, Young's appointment is for a five-year term, effective Jan. 1, 2024 to Dec. 31, 2028.
Currently also serving as U of T's vice-provost, relations with health-care institutions, Young is a professor in the Temerty Faculty of Medicine's departments of psychiatry, and pharmacology and toxicology, and a senior scientist at the Centre for Addiction and Mental Health.
He previously served as U of T's acting provost from July to December 2021.
"As dean of the Temerty Faculty of Medicine, Professor Trevor Young has demonstrated exceptional leadership on many fronts, from launching transformational academic programs to developing important initiatives around equity, diversity and inclusion," said U of T President Meric Gertler. "He also played a key role overseeing the university's relationship with its health-care partners – and, as the university's acting provost, helped lead the University of Toronto through a challenging period during the pandemic.
"I look forward to having Professor Young join the vice-presidential team and to continue working closely with him on advancing the university's mission."
Young, who will succeed current Vice-President and Provost Cheryl Regehr, said his time as acting provost spurred his interest in taking on the role on a longer-term basis.
"It means a lot to me to be able to give back to the university, which has been like a second home for me in many ways," he said. "The fact that I can contribute by making an impact as provost is really significant to me."
Since being appointed dean at the Temerty Faculty of Medicine in January 2015, Young launched a new foundational curriculum for MD students, introduced several interdisciplinary education and research programs, advanced system-wide equity, diversity and inclusion initiatives with partner hospitals and other health sciences faculties, and led the renewal of medical sciences laboratory space.
He also advanced the Temerty Faculty of Medicine's position as the lead contributor to Ontario's regulated health professional workforce and made significant progress in areas of equity, diversity and inclusion through his support of curricular innovation and new initiatives such as the Diversity Mentorship Program and the Black Student Application Program.
As vice-provost, Young has overseen the university's relationships across the Toronto Academic Health Science Network, a thriving research enterprise comprised of nine fully affiliated teaching hospitals and four associate member hospitals.
"Temerty is a big, multi-departmental faculty, which has helped prepare me to take on a leadership role of this scale and complexity," Young said. "During my time as dean, I learned how important it is to make sure that you include a lot of voices and listen closely to seek out opportunities for solutions."
The recipient of numerous awards, Young has led several large clinical programs, including the mood disorders program at Hamilton Psychiatric Hospital, which received the American Psychiatric Services Gold Achievement Award. In 2009, he was made a fellow of the Canadian Academy of Health Sciences.
Young received his MD from the University of Manitoba and his PhD at the Institute of Medical Science at U of T, where he completed his residency training. He was a research fellow at Johns Hopkins School of Medicine and has been a professor of psychiatry and behavioural neurosciences at McMaster University; professor and head of the department of psychiatry at the University of British Columbia; and professor and chair of U of T's department of psychiatry.
"I've had the experience of being a U of T student, a faculty member and in leadership," Young said. "I've had a chance to see lots of different sides of the university and hear perspectives from the community – and that will serve me well for this role as provost, which has oversight over so many areas."
In January, President Gertler shared that Regehr, a professor and former dean of the Factor-Inwentash Faculty of Social Work, planned to step down as vice-president and provost at the end of the year. First appointed to the role in 2013, her many accomplishments include improving U of T's equity and outreach programs, supporting faculty diversity, excellence and leadership, securing enhanced supports for graduate students and advancing student mental health.
"I want to thank Professor Regehr for her exceptional leadership and dedication to student success and academic excellence," President Gertler said. "Her achievements in this integral role will continue to resonate at the university for many years to come."
As provost, Young said he plans to build on Regehr's work while drawing on his background in mental health and his role as chair of the Presidential and Provostial Task Force on Student Mental Health.
"I really want to continue to work on student mental health and accessibility – I think we've done a remarkable job of improving that, but I think we have to do even more," he said.
"I also want to look at how we approach AI in all the work we do in teaching and research, especially given the fact that we've had such a remarkable impact on the field coming from Geoffrey Hinton and others here. And finally, I'd like to look at how the three campuses can work even better together."
UTC