Trend-spotting Google exec Colin McKay says U of T prepared him for dynamic career path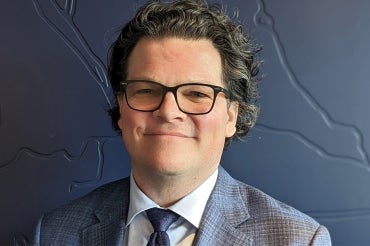 Colin McKay built an impressive career in government and industry by analyzing data and spotting trends – and he says his education in the University of Toronto's Faculty of Arts & Science contributed to his success. 
McKay obtained a B.A. with distinction in history and international relations at U of T as a member of Trinity College, followed by a master's in history. He worked for the Office of the Privacy Commissioner of Canada before moving to Google Canada, where he currently heads government affairs and public policy.
"There is a clear trend line in my life because the work I was doing for my undergrad and graduate degrees was really about information collection, analysis and communications," he says.  "What I studied in terms of information and intelligence analysis translated into my early jobs, and that flowed into an opportunity with the privacy commissioner."
He started at the Office of the Privacy Commissioner of Canada – which provides advice to individuals about protecting personal information and enforces federal privacy laws – in 2007, just a few years after the advent of Facebook, YouTube and Twitter. The rising popularity of social media prompted new questions and fuelled debate around privacy.
"I felt I had insights into that policy dialogue, as well as the specific work, based in part on the studies I had done at U of T," McKay says, adding that it also helped to be an early adopter of social media.
"The work at the privacy commissioner helped me take a deep dive into the other side of information use and analysis, which added to the collection of skills that got me the job at Google."
McKay was drawn to the field of international relations because his father was a diplomat whose job took the family all over the world.
"I also liked the multidisciplinary nature of being able to jump between economics, political science, history and specialist courses," says McKay.
"And I took my time at U of T, because I was taking all the courses that appealed to me intellectually, but also because I was viewing the subject matter from a variety of perspectives and disciplines."
One of McKay's main roles at Google is understanding the evolving regulatory environment around privacy and data collection and how that affects the company and consumers. He's also charged with navigating that landscape with policymakers, researchers and politicians drafting new policies and legislation.
His U of T education is an important foundation for that work as well, he says.
"There's a lot of conversation at the moment about how exactly we create a regulatory framework designed for 2022," says McKay.
"It all goes to the multidisciplinary nature of my international relations degree. Whether it's political science, economics or history," he says.
"You have to work hard to understand the environment, the problems to be solved and the specific communities you deal with, to evaluate and execute decisions. That makes my role very interesting."
He says his focus on following his own personal interests and professional challenges throughout his school years and career also gives him insights into the changing expectations of younger Canadians in the workforce.
"I'm not as confused as some of my peers about people being willing to abandon jobs or to fundamentally rethink what they want to do with their skills and their time. Because that's how I was initially trained and how I've behaved since then," says McKay.
Previously a board member and vice chair at Media Smarts, a non-profit that promotes digital and media literacy, McKay says it's important for the public to be given adequate tools and training to appreciate the benefits – and risks – associated with technology.
"I think the overlap with the media literacy work I've been doing is that there is a level of expectation and burden on the individual to understand the implications for them of the technology they're using, both in the moment and in the future."
Arts & Science