U of T staff, faculty bring their kids to work
Close to 500 kids between Grades 4 and 7 visited U of T for Bring Our Children to Work Day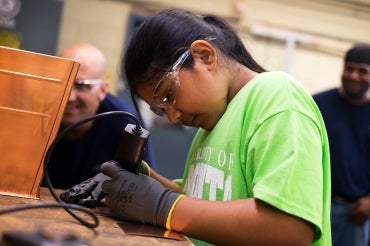 Under the watchful eye of her dad Raymond, Madison Chotoo carefully engraved an "I love you" into a strip of copper.
It was a practice run before decorating a planter that she made during a tinsmithing workshop hosted by U of T trade services on Thursday. 
"I'm sweating," she said, after about an hour labouring away. 
The activity was one of many organized across the university for Bring Our Children to Work Day, a U of T tradition for more than two decades, according to Francesca Dobbin, director of family programs and services.
"Parents take pride from working at U of T, and this is a great opportunity to showcase their work to their kids," she told U of T News. 
"All the tours are really hands-on, so they get to experiment and come away with things."
Along with Chotoo, whose dad is a plumber, three other children fashioned copper planters, many of which were dedicated to their moms for Mother's Day. Kaelin Haire, in Grade 6, came away from the experience with a newfound appreciation for her grandfather Murray Haire's work and others' in trade services.
"You have to love what you do to do as much as they do for the university," she said.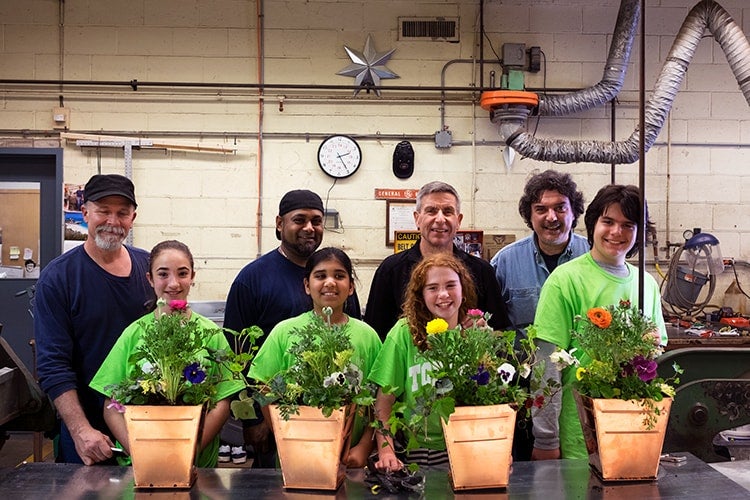 From left, Orlando and Mara Luisoto, Raymond and Madison Chotoo, Murray and Kaelin Haire, Nik and Nektarios Angelinos (photo by Geoffrey Vendeville)
Earlier in the day, U of T's Chancellor Michael Wilson, invited five kids to Simcoe Hall to try on university officials' Convocation robes and hold the ceremonial mace. Wilson emphasized the importance of lifelong learning.
"I am a lot older than you," he said. "And I'm still learning – all the time, I'm learning. The reason I am is because I work with young people."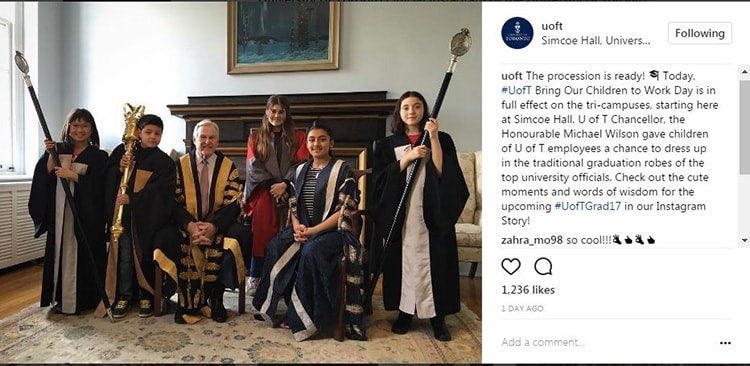 U of T employees' children got to try on the president's and honorary degree recipient's robes at Simcoe Hall (photo by Krista Boniface)
And elsewhere on the downtown Toronto campus, 11-year-old Liam Staig learned to build a motor out of a battery, magnet and wire in a physics workshop.
His mom, Emma Scully who works in human resources in the Faculty of Applied Science & Engineering, also showed him around.
"I loved the old buildings," he said.

Emma Scully and her son Liam, 11, toured the St. George campus on Bring Our Children to Work Day (photo by Geoffrey Vendeville)
Daphna Heller's sons are used to shadowing their mom on Bring Our Children to Work Day. This year, one visited the greenhouse with experts from the department of ecology and evolutionary biology while his older brother learned about chemistry.
Their mother, an associate professor in linguistics, brought them to her lab later that afternoon. 
"They're going to do an experiment," she said. "I can't collect the data on them because it's not a kid's lab, but they can do it just for fun. Then, they'll know what my experiments look like."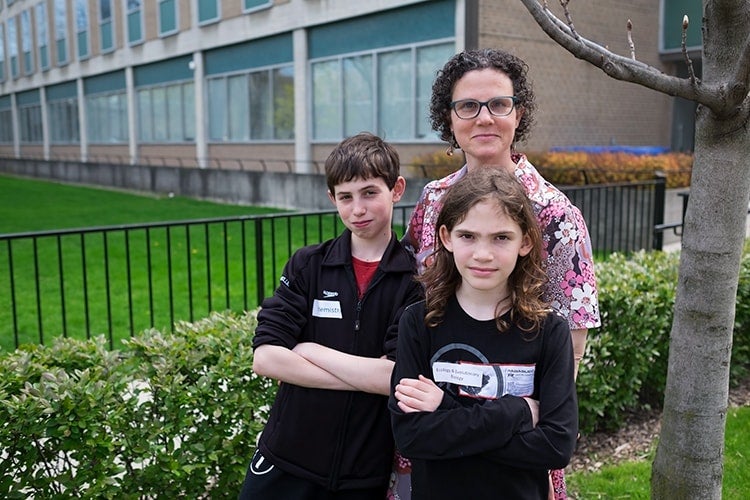 Heller and her boys, 13 and 10 (photo by Geoffrey Vendeville)
Over at U of T Mississauga, Dave Mazierski, an associate professor in biomedical communications and biology, led a lab demonstration – and found no shortage of volunteers.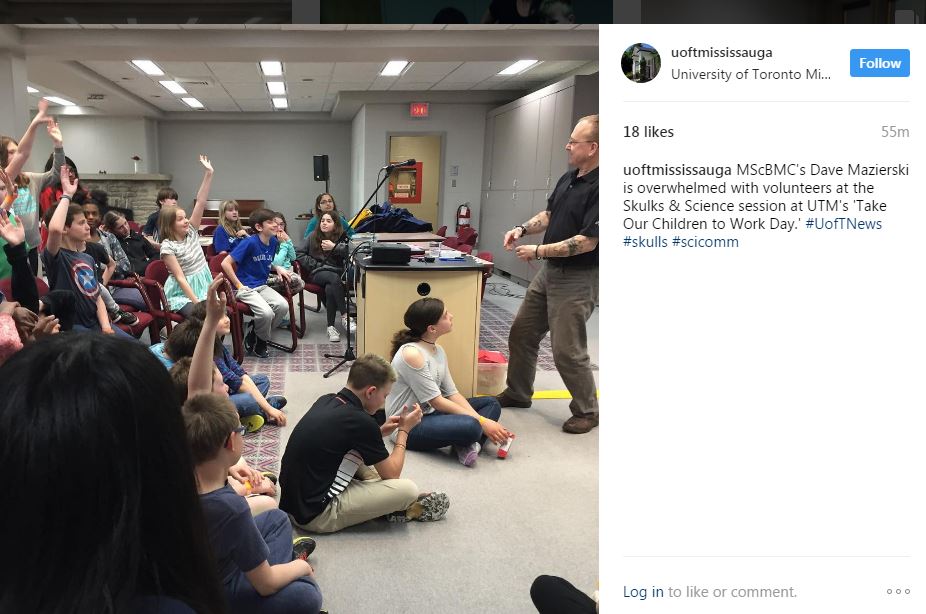 UTC