#TorontoStrong Vigil: U of T community joins thousands to remember victims of van attack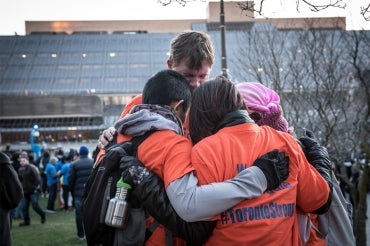 Amy Wang was at home in her Yonge-and-Finch condo when – right across the street – a driver of a rental van sped down the sidewalk, hitting pedestrians and turning a quiet Monday afternoon into a tragedy.
At the time, Wang, who studies mental health and English at U of T Scarborough, was unaware of the scene unfolding below her sixth-floor balcony. In all, 10 people were killed in the attack, including one University of Toronto student, and 16 others were injured.
"I didn't realize what had happened until a few of my friends started messaging me wondering if I was OK," she said.
But the carnage was inescapable.
"Witnessing the aftermath really had an effect on me because I have friends who live here, I live here myself, my family lives here," she said. "It easily could have happened to any one of them."
On Sunday evening, Wang joined U of T students, staff, faculty, campus police and thousands of people from all over the GTA as they marched down Yonge Street to Mel Lastman Square where the #TorontoStrong Vigil took place in memory of the victims of the van attack.
 "The community is still grieving deeply," said U of T President Meric Gertler, as he stood together with members of the U of T community at the square. "We're all still trying to make sense of what happened and understand how to minimize the chances of something like this happening in the future.
"That won't be easy, but you do really see the strength of this community when you come to an event like this."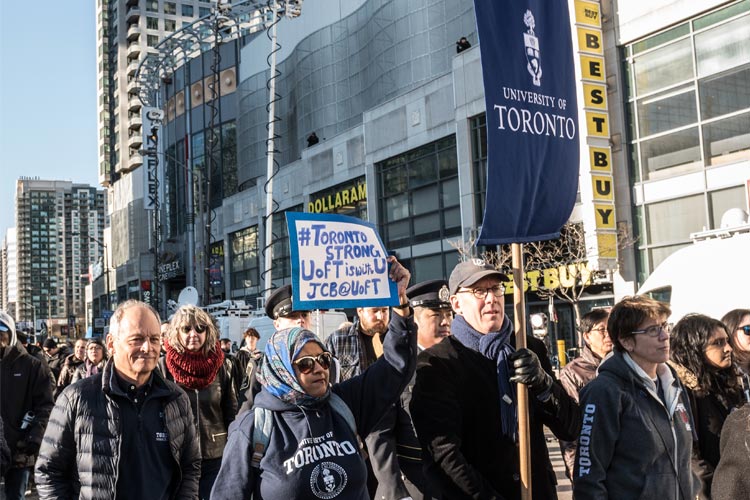 "I am so pleased to see my university being represented here," said U of T student Asma Fazal (second from left), pictured marching with President Meric Gertler (left), University College Principal Donald Ainslie and Vice-Provost, Students, Sandy Welsh (photo by Lisa Sakulensky) 
Proudly carrying the U of T banner, University College Principal and Philosophy Professor Donald Ainslie spoke of the importance of unity in difficult times.
"It's a very sad, sad occasion, but if you can find a silver lining in such a dark cloud, it's that Toronto has shown that its values are powerful and allow us to come together in a moment like this, rather than see it as a reason to divide ourselves from one another," he said.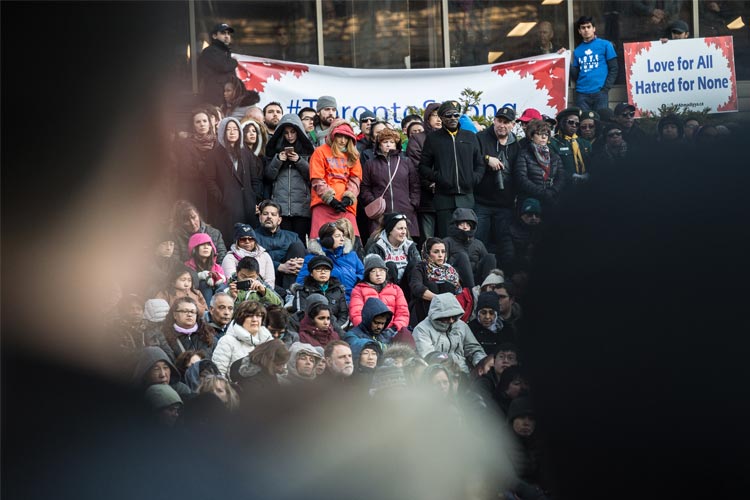 Torontonians filled Mel Lastman Square for the #TorontoStrong Vigil (photo by Lisa Sakulensky)
At difficult moments, it's important to be with the people you're closest to, said Bruce Kidd, vice-president and principal of U of T Scarborough.
"There's a tremendous sense of emotional solidarity and reassurance being with your colleagues, and with students and with alumni who identify with U of T," Kidd said. "This has been very difficult for all three campuses and the extended U of T communities, so I think it's important we're here together."
Kidd was joined by students and staff from U of T Scarborough, including Varsha Patel, the assistant dean of student success, and Nisbeth Ahmed, business officer for the academic advising career centre.
"Being here I think is really important for us to show strength and compassion and kindness," said Patel.
The vigil reaffirms Toronto's values of diversity and inclusion, said Ahmed.
"I felt so strongly that this city, my adopted city, the one I call home now, needed this show of solidarity, where we all came together and mourned our dead, but showed that we were one community."
We are a big place, but a small family, said Sandy Welsh, vice-provost, students, and professor of sociology.
"Those of us who are here are talking to each other, getting to know each other – and it's also important to let students who might be in their apartments, looking down, see that we're here," she said.

Canadian dignitaries at the vigil (photo by Cole Burston/Getty Images)
Bryn MacPherson, assistant vice-president in the office of the president and chief of protocol, and Sherine Daryanani, associate director of university events, assisted the City of Toronto at the vigil, which was attended by Governor General Julie Payette, and political leaders including Prime Minister Justin Trudeau, Premier Kathleen Wynne and Mayor John Tory (pictured above).
Members of the U of T community were also speakers at the vigil – including Pandit Suraj Persad, the Hindu chaplain for U of T and the Toronto Police and Bhante Saranapala, U of T's Buddhist chaplain.
"Canadians are a multiracial and multicultural mixture of caring and compassionate people," Persad told the crowd. "If we continue joining together and collectively think noble thoughts, speak sweet and soothing words and perform selfless actions, we can definitely make this world into a better place for all."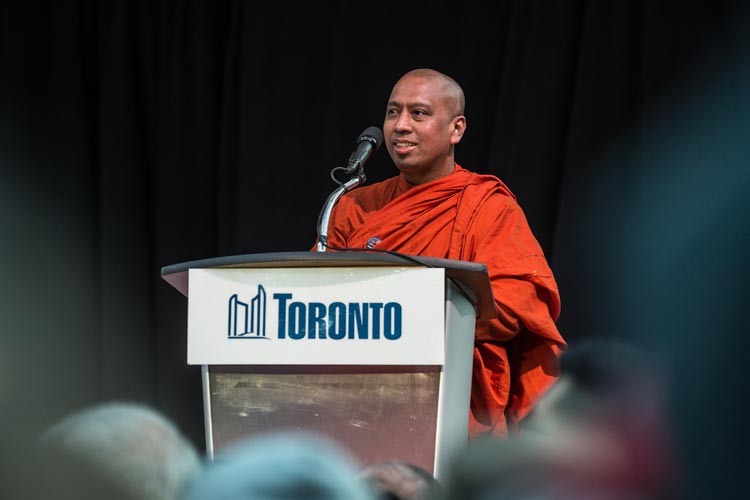 "I am here having subdued the rising feelings of anger and retaliation, leaving behind all hatred, and feeling our trust, our hopes, universal goodness and collective goodwill that conquer all fear," said Saranapala (photo by Lisa Sakulensky)
Toronto's Poet Laureate – and U of T alumna – Anne Michaels recited a message of resilience for the city in mourning.
"Our love reaches every corner of the city.
We know hope is not a luxury.
What we give cannot be taken from us. 
Feel how you are needed.
Let love answer."
UTC