From Toronto to Tuktoyaktuk: U of T faculty, students take Science Rendezvous across Canada
"I'm hoping we light a little spark in these kids so they can discover and learn"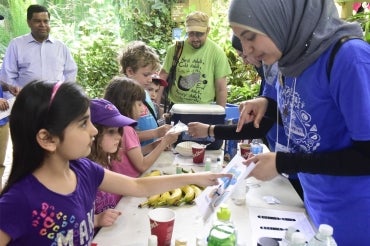 It took two days and five flights for University of Toronto PhD student Daniel Szulc to get to Tuktoyaktuk in the Northwest Territories – all for the sake of science.
Szulc is running programming for the territory's celebration of Science Rendezvous – a Canada-wide science and engineering festival for the entire family, which takes place this Saturday.  
The Institute of Biomaterials & Biomedical Engineering (IBBME) student will be flying on a tiny plane from Tuktoyaktuk to Inuvik and Aklavik throughout the day, running interactive workshops for children living in remote areas so they feel included in the day-long fun. The free festival engages students of all ages.
"We're running some demos with the classrooms where the children and students can do hands-on experiments and actually experience being a scientist," Szulc says. "I'm hoping we light a little spark in these kids so they can discover and learn."
He described the area he'll be working in as "absolutely beautiful."
"Because it's so remote, it's really difficult to get materials up here and get individuals up here so bringing science up here can allow kids to get a chance to interact with things that they don't normally interact with," says Szulc. 
Science Rendezvous, now in its 10th year, was the brainchild of U of T University Professor R. J. Dwayne Miller, who having been inspired by a similar event in Germany, decided to launch a festival in Canada in partnership with universities and organizations all over the country.
At U of T's downtown Toronto campus, there's plans to once again celebrate science in a big way. Students will get to explore outer space using virtual reality, watch an earthquake simulation and learn about edible bugs. Check out the exhibits lining St. George Street, take a tour of the campus's state-of-the-art labs and participate in the Canada 150-themed Science Chase scavenger hunt.
"Science is about asking questions, solving problems, challenging dogma," says University Professor Molly Shoichet, U of T President Meric Gertler's senior adviser on science and engineering engagement. "Imagine what we would be doing if we didn't? We probably would still be using leaches to cure diseases.
"Science Rendezvous ignites that spirit of discovery, engaging us all to invent a better future."
Robots, solar cars, rockets, satellites, and drones, oh my! Come see them all at #SR2017 this Saturday, May 13th! #OdySci #ChooseScience pic.twitter.com/kZa3aCdrCe

— SR UofT (St. George) (@UofTSR) May 11, 2017
Unfortunately, U of T Scarborough's Science Rendezvous activities, which were to take place at the Toronto Zoo, have been cancelled due to a strike.
Last year, the festival was attended by 300,000 people. Miller, like Szulc, sees it as an opportunity to inspire a new generation to "unleash their inner geek."
"Everybody's born a scientist. Everybody's curious. We just need to get that instilled in a way that it's part of a lifelong pursuit so you stay thinking critically."
This year, all Science Rendezvous sites are taking part in a water-testing experiment.
"It'll be a good opportunity to engage the local communities, and to get excited about water science and create a picture of the water health in Canada," says Katie Miller, Science Rendezvous' executive director. "They will upload the results to the website. It will create an overall picture of what is going on around the country."
In the Northwest Territories, Szulc will be running the water-testing experiment and will be teaching high school students how to produce energy through water splitting.
"Then we're having elders come in to have their perspective on water – how they assess water, really trying to create culturally-relevant programming so students can see that their culture and their life here also connects to science, and they can use science to enhance it," Szulc says.
#TBT to these young scientists having a great time at SR2016! Come to #SR2017 and these fashion choices could be yours! #OdySci pic.twitter.com/TBmFhbSbnH

— SR UofT (St. George) (@UofTSR) April 20, 2017
Science Rendezvous is a lot of fun, but it's also a chance for scientists to showcase their work to a wider audience, says Professor Miller.
"It's a great opportunity for the scientists themselves to give back to the general public, tell them what they're doing with public money and explain what it's good for," he says.
The event also helps to ignite a passion for science that many scientists feel is under threat south of the border.
"Now more than ever it's becoming apparent at how much we need to be more active and engaging our general population," says Katie Miller. "For a while, it was assumed it was seen as being important, and now we really need to re-engage with the general population on a regular basis and keep that importance relevant in their mind."
UTC