Toronto tourism boom is great news for a growing city: U of T experts
"Look at those condos going up – they're all potential bedrooms for visitors"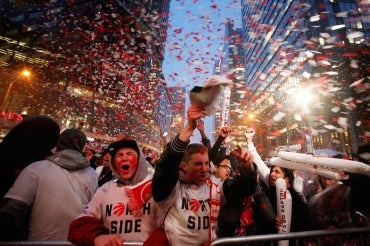 All eyes are on Toronto. 
We've got Drake as our celebrity hype man, the Jays and the Raptors proving our pro sports teams are playoff-worthy – even the Guardian is praising the "New Toronto". 
The city is on the rise and there are hordes of tourists to show for it. Last year, Toronto had a record 14 million overnight visitors, with Tourism Toronto expecting that number to rise for 2016. 
"Toronto is on people's radar because it is affordable, because it is safe – that's the big thing," says Richard Powers, an associate professor, teaching stream, at the University of Toronto's Rotman School of Management. 
He says last year's Pan Am/Parapan Am Games played a large role in getting the city noticed.  
"We showed last summer that we can host the world," he says.
Toronto kept the momentum going this year with sporting events like the NBA All-Star Game at the beginning of the year and the Raptors' stellar playoff run.
And the action continues with the Ontario Summer Games in August, the World Cup of Hockey in September and the world junior hockey championship at the end of December, which are expected to draw fans from all over the world. 
Big attractions aren't the only thing drawing visitors – it's the big savings too. The weak loonie – hanging just under 80 cents U.S. – makes for a cheap vacation for those who live south of the border. 
"Every time the loonie is weak we naturally expect and indeed see far more people, especially Americans, coming to visit Canada," says Ambarish Chandra, assistant professor of business economics at the University of Toronto Scarborough. 
"People will find a good reason to come if it's a good deal for them," he says.
Tourism Toronto says visitor numbers have been on the rise for the past six years, which according to Chandra, is great for the city. Increased tax revenue will provide more funding for future projects, he says.
"More money flowing in will always make those decisions easier," says Chandra. 
While the city will benefit, Chandra says an influx of people could make dining and entertainment more expensive for residents. 
"If there continues to be big numbers of tourists – or a growing number – businesses will have to adjust by raising prices," he says. 
If those tourists keep coming, Toronto is ready to host them – and you can credit the sharing economy, especially sites like Airbnb, for that, says Powers. 
"Look at those condos going up – they're all potential bedrooms for visitors," he says.
The key to continuing to break tourism records?
Powers says Toronto just needs to keep hosting great annual and one-off events. Sports tournaments, music and film festivals and cultural events "are all things that draw people to the city," he says.