Toronto's future city builders: Jonah Letovsky
"It absolutely makes change more palatable when you bring in the local community"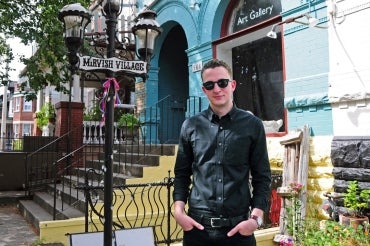 They're the new generation of Toronto city builders. 
Meet the ambitious University of Toronto students and recent grads poised to become big players in shaping the city's identity and contributing to its growth. 
This ongoing series from Romi Levine, who covers the city beat for U of T News, shares their stories.
---
Jonah Letovsky seems to know everyone in Mirvish Village. As we chatted on the steps outside of Markham House – real estate developer Westbank Corp's community space – he paused every few minutes to say hello to someone new – from colleagues to an indie bookshop owner.
The University of Toronto grad's affable nature complements his city building philosophy that is anchored in community engagement. 
"I think change absolutely should be more integrated," says Letovsky, "and it absolutely makes change more palatable when you bring in the local community.
"You incorporate those voices for how they'd like to see it done and you hear the ways that people live and work in the neighbourhood."
As a project coordinator with Westbank, working on initiatives such as the lofty Mirvish Village and Honest Ed's development, Letovsky's approach comes in handy.
To say the proposed Mirvish development is ambitious is an understatement. Bought in 2013, the 1.8 hectare site, which includes Honest Ed's, is set to be transformed into towering residential buildings, retail space and a public market. This means the iconic discount depot is on the chopping block.
The project isn't without criticism, with community members voicing concerns about the proposed density and the preservation of heritage buildings.
Letovsky says it comes with the territory.
"With Honest Ed's, people realize that the building itself is a building from the 80s, it's not a building designed to last forever. But there's ways you can really interpret the heritage and feeling of Honest Ed's in the new site," he says.
What was so special about Honest Ed's was the role it played in catering to new immigrants, who couldn't afford to shop at big department stores, says Letovsky.
"In my eyes the idea of a public market and micro retail that offers that diversity of retail opportunities and that leg-up for small entrepreneurs is an amazing way to reinterpret this – it's a whole lot better than a plaque," he says.
With regard to complaints about the development plan's density, "there's always a trade-off," Letovsky says.
Multi-storey towers are the only way to fund the retail and community space, he says.
"I don't really care so much about the heightened density as long as we're achieving these social goals. Part of that is diverse housing, part of that is a diverse commercial environment, part of that is affordable housing," says Letovsky.
Despite the criticism, he says, there's been overwhelming support from the community around Mirvish Village.
Letovsky graduated from U of T in 2015 – majoring in political science with a double minor in urban studies and environmental studies. While in his undergrad, he accrued an impressive list of accomplishments from a stint as a researcher for the United Nations environment programme (UNEP) in Paris to an internship at the Martin Prosperity Institute.
Letovsky says interning at the institute was a great leg-up in the industry.
"That was an incredible opportunity to learn the academic side of what I'm doing now – which is revitalizing urban neighbourhoods, urban economic development… I think that was entirely critical to where I am right now," he says.
Shauna Brail, associate professor, teaching stream and director of the urban studies program, says there are various ways for future city builders to make a name for themselves and to catch the attention of industry leaders.
"This might mean cultivating an urban-focused social media presence, participating in networking events or volunteering with civic organizations," says Brail, urban affairs adviser to U of T's president, Meric Gertler.  "It helps of course if students have a sense of where their passions lie: social justice or real estate, transit planning or community development."
In his current position, Letovsky has to juggle many different responsibilities, from property management to marketing and public relations - but the range of duties doesn't seem to intimidate him.
"I think that's an expansion of what urban studies is – in particular what the urban studies program is – because it's not urban planning, it's not urban economics, it's not urban politics, it's all of those things combined," he says. "It's really interdisciplinary and that's why I loved it and I wanted to continue that. So I feel really lucky that I'm in a position where I do all of those things every day."