Toronto needs to adopt a fresh vision for its public art policy, says report co-authored by U of T expert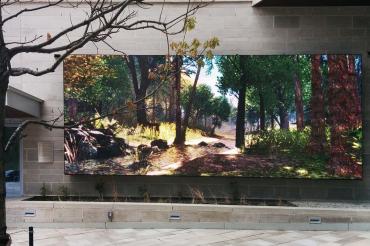 Toronto needs to develop a fresh vision for its public art projects and integrate public art in all future planning, says a new report on the subject.
"A renewed vision for public art is something that should be given priority, especially as Toronto tries to market itself and position itself as a cultural leader in the country and globally," says Sara Diamond, president and vice-chancellor of OCAD University, who authored the report with the University of Toronto's Dan Silver.
The authors and their teams, which included researchers from U of T and OCAD U, pulled together an exhaustive list of materials for the report, titled Redefining Public Art in Toronto. In addition to interviews with artists, architects, developers, politicians and other art experts in Toronto and Montreal, they relied on an inventory map of all public art projects completed in the city from 1967 to 2015, created by Ilana Altman.
They also looked at a host of public art policy documents for the City of Toronto and collected similar documents from 30 other cities around the world as part of a comparative analysis. The result? While there are areas where Toronto is doing well, there are clear areas where it's falling behind.
For one, Toronto was a leader in the 1980s when it drafted an official public art policy, placing it ahead of the pack. Unfortunately, the policy hasn't really been refreshed or updated since it was codified after amalgamation in the early 2000s. Silver, an associate professor of sociology at U of T Scarborough, says even the city's definition of public art itself is very narrow and conservative, tending to prioritize public art as things like large monumental sculptures over work in other media, forms, and durations.
Another key area of improvement is how the city goes about funding these projects. The number of public artworks in Toronto is at an all-time high (700 works were created between 1967 and 2015), but investment has lagged compared to cities like Chicago, San Francisco, Vancouver and Montreal.
"The funding model is pretty unique to Toronto; it's a maze and you can lose yourself in it," says Silver (right). "But the bottom line is that how projects gets funded in Toronto is through a negotiation with developers for a percentage of development costs that then go towards public art."
This has resulted in a boon for public art in the city, especially since its implementation in 2002. The downside of this is that new public art projects tend to get concentrated right where the development is, mainly downtown. While many cities face similar challenges, Toronto has yet to develop strong tools for targeting public art projects in underserved areas and where they might have the most impact, adds Silver. 
Diamond and Silver insist the report was not solely an academic exercise but also a way to offer a path forward for the city by outlining eight key recommendations, which range from robust funding to better promotion of public art. They also bring a wealth of experience from outside of academia, with Diamond being the chair of the advisory committee for Nuit Blanche, while Silver was co-creator of the Art of the Danforth festival.
"Public art is about building a profoundly liveable city," says Diamond. "There's no denying it has an aesthetic role, but it's more than just a decorative add-on; it can help play an important role in the future trajectory of the city."
The authors note there is room to better integrate a public art policy into future infrastructure projects. Diamond points to how other international cities involve artists early on in the development of public spaces, including transit and other forms of infrastructure.
There's also room for the city to better highlight its diversity through its public art spaces. Silver says nearly 20 years after amalgamation, Toronto is still trying to figure out how city-building should work without fragmenting the downtown core from the inner suburbs of Scarborough, Etobicoke and North York.
"I hope when Toronto looks at its city-building plans in the coming years and decades, more of an effort will be made in reaching out to all of its neighbourhoods," he says.
"All of these areas have rich cultural activity and are deserving of an effective strategy."   
UTSC