Toronto 'more than checks the boxes' on Amazon HQ2 checklist: U of T urban expert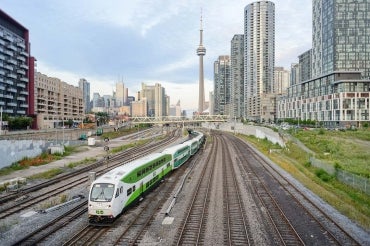 When online retail giant Amazon announced it was planning to build a second headquarters in North America and put out a checklist for its desired location, urbanists, politicians and journalists rushed to draft proposals and write think pieces about why their city should be chosen.
Toronto was no exception – and with good reason.
"Toronto more than checks the boxes – it checks the boxes and lands pretty high," said Associate Professor Shauna Brail, University of Toronto's presidential adviser on urban engagement and director of the urban studies program in the Faculty of Arts & Science.
Amazon's request for proposals (RFP) stated that it would bring 50,000 jobs to the chosen city and put billions of dollars into the local economy. With the RFP came detailed criteria for what makes a city worthy of the investment. The list includes a strong, educated workforce, a diverse population and a solid transportation infrastructure.
Even the phrasing is noteworthy – the inclusion of  "North America" instead of "America" is an indication that Amazon is taking Canada seriously, said Brail.
"It's a real testament to the growing profile and an acknowledgement of the strengths of Canadian cities," she said.
Central to much of the RFP criteria is the role of universities in fostering talent and growing the regional workforce, U of T President Meric Gertler said at the International Economic Development Council earlier this month.
"I have argued that universities like U of T exert an outsized influence on the current and future prosperity of Toronto and Canada," he said.
In fact, it's something Amazon is specifically looking for, writing in the RFP: "A highly educated labor pool is critical and a strong university system is required."
With highly ranked U of T and three other universities and four colleges, Toronto fits the bill, said Brail.
"We have a labour force that is not just well-educated but that has talent in a diverse array of activities, including and importantly STEM, but also in finance, in manufacturing."
Beyond the Amazon bid, the RFP can be used as a blueprint for economic development, said Gertler, using its criteria to bring about more investment in education, entrepreneurship and research, as well as culture and infrastructure.
"Implemented properly, these investments and initiatives would greatly contribute to a flourishing, symbiotic partnership between a university and its host region – and, in turn, spur local economic development and prosperity," he said.
The document forces us to think both critically and positively about Toronto, and in turn, has become an exercise in urban self-awareness, said Brail.
"So much discussion and ink has been spilled already before anything has actually really happened," she said. "The quality of debate and the fact that the economic geography of location selection and the role cities play has generated a lot of amazing conversation."
UTC