Toronto comes out to support One Spadina Crescent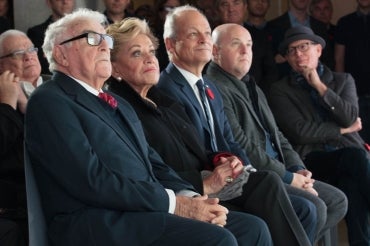 In June of 2013, U of T's John H. Daniels Faculty of Architecture, Landscape, and Design unveiled its plans to transform One Spadina Crescent into a focal point for education, research, and outreach – a centre where students, scholars, artists, and urbanists throughout the city and around world can convene to discuss and debate the most pressing design issues and creative challenges facing society today.
Today, with the project well underway and scheduled for completion in 2017, the Faculty hosted an event in the emerging Daniels Building to thank and celebrate the many members of Toronto's architecture, design, development, business, and philanthropic communities who have come together to support this vision. Their gifts, totaling over $28 million to date, are a testament to the incredible promise of this project, which aims to situate architecture, landscape architecture, art, and urban design among the key disciplines to transform the way we conceive and build cities and other environments in the 21st century, said Professor Richard Sommer, the dean of the Daniels Faculty.
"Our donors' generosity will have a profound impact not only on the quality of education and research at the Faculty, but also on our ability to engage communities in the Greater Toronto Area as well as a global network of partners and collaborators," Sommer said. "Our role is to bring critical new ideas, technical know-how and artistry to the task of imagining and – literally – building a better future.
"The new Daniels Building at One Spadina is a physical embodiment of that promise and possibility."
Among the celebrated donors present at today's event were alumnus and honorary grad John H. Daniels and his wife Myrna Daniels, whose historic $24 million donation, $19 million of which was earmarked for the One Spadina project, has been a catalyst for the Faculty's recent expansion and transformation.
"The Daniels Faculty stands out among its peers in North America for its excellence in scholarship and breadth of programming," said U of T President Meric Gertler. "John and Myrna Daniels, and our wider community of alumni and friends, are enabling us to enhance the Faculty's standing as a world-leading school of architecture, landscape, and design, while contributing to U of T's growing role as a city-builder in this great urban region. Thanks to your leadership, generosity and commitment, a very important building – and precinct – are being revitalized."
Eberhard and Jane Zeidler, well known throughout Toronto for effecting positive change in their own right, were among other distinguished guests. The architect of Toronto's Eaton Centre and Ontario Place, Eberhard Zeidler and his family – which includes alumna Margie Zeidler – have left a lasting mark on the city. The couple's generous gift to One Spadina will fund the Eberhard Zeidler Library, which will provide students, researchers, and design aficionados throughout Toronto with unrivalled collections in art, architecture, landscape architecture, and urban design.
Also recognized was Eve Lewis – who together with her late husband Paul Oberman brought to light the important role that developers can play in heritage preservation in Toronto. Lewis joined forces with Oberman's business partner Ron Kimel and their respective families to provide funding for the planned Paul Oberman Belvedere, an elevated terrace on the formal south-facing entrance to the original 19th century heritage building, where students and the public will gather for celebrations with a view down Spadina Avenue to the lake.
Nader Tehrani, principal of the firm NADAAA — who, with collaborator Katie Faulkner, designed the new complex at One Spadina — was also in attendance, along with alumnus Michael McClelland, founding principal of ERA Architects, the project's preservation architects, and Marc Ryan, principal and co-founder of Public Work, the project's landscape architects.
Architecture and development firms throughout the city — including The Daniels Corporation, Stantec Architecture, KPMB Architects, Hariri Pontarini Architects, Perkins+Will, Greensoil Investments, DiamondCorp, Giannone Petricone Associates Inc. Architects, Janet Rosenberg & Studio, ERA Architects, superkül, Kohn Shnier Architects, and Shim-Sutcliffe Architects — have provided generous support for the Daniels Building at One Spadina as well. Thanks to their engagement and charitable gifts, the Daniels Faculty's capital campaign has met 80 per cent of its fundraising goal. The Faculty is working to raise an additional $8 million in private gifts to meet its ambitious target as part of U of T's Boundless campaign.
With a combined 30,000 square feet of undergraduate and graduate studio spaces that boast commanding views over the city, an innovative fabrication lab, and additional spaces for graduate and undergraduate scholars to meet informally, the Daniels Building will further enhance the faculty's ability to attract exceptional students to its programs in architecture, landscape architecture, urban design, and art/visual studies.
The new building will help strengthen the Faculty's award-winning research and outreach facilities as well. Its Green Roof Innovation Testing Laboratory (GRIT Lab), for example, will have the opportunity to expand its research through a second site at One Spadina, with funding from Tremco Incorporated, while the Global Cities Institute (GCI) — which is leading the creation of the first internationally certified standards on city data and metrics — will relocate to a 2,324-square-foot street-front pavilion on the north-western edge of the building in a future phase of the project. GCI will be linked to a planned Model Cities Theatre and Laboratory that will bring together the Faculty's talents in data visualization, 3D modeling, digital fabrication, and design and analysis, and place them within a public forum to develop holistic solutions to complex urban problems. A new 400-seat principal hall will enable the Faculty to elevate its popular public programming and lecture series, while a large 10,000-square-foot Architecture and Design Gallery will present internationally significant curated exhibitions on architecture, design, and cities — the only one of its kind devoted to these themes in Ontario.
"The Daniels Building at One Spadina Crescent will provide us with a site to advance collaboration across all disciplines with a stake in the built environment, creating a space for modeling new modes of research, practice, and outreach," said Sommer. "This is a key moment in the history of our Faculty, and I am heartened by the members of the community who have stepped forward to join us in creating this project. The citizens of Toronto and the many visitors to Toronto — and actually anyone who is interested in architecture or the nexus between landscape, art, and cities — will be drawn to the Daniels Faculty at One Spadina."