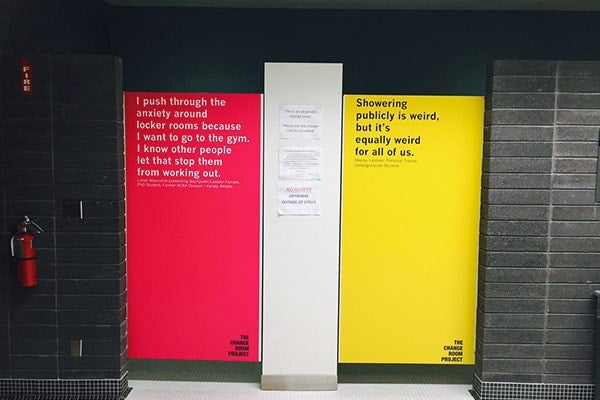 Toronto 2015 Pan Am/Parapan Am Games: the Change Room Project
"The first time I encountered a homophobic slur, it was written on the wall in a locker room in my elementary school." – Elise, lesbian, graduate student
Walking into a gym locker room can evoke a spectrum of emotions. For many users, it's a get-in-and-get-out-fast type of experience. But few people talk about why they feel the way they do about these spaces.
Professor Caroline Fusco explores this world through the Change Room Project, an installation on display in University of Toronto athletic facilities just in time for the Toronto 2015 Pan Am/Parapan Am Games.
"This sort of space involves intersections of cleanliness, hygiene, nudity, the body and the sense of looking at other people's bodies," Fusco says. "It's an everyday, mundane space; but it's a very contested space, too."
Inspired by graffiti, the student voice and fusing the academic and the co-curricular, Fusco surveyed 54 students, including some from her "Geographies of Health" class and others from U of T more broadly, including the LGBTQ community. The answers to her questionnaire, which explored various topics related to the locker room experience and culture, revealed themes of inclusion, gender, safety, the body, guilt, shame, homophobia and surveillance. 
Amanda De Liso, Fusco's graduate student and research assistant on the project, worked with Hart House's program coordinator Day Milman and a graphic designer to turn excerpts from the survey responses into vinyl wall decals. The decals will be on display inside change rooms and common areas of athletics facilities on the downtown and Mississauga campuses, with an overview version installed at University of Toronto Scarborough during the Games.
Michelle Brownrigg, director of physical activity and equity for U of T's Faculty of Kinesiology & Physical Education, says the project should help to foster dialogue improve staff training and programming andcreate more welcoming and inclusive spaces at U of T.
"Visibility, voice, recognition and awareness are steps toward the creation of inclusive spaces," Brownrigg says."The Change Room project provides a voice and recognition, especially for LGBTQ students in a visible way to create awareness around the issues that can arise for members of those communities seeking to participate in physical activity and sport."
U of T News writer Michael Kennedy spoke with Fusco about the Change Room Project.
---
Why did you create The Change Room Project?
The Change Room Project initiative is a collaboration among the PanAm Pride leadership group (i.e., Hart House, the Faculty of Kinesiology and Physical Education, 519 Community Centre, the UTSC & UTM Athletics Centres) and was initiated by UTSC principal and former Olympian Dr. Bruce Kidd. It seeks to critically engage issues of participation and inclusivity in physical fitness as it pertains to mega-games venues and legacy spaces. The Change Room Project investigates how the social and physical experiences of locker rooms impact levels of participation in physical fitness and recreation by LGBTQ students.
Physical activity is an integral component to overall health and well-being. The locker room is the gateway to participation in recreation and athletics, and attention needs to be paid to these spaces from an equity perspective. Voices and bodies of students from the transgender, lesbian, gay, and bi-sexual population are often muted or entirely erased from the design of athletics facilities as well as the policies that inform the usage of these spaces. Although sexual orientation and gender identity are distinct from one another, people who are gender non-conforming or whose sexual orientation is lesbian, gay, bi-sexual or queer, face higher rates of violence, harassment, and exclusion in athletics spaces.
Though the University of Toronto is deeply committed to equity and wellness, there is still much work to be done when it comes to creating safe, inclusive locker room spaces. The Change Room Project represents the continuation of an ongoing dialogue that places LGBTQ voices directly at the centre of the conversation.
What do you hope to see as a result of this project?
The project is designed to build awareness of the experiences of LGBTQ students in athletics and recreation spaces. In representing student experiences in their own words, we hope to shift behaviours and attitudes in locker rooms to be more inclusive, accepting, and reflective, and to advocate for more all-gender spaces that provide options for safer, more inclusive spaces.
Both the physical and social space of locker rooms reflects the cultural bias towards heteronormative, ablebodied, cisgendered individuals and contributes to the underrepresentation of LGBTQ populations in these spaces. Locker rooms are designed around restrictive notions of gender is binaries, one is either male or female. Increased awareness, through dialogue and reflection will help create physical and social spaces where gender and sexuality cease to be barriers to participation in physical activity and recreation.
We hope that as people read the words of LGBTQ students, that they reflect on their own experiences in locker room spaces. People might ask themselves , "what can I, as an individual and as a member of the University of Toronto community, do to create spaces accessible to all people: transgendered or cisgendered, straight or queer?" We are all responsible for creating safe, inclusive and positive spaces.
 
How effective have LGBT celebrities  (Laverne Cox, Caitlyn Jenner, Chelsea Manning, and Canada's own Jenna Talackova) been at building awareness around the challenges faced by this community?
I imagine that these celebrities do bring attention to the existence of trans gender individuals who have been closeted, passing, and silenced but I am not sure that the everyday lives of trangendered people will change dramatically. While there is a certain acceptance of difference because of the voyeuristic nature of celebrity culture, I would argue that acceptance of celebrity 'queerness' does not always translate to embracing transgenderism in the everyday.
In big cities and small towns across Canada and the USA, I would guess that, despite the visibility of celebrities, there are many transgendered individuals who live in fear of, and experience, violence and harrassment, they cannot get a job, they cannot access athletic facilities or teams, they are thrown out of their housing, and they are disowned by their families and friends everyday of their lives. At such times the realities of one's everyday and the hyper reality of celebrity culture must seem worlds apart. Perhaps, the celebrities but more so events such as the Trans March at Toronto Pride may signal hope for someone who dreams of, and for, a different world.
 
What advice do you have for LGBT athletes who face barriers to participation and inclusion in their sport? 
Find out where the safe spaces are, seek out other LGBTQ athletes and allies, report bullying, homophobic and heteronormative harassment to people who will act on it, know your sport policy on gender non-conforming individuals, keep up-to-date with latest research/studies (e.g., see http://www.outonthefields.com/), be proud, be safe and celebrate your physicality always.
---
The exhibit will have a presence at Pride House Toronto and U of T Houses during the Games. You can learn more about the project on the Hart House website. Share your thoughts on Twitter #changeroomproject. Feedback will contribute to ongoing research on the locker room experience and will be used to help create more welcoming and inclusive spaces for all.
Also, watch the Canadian Olympic Committee's One Team video that features, athletes, coaches and allies working towards making locker rooms, classrooms and our sports environments more LGBTQ-friendly and welcoming for all.
KPE