Top marks: U of T ranked first in Canada in QS World University subject rankings
No other university placed in the top 50 globally for so many subjects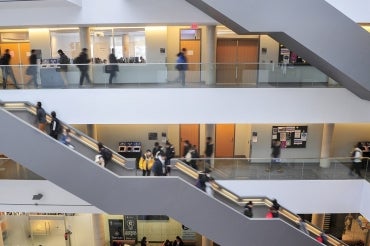 The University of Toronto continues to rise in international rankings, taking top 10 spots in eight subject areas in the 2018 QS World University Rankings by Subject.
This year's subject rankings, which were released today, include two new categories, with U of T scoring 11th globally in library and information management, a field that has seen the university make headlines around the world for its efforts to preserve U.S. environmental data under the Trump administration. 
"Technology is embedded in everything we do," says Faculty of Information Dean Wendy Duff, adding that the faculty has been on the cutting edge of important trends in its field.
This year, U of T ranked in the top 10 globally in nursing (2nd), sports-related subjects (6th), anatomy (8th), anthropology (8th), social policy (8th), theology (8th), geography (9th) and computer science (10th).
No other university was ranked in the top 50 globally for so many subjects – for U of T, that came out to 42 of the 48 subjects that were reviewed.
The independent QS rankings finds U of T among the world's elite universities in all five subject areas surveyed, and in 45 of the 48 subjects that were analyzed. In most cases, the university scored even higher when public higher education institutions alone were counted in the subject areas ranked.
For 31 subjects, U of T placed among the top 25 globally. Only six other universities were in the top 25 for 31 or more subjects – the University of Cambridge, University of Oxford, University of California-Berkeley, UCLA, Stanford University and Harvard University.
U of T was ranked first in Canada in all five of the broader subject areas, and was first in Canada in 30 of the 45 subjects in which it was ranked.
"It's gratifying to see University of Toronto researchers recognized for the excellence of their work and their world-leading reputation across such a wide range of subject areas," said Vivek Goel, U of T's vice-president of research and innovation. "Such breadth and depth of scholarship in one institution is rare globally, and ensures that our students have the broadest possible exposure to leading scholars."
The QS subject rankings are based on four measures: academic survey results of leading universities in a field, employer survey results of the best institutions and disciplines, citations per paper and the H-Index, which tries to measure the productivity and impact of the published work.
To produce the results, QS ranked 1,130 institutions and analyzed more than 22 million papers that have produced close to 200 million citations.
UTC