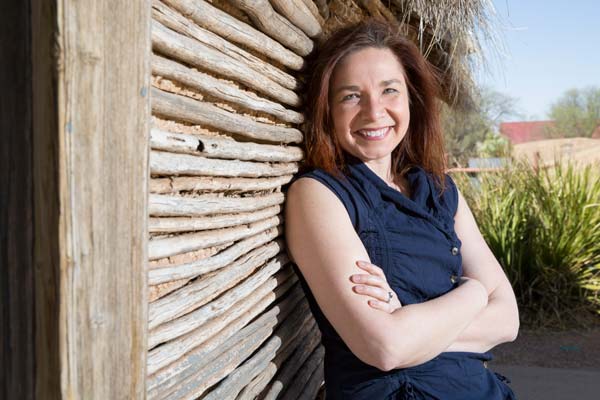 TIME magazine's 100 most influential people names U of T alumna, climate change expert
Katharine Hayhoe's work celebrated by actor Don Cheadle
U of T alumna Katharine Hayhoe was named to the 2014 TIME 100 list of the world's most influential people for her work on climate change.
Graduating in 1994 with a double major in Physics and Astronomy, Hayhoe has since become a professor and director of the Climate Science Center at Texas Tech University. Her research works to assess climate change impact and develop informed policy in the area.
While at U of T, Hayhoe worked as an undergraduate research assistant for John Percy and Howard Yee, both in the Astronomy Department, and Jim Drummond in the Physics Department.
"I have followed her career and I'm very pleased to see her so respected in her field and this honour is very well deserved," said Drummond.
And Hayhoe's mentor at University of Toronto, Geography professor Danny Harvey, responded to the news of her TIME recognition by reflecting that "Katharine was one of my best students ever."
Hayhoe spoke with U of T News about her passion for climate research, and a certain stuffy classroom in Sid Smith that drastically altered her life path.
What does this recognition from TIME mean to you?
I feel this recognition was given to me on behalf of the two groups I represent:

First, all the climate scientists working tirelessly to build a solid scientific foundation for understanding this problem. We do this to quantify the impacts human activities have on our world, and to communicate those impacts to everyone who will be affected--from the inhabitants of low-lying islands on the other side of the planet to the kids at the elementary school right down the street from their lab.

While research is part of our job description, nearly every climate scientist I know volunteers their free time, doing everything from participating in big national or international assessments to engaging with their local communities to figure out how best to adapt to climate change and reduce the impact we're having on our planet.

Secondly, all the people and groups who defy the stereotype that climate change is an issue only David Suzuki cares about. I love the way grassroots groups like Citizen's Climate Lobby empower each of us to let our fellow citizens and our elected officials know we care about climate change. I'm encouraged when international relief and development organizations like World Vision put climate change at the forefront of their concerns. I'm inspired by faith leaders from Pope Francis to the U.S. National Association of Evangelicals who emphasize how the Christian faith demands a response to climate change.

With 97 per cent of climate scientists agreeing that climate change is happening due to the choices people make every day, the simple truth is that the scientific debate is over, and now it's time for all of us, from every walk of life and part of society, to take action.

I'm grateful to TIME for bringing further visibility to my work and to everyone who is standing up to climate change around the world.

The write up in TIME was done by Oscar nominee Don Cheadle with whom you worked on the climate documentary, "Years of Living Dangerously." What can you tell us about that experience?

As scientists, we are often wary of working with non-scientists who want to simplify or (even worse!) dramatize our science. At the same time, we as a scientific community have a moral responsibility to do everything we can to make sure people know climate change is a real problem with potentially dangerous consequences if we continue on our current pathway.

My concern for this responsibility is what made me agree to work with the Years project, but their commitment to accuracy is what kept me going. The project has a whole team of scientific experts, of which I am one, as well as two fantastic chief science advisors, who personally fact-checked every statement in the entire series.

The commitment to good science didn't stop with the scientists: you'd never know it from watching Iron Man, but Don Cheadle is a Goodwill Ambassador for the U.N. Environment Programme. If you want to see how much he knows and cares about climate change, just follow him on Twitter and watch him take on every yahoo who slags climate change to him.

What I love most about the Years project is that it puts an immediate human face on climate change. For so long, climate change has seemed like a distant issue in space and time – one that matters to polar bears, but not to us. Today, however, that's no longer true.

How did a student of physics and astronomy end up an expert in climate change?

I'd studied climate change in geography class in high school, but mentally grouped it with deforestation, desertification, and the host of other issues studied by people in environmental science, not by people who were majoring in basic science like physics or chemistry. It just wasn't on my radar.

Then in third year, I was looking for one last interesting breadth requirement before finishing off my degree. For some reason—I can't even remember why—my eye lit on a geography class on climate change taught by Danny Harvey.

Little did I know that that one class, taught in a small stuffy and windowless room in Sid Smith, would change the entire trajectory of my career. Danny Harvey trained with Steve Schneider, the godfather of climate science and modeling, at the National Center for Atmospheric Research in the United States; and climate science is, at its core, nothing more than applied physics.

I still remember my complete shock when I realized that my physics and astronomy classes gave me the perfect foundation to study climate change. I was also surprised to find out how big the problem of climate change was, and how urgent.

That class marked the turning point in my education and my career. In my last year at U of T I focused on atmospheric physics classes. After that I went on to graduate school in atmospheric science at the University of Illinois. And the rest, as they say, is history!