Three minutes or 300 words: six U of T researchers are finalists for SSHRC contest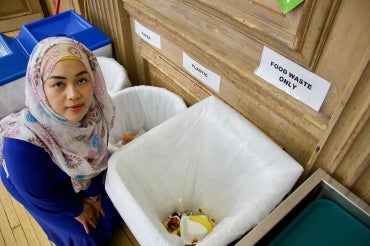 Six young researchers from the University of Toronto will go toe-to-toe against colleagues from 14 universities across Canada in the annual SSHRC Storytellers Contest this spring.
The six are among 25 finalists in the annual contest that challenges post-secondary students to tell a story – in three minutes or 300 words – on how SSHRC-funded research is making a difference in the lives of Canadians. 
Their entries cover a range of subjects from harnessing game design to promote learning, to looking at how self-compassion can protect against negative emotions in sport. The range reflects U of T's strength across a broad set of research subjects.
The U of T contestants are:
Marie-Emilie (Mimi) Masson, a PhD student at the Ontario Institute for Studies in Education
Tammara Soma, an Arts & Science PhD student in the department of geography & planning
Ali Sharifkhani, a PhD student at the Rotman School of Management
Jennifer (Jenna) Gilchrist, a PhD student in the Faculty of Kinesiology & Physical Education
Andrea Gauthier, a PhD student in the Institute of Medical Sciences in the Faculty of Medicine
Denise DuBois, a PhD student in the department of rehabilitation sciences institute in the Faculty of Medicine
"Our finalists have done a masterful job, through the stories they've told, of enlightening and informing us on key issues, and have demonstrated communication skills that will serve them throughout their careers," said Ted Hewitt, president of the Social Sciences and Humanities Research Council of Canada (SSHRC).
The finalists were selected from among nearly 200 entries by 24 expert judges from Canada and abroad.
"We're pleased to see some of our youngest emerging scholars being recognized for their research as part of this innovative competition. We applaud SSHRC for encouraging them to find new ways and new audiences to explain and engage in their important work," said Vivek Goel, U of T's vice-president of research and innovation.
Soma is excited to take part in the competition because she believes academics who want to have an impact on policy must find a means of disseminating their research to legislators and the general public.
"Statistics show that 82 per cent of peer review articles aren't even cited once, so we need to find diverse methods to communicate our research," Soma said. "That's why this competition is important. It's really, really important for the academic community to learn to use visual media, social media and other means if they really want to make a difference."
The 25 finalists are receiving a cash prize of $3,000 each and will go on to compete in the Storytellers Showcase at the 2017 Congress of the Humanities and Social Sciences, taking place May 27 to June 2 in Toronto.
UTC