Three former U of T graduate students win Governor General's Academic Gold Medal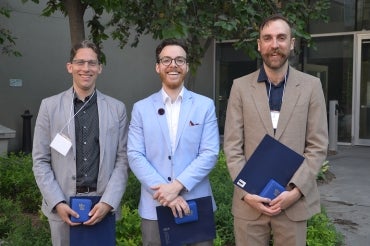 One researcher developed an air sampler that runs without electricity and monitors mercury pollution. Another investigated the factors that increase the risk of psychopathology in young children. And the third looked at how to improve legal education to prepare students for making a broader contribution to society. 
The three former graduate students at the University of Toronto – David McLagan, Mark Wade and David Sandomierski – received the Governor General's Academic Gold Medal for their work, one of the most prestigious awards for graduate students in Canada. The gold medal is awarded by each university to the graduate students who achieve the highest academic standing. 
"I was very surprised when I first learned I received the award and, truthfully, I'm still blown away," says McLagan, who designed, developed and tested the air sampler during his studies at U of T Scarborough. 
The air sampler he designed runs without electricity or a supply of argon gas, using instead the natural movements of air and a carbon material to capture mercury floating in the atmosphere. This is especially important for monitoring mercury in remote locations where there is no power, particularly in the southern hemisphere.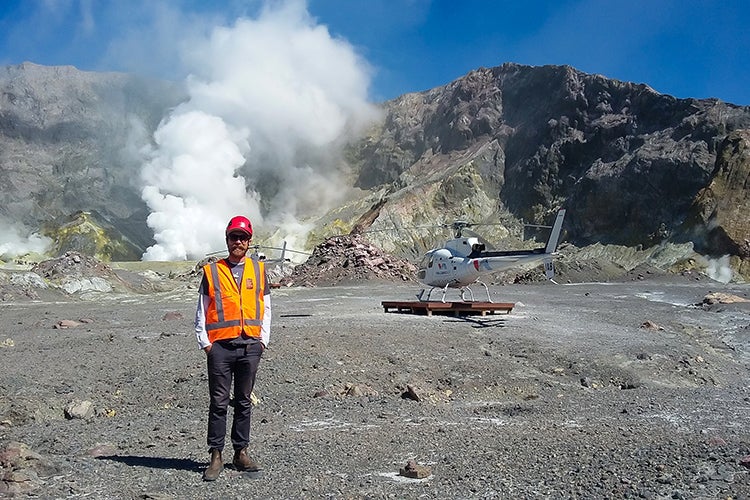 David McLagan designed, tested and built an air sampler that monitors mercury pollution
Mercury can be released naturally through the weathering of mercury-containing rocks, forest fires or volcanic eruptions. But the most significant sources are human activities such as mining and coal-burning, according to the United Nations.
Mercury pollution in the air can last for about a year and travel long distances. It can find its way into sediments and be transformed into methylmercury, an acute neurotoxin. It's been linked with a host of brain and nervous system disorders, and has been found to be particularly harmful to the cognitive development of fetuses and children.
McLagan's PhD research, in environmental science and environmental chemistry, has taken him around the world, from an active volcano off the coast of New Zealand to a shuttered mercury mine in Italy.
He's now working with Environment Canada to set up a lab that can analyze data from the samplers for mercury-monitoring projects as part of Canada's obligations to monitor and reduce mercury emissions under the UN Minamata Convention. He's also working with a company to commercialize the sampler, and he is about to embark on post-doctoral research at the Technical University of Braunschweig and the University of Vienna. 
"It's really satisfying to know we were able to rigorously test the sampler before putting it in the field, and the fact it's also being commercialized is also exciting," he says. 
Fellow gold medal-winner Wade, of U of T's Ontario Institute for Studies in Education, is making an impact in the field of child psychology.
As a member of Professor Jennifer Jenkins' developmental psychopathology lab, Wade (pictured left with Jenkins) researched the factors that increased vulnerability to psychopathology in children over the first five years of life – from low birth weight and prematurity to social disadvantage.
"Really what I was interested in is how these factors combine in unique ways to predict children's mental health problems," he says, "with the hope that we might be able to identify those children who are at greatest risk of later difficulties, so we can intervene early in development."
He came to U of T for a master's in clinical child psychology and chose to pursue a doctorate in applied psychology and human development in order to work with Jenkins, who has been his supervisor for the last seven years. "She is such a prolific and inspiring mentor," he says. 
After graduating last year, he was awarded a Banting Postdoctoral Fellowship to study "early psychosocial deprivation on neurocognitive functioning and mental health in adolescence" at Boston Children's Hospital. 
Sandomierski, who completed a doctor of juridical science at U of T, looked at ways to change the prevailing approach to teaching in law school so that students become more engaged citizens and versatile professionals. 
His dissertation focused on how contract law is taught in first year at law schools across the country (he focused only on common law). He interviewed 67 law faculty and used hundreds of primary documents for his paper.
He says the nearly 150-year-old case method, which teaches students to think like lawyers by examining decisions and arguing both sides, gives "short shrift" to other important skills such as problem-solving and planning. 
Sandomierski, who completed his SJD in 2017, says he was surprised to win the Governor General's award. "It was so validating," he says. "It's extremely difficult to get a doctorate so I thought simply completing it would be the reward." 
Sandomierski was a 2017-2018 visiting scholar at York University's Osgoode Law School, and he designed and co-taught a legal inquiry course at McMaster University, a published account of which received a Canadian Association of Law Teachers' award last year. He was also editor-in-chief of the McGill Law Journal, and served as a law clerk to former Chief Justice of Canada Beverley McLachlin.
Sandomierski is now an assistant professor at Western University's law school, where he begins teaching this fall.
UTC