These four U of T Dentistry graduates set their sights on research and teaching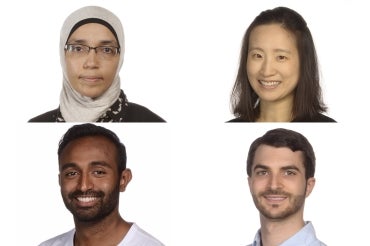 For some students, graduate school is a means to jump start their careers. But others plan to stay in academia to do research, teach and push their specialty forward.
Justin Bubola, a graduate of the University of Toronto's master's program in oral pathology and oral medicine, falls into the latter category. 
"I reached my goal," says Bubola, who recently joined the Faculty of Dentistry as a part-time assistant professor, teaching stream. He's balancing his job, which entails research and teaching pathology to undergraduate and graduate students, with a few days of private practice each week.
Bubola completed a doctor of dental surgery degree from Western University before enrolling in a four-year master's program at U of T that included a hospital residency, research and teaching. Graduate school prepared him well for his busy schedule as a teacher, researcher and clinician. "It was a very intense program with so many facets to it," he says. 
"During the program I got a lot of exposure to teaching dental students and I really developed a passion for teaching," he adds.
In addition to writing his Canadian board and fellowship examinations, Bubola passed American exams with flying colours, earning the William G. Shafer award for attaining the highest score on the American Academy of Oral & Maxillofacial Pathology's fellowship examination. 
For Hebatullah Hussein, returning to university as a faculty member instead of a student has long been the plan. The dentistry PhD graduate came to U of T in 2016 on a scholarship from Egypt. She received funding to complete her PhD and return to teach at her alma mater, Ain Shams University in Cairo. 
"Before I came here, doing cutting-edge, basic science research there [at Ain Shams University] was not feasible," Hussein says. "I will go back and try to apply what I have learned here."
In Professor Anil Kishen's lab, Hussein researched nanotechnology-based root canal materials and host-bacterial interactions. 
"He's like a coach," Hussein says of her supervisor. "He inspires me in how I should be mentoring my own students later on." She's now completing a post-doc at U of T, expecting to head back to Egypt in a year.
Alice (Fang-Chi) Li has also learned about the art of teaching through doing research with Kishen. The PhD and master's in endodontics graduate splits her time between working as an associate at a practice in Toronto, as a clinical instructor at U of T's dentistry faculty and as a postdoctoral researcher in Kishen's lab. "When I learn from him, I always think, 'Oh, I didn't know this could be so clear" she says. "He's just born to be a teacher."
Her master's, which she obtained last fall, allows her to practice as an endodontist (the specialty concerned with diseases of the pulp) in Canada. "To be well trained in both research and clinically helps me to be a well-rounded endodontist," she says. 
During her PhD, Li focused on using bioengineered nanoparticles for enhancing the root dentin in root-canal treated teeth, but she pivoted to looking at inflammation and wound healing on the cellular level. "It feels like I've broadened my skills into other aspects of research," she says.
While some have long known they wanted to enter academia, Nashat Cassim discovered a passion for research and teaching later. The doctor of dental surgery and master of science in pediatric dentistry graduate did a one-week rotation at SickKids in the last year of his first degree, followed by a one-year residency at the hospital, that reinforced his interest in children's oral health.
Cassim thought he wasn't interested in research until he began a project looking at dental students' experiences treating patients with developmental disabilities (under the purview of pediatric dentistry). 
"I didn't know I was interested in research until I started doing research that interested me," Cassim says. "I also realized I'm passionate about education." His new part-time position as an assistant professor, teaching stream in the dentistry faculty allows him to work closely with students while doing research on dental education. 
Cassim splits his time teaching, working in private practice and serving as a staff dentist at Holland Bloorview Kids Rehabilitation Hospital. 
Blending teaching, research and treating patients helps Cassim stay up to date on the latest developments in his field, he says.  "You're a better clinician if you have a solid foundation of what's new. When you have that foot in the academic space, it makes you a more informed practitioner."  
Dentistry