U of T President Meric Gertler addresses a Business/Higher Education Roundtable panel discussion on Thursday, sharing the stage with moderator Rhonda Barnet and Innovation, Science and Economic Development Minister Navdeep Bains (photo by Johnny Guatto)
Amid rapid technological advancements and a constantly changing job market, universities, companies and governments are working together to create work-integrated learning opportunities that benefit employers and graduates alike – not to mention the Canadian economy as a whole.
That was the consensus of a roundtable discussion today to discuss how measures outlined in the 2019 federal budget will accelerate skills development among undergraduate students to prepare them for the workforce.
"We hear about this every day from our students… they want this," U of T President Meric Gertler said during his remarks following the panel discussion.
"We also hear about this from our alumni – many of whom are employers themselves – and other employers that we talk to."
The event, held at George Brown College, was organized by the Business/Higher Education Roundtable (BHER), an organization that was co-founded by the University of Toronto and represents some of Canada's biggest companies and post-secondary institutions. President Gertler serves as the co-chair of BHER.
The panel members included: Navdeep Bains, the federal minister of innovation, science and economic development; Val Walker, the executive director of BHER; Dave McKay, co-chair of BHER and the president and CEO of the Royal Bank of Canada (RBC); Jennifer O'Connell,  the parliamentary secretary for the minister of finance (youth economic opportunity); and Sara Robertson, a chemical engineering student from the University of Waterloo.   
Bains kicked off the discussion by formally announcing that his government will invest $17 million to help BHER take significant strides toward its goal of ensuring work-integrated learning experiences for every undergraduate student in Canada within 10 years.
"We, as a government, share the vision of BHER in terms of making sure that every undergraduate student has the opportunity for meaningful employment and experiential learning during their time in college or university," said Bains.
"Canada's continued prosperity depends on young Canadians getting the education and experience they need to succeed … When young people gain valuable on-the-job experience, they are better equipped to succeed in the workplace, and that is fundamental to growing our economy and strengthening our middle class for years to come." 
At U of T, for example, a majority of students have a work-integrated learning experience as part of their education. At the same time, U of T was last year ranked first in North America among public universities when it came to graduate employability.  
Bains added that the $17-million investment will result in 44,000 new work-integrated learning opportunities in addition to the 40,000 work placements to be created through direct government financing – for a total of 84,000 new opportunities.
"We often hear these horror stories of young people graduating, super-smart, but can't find a job. This will change that dynamic in a meaningful way."
O'Connell, who earned her undergraduate degree in political science at U of T, said BHER was an ideal partner for the government's mission to bridge the gap between employers and graduates.
"[Work-integrated learning] allows employers to get employees, or new graduates, who have real-work experience. But it also allows students to find out if they're in the career path that they want to be in, and to switch or be agile earlier," O'Connell said.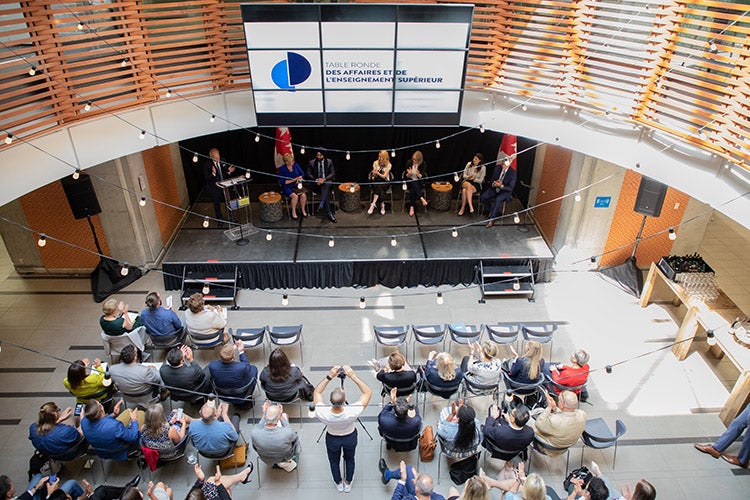 Navdeep Bains said the federal government is investing $17-million to help BHER take significant strides toward its goal of ensuring work-integrated learning experiences for every undergraduate student in Canada within 10 years (photo by Johnny Guatto)
McKay echoed the message, noting that he began his career as a co-op student in computer programming at RBC before deciding to switch into retail banking thanks to the exposure he gained during his placement.
He also underscored the importance of creating work-integrated learning opportunities beyond the skyscrapers of big Canadian cities' downtowns.
"We need medium-sized commercial enterprises and small businesses to buy into this journey," McKay said. "We don't want to create all these jobs in corporate Canada – we won't be successful.
"These roles are needed as much in agriculture and in rural communities as they are on Bay Street."
For that to happen, McKay added, students need to be willing to think outside the box, too.
"My call to action for students is to be mobile and look outside the norms of working in downtown Toronto, Vancouver or Montreal – go into rural communities and look across industries."
President Gertler wrapped up the event by expressing his optimism at the consensus among students and employers on the importance of work-integrated learning opportunities such as co-ops and placements.
"I think that's really a good sign because there's very strong alignment," he said.
He also hailed Bains and his government for their support, which he said will be critical to connect employers with talented students.
"With a little bit of assistance, we can overcome those obstacles, and that's where our government's recent announcement and the commitment you heard today from Minister Bains makes all the difference," he said.
"As we look at the evolving nature of today's economy and the opportunities and challenges that tomorrow's economy will present … the importance of experiential, work-integrated learning is obvious."