There is a need for reconciliation in Canadian health care: U of T researchers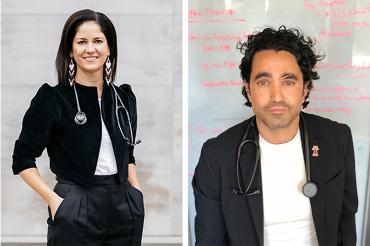 Two University of Toronto researchers are highlighting the systemic racism faced by Indigenous Peoples in Canadian health care – and urging action be taken to address the problem.
Lisa Richardson, associate dean of inclusion and diversity at the Temerty Faculty of Medicine, and Andrew Boozary, an assistant professor at the Dalla Lana School of Public Health, recently published commentary in The Lancet that discusses the catastrophic effects of the residential school system in Canada.
"Although the last school closed in 1996, intergenerational and historical trauma from these residential schools continues to undermine the wellbeing of the children, families, and communities of the survivors," Richardson and Boozary write.
The commentary cites findings by the Truth and Reconciliation Commission of Canada: In 1908, the annual all-cause mortality rate for Indigenous children in the residential school system was 8,000 deaths per 100,000 people, compared with 430 deaths per 100,000 people for non-Indigenous children.
The researchers say that survivors and their families continue to live with chronic illness, substance use disorders and mental illness as a result of the residential school system, as well as incarceration and involvement in the child welfare system.
"Institutional settings such as hospitals can be culturally unsafe if care providers are not aware of the abuse and mistreatment experienced by many survivors of residential schools," the authors say.

"Lack of control, restriction of movement or diet, physical examinations, tests and other common elements of hospital care could trigger memories of residential schools and lead to negative care experiences."
In the commentary, the researchers say there is a need for the collection of race-based data so that clinical and care experiences of Indigenous Peoples can be evaluated effectively. They also say that accreditations and quality reviews of hospitals and institutions must measure Indigenous health equity and reconciliation.
"A renewed commitment and concrete steps are needed by non-Indigenous leaders and allies to support this decolonising work so that it does not fall solely upon First Nations, Inuit, and Métis peoples," Richardson and Boozary write.

"Transformative change also requires institutions to build meaningful partnerships with local Indigenous organisations and to recruit First Nations, Inuit, and Métis peoples for roles across healthcare organisations, from the boardroom to the patient bedside. Training in Indigenous cultural safety and antiracist practice should be mandatory for all health-care personnel. Indigenous staff, patients, and families must have access to traditional healers, spaces for ceremonial practices, and safe ways to report mistreatment."
Medicine