Terrorism at the Taj: 'Hotel Mumbai' pulls no punches at TIFF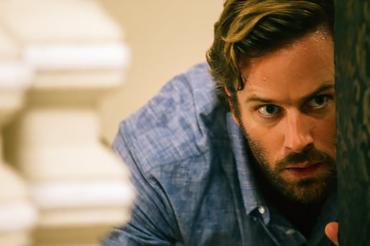 Director Anthony Maras' new film Hotel Mumbai had its world première at the Toronto International Film Festival. The film stars Dev Patel (Slumdog Millionaire), Armie Hammer (Call Me By Your Name), Jason Issacs (Harry Potter) and Anupam Kher (The Big Sick). All of these actors attended the première and participated in a compelling Q&A with the audience after the film.
The movie depicts the Mumbai terror attacks that took place Nov. 26-29, 2008, when 10 gunmen belonging to the Pakistan-based militant organization Lashkar-e-Taiba staged a series of co-ordinated attacks across the city, ending with a multi-day siege of the luxurious Taj Mahal Hotel that left 164 dead and hundreds wounded.
Based on hundreds of hours of interviews with survivors and witnesses and told from the perspective of hotel guests, staff and to some extent the gunmen, the film sets out to recreate the attacks faithfully and authentically.
The film expertly ratchets up tension and confusion, drawing the viewer into a harrowing experience that is not broken up by lengthy plot digressions or exposition.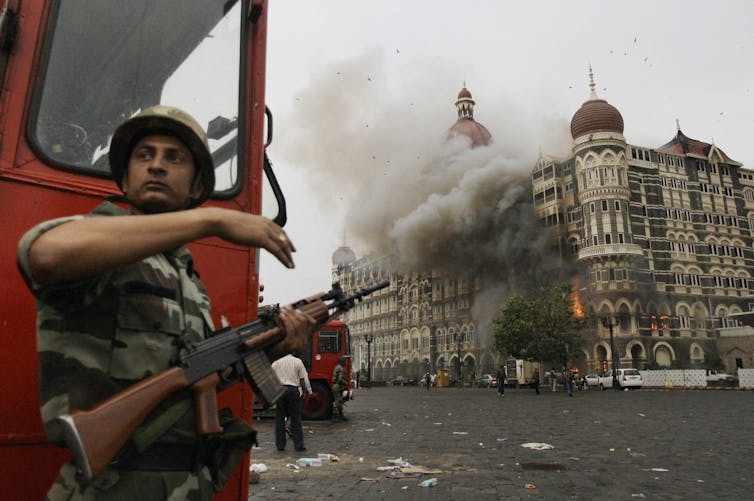 Hotel Mumbai provides a raw and rare look behind the curtain of a terrorist attack, inviting the audience to experience its unrelenting and gut-wrenching reality. The film doesn't concern itself with the contextual details that emerge in the aftermath of a terror plot; instead it replicates the confusion, panic and genuine fear one would feel at the time.
For almost the entire two hour run-time, the viewer is left to struggle with the intensity of that confusion, not knowing when or if safety will materialize.
Since Sept. 11, 2001, popular media in North America has moved from amorphous representations of political violence to a plot format that explicitly uses terrorism, invokes real militant groups and focuses almost exclusively on the United States and Islamic extremism as their bread and butter. Few films actually take the viewer inside the experience of terror plots as they happen; this is where Hotel Mumbai ushers in a new complex path with audiences.
The only potential drawback of this narrative style is that for viewers unfamiliar with the broader political context of terrorism in India – and in Western audiences they may be the majority – there is little information about where the attack comes from or how it fits into the larger story of the Indian subcontinent.
Terrorism in India
The Mumbai gunmen were trained in Pakistan and, as depicted in the film, carried out their attack with direction via mobile phones from planners in Pakistan's metropolis port, Karachi. The gunmen were found to be members of Lashkar-e-Taiba (LeT), a Pakistan-based militant group that was also responsible for a 2001 attack on the Indian Parliament in New Delhi.
The existence of groups like LeT is a significant sore spot in India-Pakistan relations. India accuses Pakistan of enabling or even encouraging such groups and Pakistan consistently denies these allegations.
LeT emerged out of the radicalization of the Kashmir conflict – a territorial dispute between India and Pakistan over which country has the right to govern the Muslim-majority Kashmir valley. This conflict began with the 1947 partition of British colonial India into the two sovereign nations of India and Pakistan and has gone through numerous phases of escalation and détente.
India's continued military presence and the human rights abuses carried out by security forces in Kashmir provide a major source of grievance to some Indian and Pakistani Muslims. Although India is home to the second largest Muslim population in the world after Indonesia, Muslims in India are heavily disadvantaged in comparison to the Hindu majority. They also experience higher rates of poverty and lower literacy levels.
Despite this, the vast majority of Muslims – whether in India or elsewhere – consistently reject religious extremism.
Everyday heroism
As a suspenseful and emotional snapshot of the events of November 2008, the film certainly succeeds. The audience's applause felt genuine and visceral, not polite or obligatory. The cast themselves were visibly emotional on stage, notably when Maras revealed that one of the real-life survivors of the attack portrayed in the film was present in the audience. This survivor (unnamed here to avoid spoilers) received an immediate and emotional standing ovation.
The film is full of heroes, but not the kind that audiences are accustomed to seeing in movies about terror attacks. In Hotel Mumbai, heroes can die with the casual and unceremonious pulling of a trigger, just like anyone else. Though the film uses character archetypes, it does so in a way that disrupts common film tropes associated with the genre.
For example, the local police are brave but are hopelessly outgunned and out of their depth when faced by trained insurgents with automatic weapons. Armie Hammer's character, the white American male that so often saves the day in Hollywood blockbusters, spends most of the film wanting to protect his family but having no real idea how to do so.
By contrast, Anupam Kher's Chef Oberoi displays a quiet dignity by relinquishing his opportunity for escape in favour of protecting the hotel guests by calmly hosting them in one of the hotel's hidden lounges. Dev Patel, as always, gives a memorable performance as a hotel staff member who just wants to get back to his family but displays remarkable courage and compassion along the way.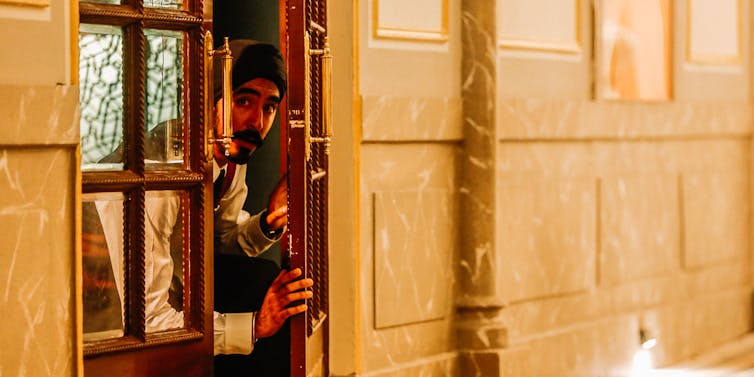 Just as there is no Hollywood action hero ready to jump in and save the day, Hotel Mumbai also steers clear of depicting the kind of one-dimensional villains that dominate most films in the spy or terrorism genres. The attacks in the film (as in real-life) are brutal, shocking and almost casual in their indifferent disregard for human life.
But the gunmen themselves remain undeniably human. In one scene, we see the terrorists coldly gunning down unarmed civilians and in the next we see them teasing each other about whether there is pork in the canapés. Later, we see the inner conflict of one of the gunmen, who seems to be in over his head as he oscillates between crippling self-doubt and brutal determination.
It is the dissonance between these two dimensions that make this depiction of terrorism so compelling. We also see how the attack impacts each of the attackers in subtly different ways, reinforcing that each has been drawn into this act of horrific violence through their own distinct motivations, whether religious, political or socio-economic.
It is not necessarily that the gunmen in this movie are relatable or sympathetic in the traditional sense (for the most part they are not), but they are resolutely human and that is part of what makes their violence so disturbing. The viewer is asked to face the uncomfortable truth that the people who carry out these attacks might not be the monsters hiding in the shadows that we so often see depicted on screen, but are simply ordinary people carrying out extraordinary acts of brutality.
Despite the horror that this film paints with such gritty and meticulous attention to detail, Hotel Mumbai is ultimately not about violence as an act that is carried out upon passive victims. Instead, it is about the resistance, resilience and quiet heroism of people confronted by chaotic scenarios filled with impossible choices.
Rising terrorism on 'soft targets'
The film asks us to challenge easy assumptions and to rethink any sensationalist preconceptions we may hold about how we would, or would not, react in such a crisis.
Hotel Mumbai feels every bit as relevant today as if it had been released back in 2008 when the attacks occurred. If anything, the passage of a decade has perhaps made the tragedy of the Mumbai attacks resonate even more strongly with international audiences.
Massacres carried out by armed gunmen in "soft targets" such as hotels, train stations and shopping malls have become depressingly common in recent years.
Historically most of al-Qaida's most well-known attacks have used explosives, making them devastating in their death tolls but also relatively difficult to plan and execute.
Since 2014, ISIS has popularized the strategy of using any and all weapons available to attack public spaces, making attacks carried out by their sympathizers incredibly challenging to prevent. This style of attack is widespread across the ideological spectrum with notable examples including the Norway massacre of 2011 and the Las Vegas shootings of 2017.
Hotel Mumbai is ultimately intended as an "anthem of resistance" for those who survive such attacks, a quiet memorial of those who don't and a sobering snapshot of the chaos of terrorism for those who, fortunately, have never found themselves inside its brutal plot.

Joseph McQuade is a SSHRC postdoctoral fellow in the Centre for South Asian Studies, Munk School of Global Affairs and Public Policy, University of Toronto. Emily LeDuc is a doctoral candidate and teaching fellow at Queen's University.
This article is republished from The Conversation under a Creative Commons license. Read the original article.
The Conversation