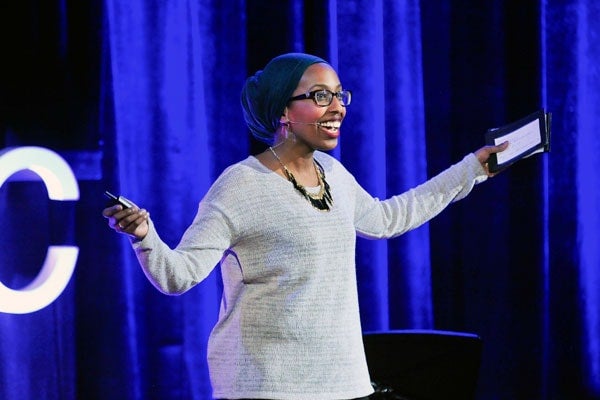 TEDx at UTSC: tackling big questions
What is the value of a university education? How can poetry save a life? How do I keep the promise I made to my new friend?
It was a day of tackling big questions, and even small ones with large consequences, at the third TEDxUTSC conference. 
U of T Scarborough student Mandekh Hussein set the tone for the day with her presentation, Why ask Why? "It's not the answers that are important," she said. "It's the questions. Ask questions that ignite a fire."
Brian Harrington, a computer scientist and lecturer at UTSC, said university students can learn to make an impact early, and their classroom studies are only half of the equation. It's what you do outside the classroom that completes the picture.
Two speakers zeroed in on our lived environment and how it can be sustainable. Donald Schmitt, noted architect and designer of two buildings at UTSC, asked the audience, "Are we happy in the spaces in which we live or are we just working around what we've got?" He challenged delegates to demand more of architects – better light, reduced energy use, better views.
Later, David Bristow, a postdoctoral fellow at U of T's Centre for the Resilience of Critical Infrastructure, said the infrastructure we take for granted – from roads to hospitals to wireless communications – is constantly at risk. He said we need to change the way we look at our infrastructure and focus on resilience thinking – adding diversity and redundancy of supply. 
For UTSC student Teresa Gomes, making a friend from Northern Bangladesh at an international conference was a spark – one that lit the kind of fire described by Hussein. Gomes made a promise to help the girls of her friend's village get better access to education.
"There are no boundaries when helping someone," said Gomes (pictured at right). "Each and every one of us is making an impact on the world."
Poet and UTSC lecturer Daniel Tysdal led participants in an emotional writing workshop, showing that anyone has the tools to write poetry, and it has the power to express feelings that might otherwise be held inside.
The conference closed with Olympic gold medallist Marnie McBean, who argued that there is no such thing as a superhero. Great things are done by normal people who attack a single thing at a time, she said.
Anyone who couldn't be at the event could watch it live online, and the livestream is still available on the TEDxUTSC website. The event lit up social media, and the hashtag #TEDxUTSC trended nationally on Twitter.
Chris Garbutt is a writer with the University of Toronto Scarborough,