'A team sport': Hayley Wickenheiser on why she pursued a career in emergency medicine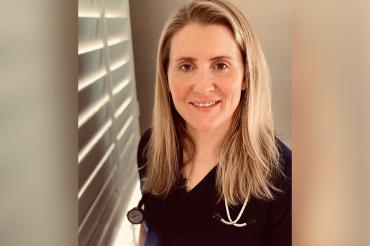 After a storied hockey career that included being inducted to the Hockey Hall of Fame, Hayley Wickenheiser is now pursuing another childhood dream: becoming a doctor. 
She traces her interest in the medical field to her youth, when one of her friends was badly injured after being hit by a truck.
"There were 30 kids in our neighbourhood and we'd go as a pack to check on her," says Wickenheiser, a four-time Olympic gold medallist who is in her second year of residency in the department of family and community medicine (DFCM) in the University of Toronto's Temerty Faculty of Medicine. 
"I remember the doctors and nurses being very kind. We were little and they made it less scary for us. It was at that point that I got a real interest in medicine."
Wickenheiser was named to the Canadian women's national ice hockey team at the age of 15, but despite being focused on the sport during her young adulthood, she felt a pull toward medicine.
"I always knew I needed a life after hockey and thought that would be a good one," says Wickenheiser, who is training to become an emergency medicine physician.
Wickenheiser will begin her enhanced skill year in emergency medicine in the department of family and community medicine in July 2023.
Wickenheiser says she chose to do her residency in the department because she would learn about a wide breadth of topics and undergo generalist training, allowing for maximum flexibility in her career.
While fewer graduating medical students rank family medicine as their first choice when applying to residency, Wickenheiser says she is very happy with her decision.
"Family medicine is touted as less 'sexy' than specialist training, but I think it's the best kept secret in medicine and one of the most underrated routes to choose," she says. "I have zero regrets about choosing DFCM – it's been amazing. From awesome professional development to preceptor teaching, it's really a choose-your-own-adventure at times. I like that."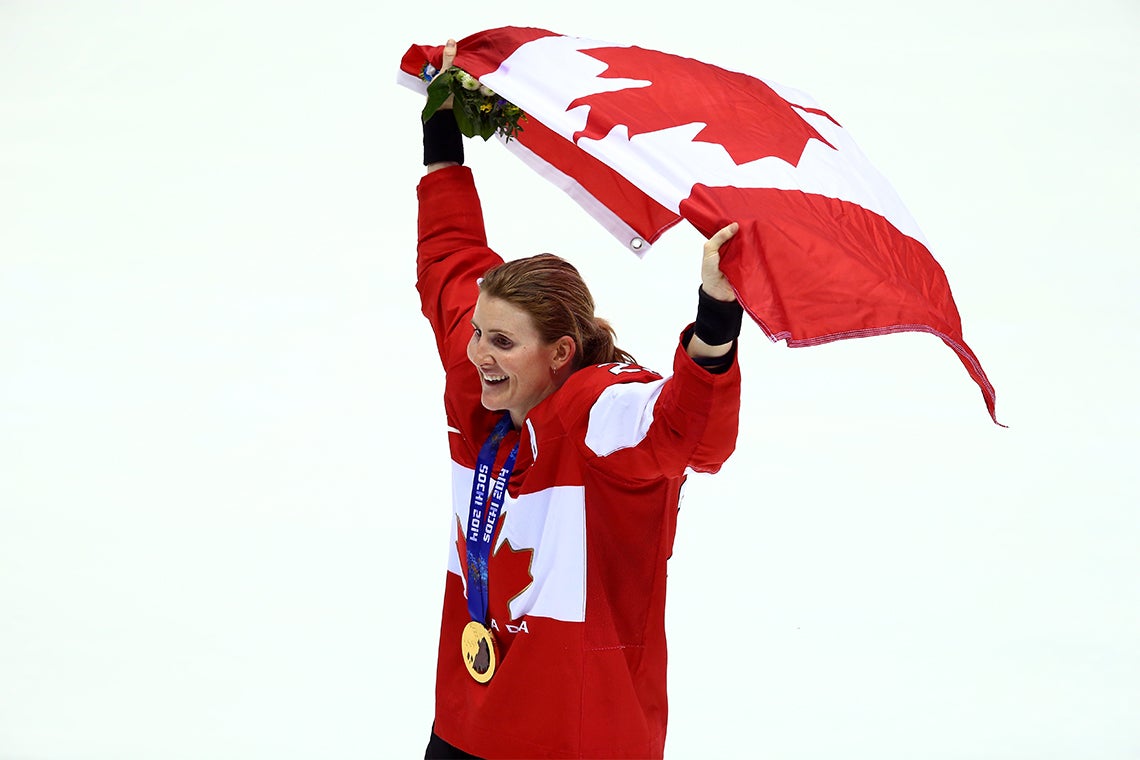 Gold medalist Hayley Wickenheiser celebrates at the Sochi 2014 Winter Olympics (photo by Doug Pensinger/Getty Images)
After announcing her retirement from hockey in 2017, Wickenheiser began medical school at the University of Calgary. The transition was eased by years of preparation. For close to a decade before her retirement, Wickenheiser shadowed an emergency department doctor who helped her realize her affinity for the specialty. "I don't do well sitting all day long," she says.
She is quick to rattle off the things that drew her to emergency medicine: "Every patient encounter is different. You have to think quickly, work in a team and be very good under pressure. It feels very much like a team sport."
Widely regarded as one of the greatest hockey players of all time, Wickenheiser thought she would be done with the sport when she began her studies. "Then the Toronto Maple Leafs called a few months into medical school," she says.
Now an assistant general manager for the Leafs, Wickenheiser oversees 11 staff members and is responsible for the development of not only the franchise players, but of prospects and players from the Toronto Marlies and affiliate Newfoundland Growlers.
"My job is to make sure it's a high-functioning department where we're helping the players both on and off the ice to maximize their potential and get them prepared to be successful NHL players – if they already are a successful NHL player, then help them find that one per cent here and there that can elevate their game," she says.
Her workday varies depending on her clinical responsibilities, but generally she wakes up early and heads to the rink for a workout because of her duties with the Leafs. If she is doing a family medicine rotation, then she will work an afternoon or evening clinic. If she is doing a hospital-based shift that runs from 8 a.m. until late afternoon, she says she adapts her schedule accordingly.
Wickenheiser says the parallels between sport and medicine are striking.
"Everything I learned in hockey, I use every day," she says. "Medicine is a team game. You've got to think on your feet. You've got to handle stress. You've got to be physically at your best."
She also says that using constructive criticism to enhance performance is another common theme.
"In medicine, you're being told what you need to improve on all the time. Being able to handle that in a productive way is very important to your development as a physician."
There is, she adds, a big difference between these two worlds when it comes to self-care and wellness. "As an athlete, you're celebrated for taking care of your body. In medicine, sometimes it feels like that should be the last thing you should be doing as a physician taking care of everyone else. I think it's counterintuitive. It's something I think medicine has to get a lot better at." 
When asked what motivates her to stay on a difficult path, Wickenheiser, who grew up on a farm in rural Saskatchewan, says hard work is part of her identity.
"I don't think of myself as overly smart or special in any way, but one thing I hang my hat on as an athlete and what I do in medicine is that I'm confident I can outwork just about anyone. It's the one thing I know I can control in my life even when there are other things happening that I can't. You can always control your effort."
Temerty Medicine