Room 224 of the Faculty of Information's Bissell Building boasts bright colours, full wireless connectivity and endless teaching possibilities (photo courtesy of Faculty of Information)
Wireless connectivity is increasingly a part of daily life, but completely wireless classrooms remain a rarity in academia. Many instructors still have to juggle special cables, assorted adaptors and various dongles to bring their lectures to life.
Not so in Room 224 of the Faculty of Information's Bissell Building.
Olivier St-Cyr, the classroom's designer, describes the space as "one of the most technologically sophisticated classrooms on campus."
Equipped with eight giant, interactive touch screen TVs and a selection of whiteboards, Room 224 is what's known as a technologically enhanced active learning (TEAL) classroom. The completely wireless environment accommodates 72 students with connections available for 250 students including remote participants.
St-Cyr, an assistant professor, teaching stream, in the Faculty of Information's user experience (UX) design concentration with a cross appointment in the Faculty of Applied Science & Engineering, wanted a studio-style classroom designed for UX coursework and active learning techniques. In the summer of 2018, he oversaw the construction of a UX design studio in the Bissell Building's basement. It served as a prototype or "baby room," as St-Cyr calls it, for Room 224.
From that experience, he and other professors learned a number of practical lessons. They needed bright lighting and easily accessible power outlets. Whiteboards were important, too – even in a digital age. Tables needed to be easily reconfigured to accommodate different class sizes. And there had to be enough space for the instructor to easily move between tables.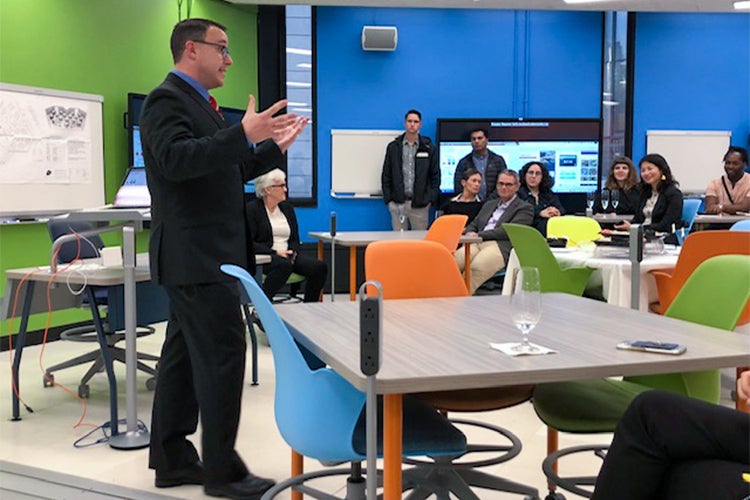 Olivier St-Cyr calls room 224 in the Faculty of Information's Bissell Building "one of the most technologically sophisticated classrooms on campus" (photo courtesy of Faculty of Information)
Speaking at the launch of Room 224 last month, U of T's Vice-President & Provost Cheryl Regehr said the faculty and its researchers have been "leaders in classroom design, teaching innovation and the creation of space."
"At a time when we're seeing the emergence of entirely new industries, our faculty are working hard to create interactive, hands-on innovative programs," said Regehr. "Classrooms like this one and those in the Myhal Centre create new and exciting ways for students to collaborate with one another."
The Myhal Centre for Engineering Innovation & Entrepreneurship, which opened in 2018, doesn't have any traditional classrooms. Its learning spaces were conceived to use technology to re-imagine the relationship between speaker and audience. They were designed to make every class, guest lecture or special event a forum for two-way engagement and spontaneous interaction.
In Room 224 of the Bissell Building, meanwhile, the tables have adjustable heights and can be wheeled around into different configurations. The brightly coloured chairs aren't just for looks either. Form follows function, explains St-Cyr, noting that an exercise might involve grouping students in green chairs together or asking occupants of the orange chairs to lead a discussion.
While there is a traditional podium for professors who want it, there isn't really a "front" to the room. The teacher can stand in the middle of the class or walk around among the tables.
As for students, they will eventually be able to attend class remotely, although according to St-Cyr, the classroom is currently operating at about 10 per cent of its technological capacity as professors familiarize themselves with its capabilities.
As he swipes the TV screen for a demonstration at the launch, St-Cyr explains, "Whatever I can do with my mouse on my computer, I can do here with my fingers." He then allows a colleague to share a second screen so they can compare their work – a common classroom activity. He explains that all students in the class use a special secure app designed by the supplier of the smart TVs that hang on the walls.
St-Cyr sees Room 224 as his "teaching research lab" for the next few years, adding that other faculty are welcome take the classroom for a test drive on Thursday afternoons. 
"It's a huge exploratory sandbox where faculty members are invited to come and learn about new TEAL pedagogies," he says.