Steven Bailey and Emily Ling of Academic + Campus Events in the Lee & Margaret Lau Auditorium (photo by Romi Levine)
Have your say about the future of U of T classrooms at events on Feb. 5, 6 and 7
When it comes to lecture halls, the University of Toronto's Lee & Margaret Lau Auditorium is the gold standard.
The room, located in the new Myhal Centre for Engineering Innovation & Entrepreneurship, is outfitted with the latest technology – including a 60-foot-wide screen, believed to be the largest of any North American classroom.
But it's the subtleties of its design that make the 468-person classroom special, says Steven Bailey, director, Academic + Campus Events (ACE) at U of T.
Instead of rows of chairs facing the front of the room, seats are arranged in groups of four around a rectangular table, with plenty of room for instructors, TAs and students to walk across the aisles.
"The focus of the room is not at the front like a typical lecture hall, the focus is actually at the table," says Bailey. "This is where the important conversations and sharing of ideas is going to happen."
The auditorium is a model for the future of teaching and learning – but at a nearly 192-year-old university with plenty of aging classrooms, replicating this brand new lecture hall gets a bit complicated.
That's where Bailey and the ACE team come in. They've set out on an ambitious plan to renovate 174 classrooms on campus through the Transforming the Instructional Landscape (TIL) initiative.
"It's a beautiful hall, but it's expensive," says Bailey of the Lee & Margaret Lau Auditorium. "We can't build everything to look like that but what we can do is to take elements of that and incorporate it into other spaces."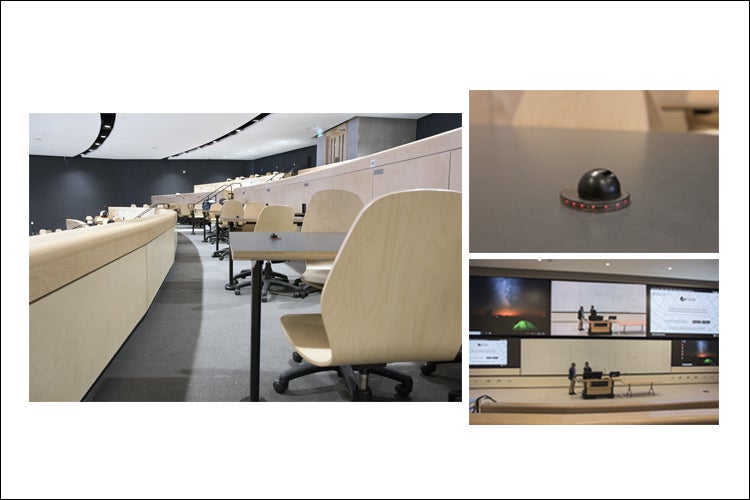 Myhal auditorium's unique features (from left): plenty of aisle space and rectangular tables, built for collaboration; a microphone and video hookup at every table for easy class participation; a gigantic digital screen and enough room at the front of the class for a car (photos by Romi Levine)
Central to TIL is engagement with faculty and students on what they view as the ideal learning environment. Bailey and his team take that feedback and incorporate it into the design process for the classrooms.
"One of the tenets of design thinking talks about designing with, not designing for. That really resonated with us," he says.
This week, ACE, in partnership with Student Life's Innovation Hub, will be hosting events on the downtown Toronto campus, inviting the U of T community to share their input at What Makes a Classroom Great? Students, staff and faculty can test out different types of furniture and provide input on what they like.
"We can get an idea of how they can be combined or improved in a classroom setting to help their learning and teaching experience," says Emily Ling, architect and classroom design and development officer at ACE.
Early feedback from students made it clear there needed to be outlets near seats to charge laptops and phones, and a solid wireless connection. But they also cared about how their classrooms were designed, says Bailey.  
"They talked a lot about aesthetics of the space, about things like natural light, about creating an environment that was calm – somewhere you would want to spend some time in."
This kind of design-forward approach is core to the TIL project, he says.
"We want spaces that are functional, but we also want spaces that are designed. We see the value in understanding that people react to spaces, not just as functional, but they react to them as human beings," says Bailey.
Words that have rarely been used to denote learning environments have become central to the renovation project.
"We want colour. We want excitement," says Bailey. "We have a lot of beige classrooms. Beige doesn't really do too much to a lot of people."
TIL planners are also working closely with accessibility services at the university to ensure that classrooms are designed with inclusivity in mind – installing doors that are power operated and creating space for wheelchairs, while also providing a range of seat and table heights to accommodate additional needs.
"The idea here is you get to choose where you want to go in the room," says Bailey.
While the TIL initiative only involves renovating classrooms on the downtown Toronto campus, U of T Scarborough and U of T Mississauga are taking part in the conversation while embarking on similar initiatives, says Bailey.
"Everyone is excited about what we're doing here and we're bringing the community together to work on this."