Associate Professor Jooyoung Lee in the department of sociology teaches the new qualitative methods course, "Sex in the 6ix" (photo by Geoffrey Vendeville)
Sociology course "Sex in the 6ix" covers everything from love, hookup culture to sexual harassment
Around the water cooler, on social media and the red carpet, the talk is about #MeToo and the wave of sexual misconduct allegations in the headlines. The conversation is also unfolding in university classrooms.
In a new sociology course, Associate Professor Jooyoung Lee encourages his students not to shy away from contentious topics like what constitutes consent. The course focuses on subjects everyone can relate to: love, sex and relationships. 
The news often leads the discussion to the Time's Up movement and the sexual assault and harassment allegations sweeping industries from show business to politics.
"I'm drawn to topics that people will have disagreements over," says Lee, who also teaches courses on gun violence, serial killers and hip-hop culture. "I think that's a healthy and good thing about a university setting. People should have debates, and they should be wrestling with questions for which there are no simple answers."
Lee encourages participation the old-fashioned way, by show of hands, and by using TopHat, an electronic platform that students can use with their laptops. "Once someone generates an idea, it bounces back and forth," says sociology major Maria Rocha Abello. "I feel like I wouldn't be able to talk about this in another class." 
In a lecture last week, Lee addressed what he described as "the elephant in the room," the accusation against comedian-actor Aziz Ansari, who is also the author of one of the course's required texts, Modern Romance: An Investigation (co-written by the American sociologist Eric Klinenberg).
Students put up their hands to give their thoughts on the babe.net story, in which an anonymous woman who went on a date with Ansari says he ignored signs that she wasn't interested. One student said the fact that many people had defended Ansari showed how sexual assault has been "normalized." At one point, Lee asked the students – mostly women – how many of them had been in a situation like the Ansari date. More than half raised their hands.
Lee said later that he raised the topic to get the class to think beyond the popular understanding of consent, which he describes as basic enough to fit on a bumper sticker.
"There are many cases where people are guilty of harassment and assault because they didn't respect a person's wishes," he says. "But there are also cases where it's more ambiguous. That's where the really interesting conversation happens, where students are forced to go beyond the kinds of things they're hearing in the media."
The course explores a variety of other subjects, including the differences in hookup culture between countries, such as how people flirt in Japan versus the way they do in Argentina. The second-year class is intended to teach qualitative research methods like direct observation and in-depth interviews.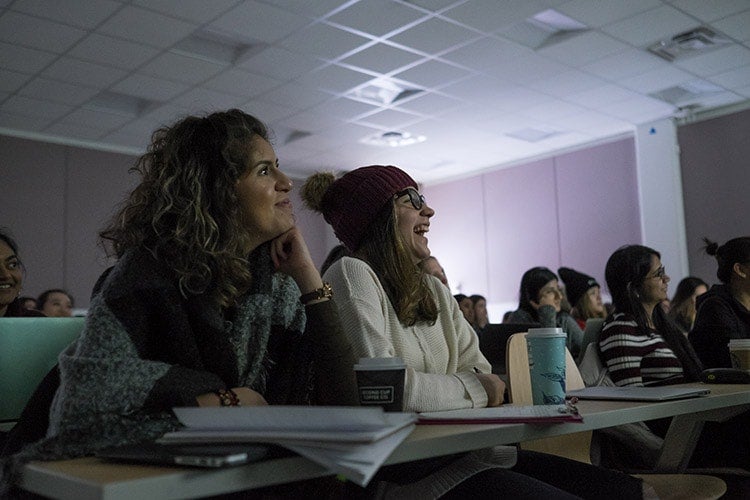 Students Isabella Eldeib and Maria Rocha Abello laugh at a flirting scene from The 40-Year-Old Virgin during one of sociologist Jooyoung Lee's lectures (photo by Geoffrey Vendeville)
In another lecture, the class discussed American sociologist Laud Humphreys' study from the 1970s on homosexuality, "Tearoom Trade: Impersonal Sex in Public Places." Though considered groundbreaking for challenging stereotypes of gay men, the study is used as a prime example of unethical research because Humphreys obtained the information under false pretenses.
At the end of the course, the syllabus circles back to "#MeToo and the politics of sexual harassment." Lee focuses on people who he says have mostly been left out of the conversation so far: people of colour and sex workers.
Although the course is timely, the inspiration for it had nothing to do with the Time's Up movement. It came from Lee's experience dating online on OkCupid. He tried the dating site after he moved to Toronto from Philadelphia, which is where he completed a postdoctoral fellowship after getting his BA and PhD from Berkeley and UCLA. Within three weeks he had found his match – and future wife.
Through talking to students, Lee has found much has changed in the world of dating and relationships since he was single. In some areas, his students are the experts. Last week, they schooled him on the meaning of the term, "Ting," which they defined as a casual relationship with a sexual partner.
Another reason Lee wanted to teach the course was to show a more positive side of sociological research, demonstrating how one can do research on lighter subjects like flirting. When browsing academic journals, Lee says one gets the impression that sociologists only study inequality and suffering. "These are very important topics," he says, "but I feel they don't cover the spectrum of the human experience and the social world."
The students have proposed independent studies ranging from a study of "Netflix and chill," a modern euphemism for hooking up, and of curating selfies as a way to make yourself more attractive. 
The goal of the course is for students to develop an understanding of qualitative methods, but Lee hopes his class – particularly the male students – learn more than that. 
"I also hope that they walk out of the class armed with a critical understanding of what many women go through on a daily basis.  I hope they understand the challenges women in particular face navigating this time in their life when they're trying to date, explore their own sexuality and meet a potential partner."