U of T's Noreen Ahmed-Ullah helps a student to craft a community-focused news story (photo by Romi Levine)
After moving to Toronto from Libya four years ago, Husien Mohamed and his wife Rabia Alsabaie were surprised to hear about the shootings and stabbings taking place in their new neighbourhood – Regent Park.
"We are really concerned about some of the crimes here," says Mohamed.
So when the couple heard about a journalism and creative non-fiction writing course offered close by, they thought it would be a great way to brush up on their writing skills and to help them speak up in their community.
The free, six-week course, which concluded last week, was taught by the University of Toronto's Sharon English, director of the writing and rhetoric program at Innis College in the Faculty of Arts & Science, and Noreen Ahmed-Ullah, an associate editor at U of T News, and formerly a reporter with the Chicago Tribune.
Students packed into the Toronto Centre for Community Learning & Development in the TD Centre of Learning – where U of T has been a long-time partner – to learn how to craft stories, conduct interviews, and build a narrative around a particular issue they were interested in covering.
"As residents of that community, they're becoming much more informed of the kind of stuff happening around them," says Ahmed-Ullah. "They can start exploring the idea of how to get their story out there."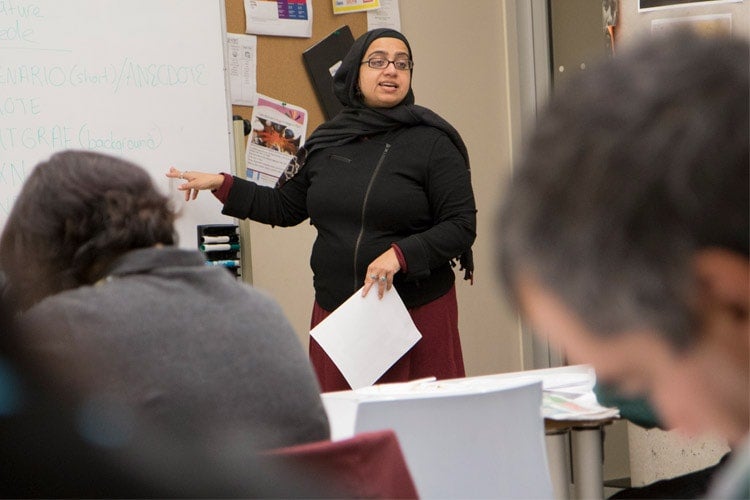 Noreen Ahmed-Ullah teaches students how to structure and craft a news story (photo by Romi Levine)
The students serve as a microcosm for Toronto, representing a broad range of cultural backgrounds, ages and experiences. Through taking the course, not only were they able to network with writing and journalism experts, but they also had the chance to meet fellow community members.
"This is a place where people come together and have the kind of interactions that actually help them recognize that they have more in common than they may have thought," says Associate Professor Shauna Brail, presidential adviser on urban engagement and director of the urban studies program.
For Mike Bartlett, the course helped him uncover what he says is a controversy in his condo building around the choosing of new carpets in common areas. It's a story of secret ballots and very strong opinions about colour and design choices, he says – with big potential to become a dramatic news story.
"Quite frankly, this has been a fabulous experience for me," says Bartlett, who is also interested in launching a website for his condo.
Freelance journalist Tari Akpodiete says the course was an opportunity to learn something new. "I've definitely picked up a few tips and tricks," she says.  
The course is one of many partnerships between U of T and Regent Park organizations, says Brail.
"There are so many different touch points amongst student groups and other faculties in terms of relationships and interactions related to education, music, mentoring, volunteering," she says. "One of the amazing things you learn about Regent Park is that the Learning Centre is one part of this amazingly rich web of resources in the community."