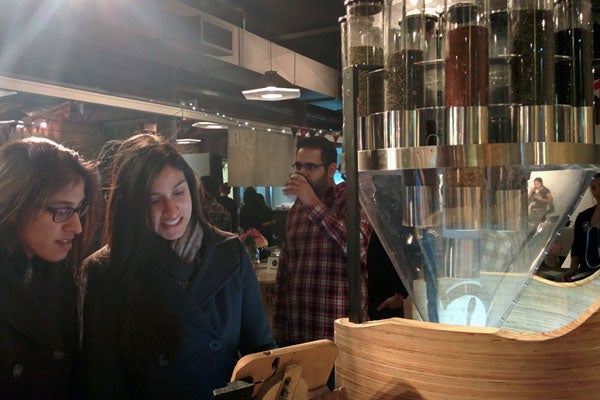 teaBOT: doing business one cup at a time
"Just because you're in a hurry doesn't mean you don't deserve something that's great," says co-founder Brian Lee
Safina Allidina thought she was headed for a career in healthcare management, but a cup of tea changed her mind.
The U of T Mississauga alumna planned to combine her interest in life sciences with her passion for business, but while completing her Masters of Management of Innovation, Allidina got involved with an entrepreneurial project. Now she's putting her skills to work as the business manager for teaBOT, a startup that delivers custom-blended tea to order. (Read more about teaBOT)
teaBOT is the brainchild of U of T aerospace and robotics PhD candidate Rehman Merali and engineer Brian Lee, who were looking for a way to help customers avoid long lineups at Lee's family's teashop. The pair created an automated robot that can deliver a custom-blended cup of tea in less than 30 seconds.
"It's not just a great cup of tea, it's also the experience," says Merali. "You see each ingredient fall down, the water temperature at exactly what you specified, watching the cup of tea made before your eyes."
As the project grew big enough to require business direction, Merali and Lee turned to Allidina (pictured at left with teaBOT). As teaBOT's business manager, she handles business development and marketing initiatives.
The team launched a prototype in 2013 through Rotman's Creative Destruction Lab, and is now part of the JOLT business incubator at the MaRS Discovery District.
Allidina says she loves the diversity of experience that comes with working for a startup. "Things move very quickly, and I can have a large impact," she says. She credits the MMI program with teaching her the skills she uses on the job.
"It really helps to have high-level knowledge, like knowing how to create value propositions and develop business strategies," she says. "MMI also taught me the important technical aspects, like accounting, metrics and market research."
The teaBOT kiosks target high-traffic urban locations where tea lovers need a quick on-the-go cup. Using the company's app, customers can order a customized blend, choosing from 18 loose-leaf teas, and collect their specialized hot beverage in under 30 seconds.
"It's up to the user's imagination to create those blends and share them with their friends and family – and then they get to share some special that you've created for them," says Merali.
Entrepreneur Francis Shen, an alumnus of the University of Toronto Institute for Aerospace Studies, recently established a new entrepreneurial incubation program called UTIAS Start, which backed teaBOT with a grant of $25,000 in February.
"The program was set up to encourage and facilitate UTIAS students to utilize the knowledge they have gained through their education and life experience to create business startups and teaBot is a great example," says Shen. "The leadership team is passionate and resourceful and have a deep understanding of their core market - tea.  
"They are using technologies to revolutionize something quite traditional."
The project has been piloted at the downtown campus, Harry Rosen stores and at the MaRS Discovery district. In December, the team launched an ecommerce site that lets customers reorder their blends to drink at home. According to Allidina, next on the development list are "tap to pay" capabilities, adjustable water temperature and new locations around university campuses, transit hubs and malls.
"With entrepreneurship, you can get a product to market very quickly," Allidina says. "If you're willing to work really hard on it, you can be very successful. You just need that great idea."
And what's Allidina's favourite teaBOT recipe? A custom blend of masala chai and chocolate mate.
"It's the perfect balance of spices and sweetness, with a nice caffeine boost," she says.