TDSB students tackle problems in transit, zoos and more at U of T
Rotman School of Management hosted event for Toronto elementary and high school students
Elementary and high school students, their teachers and parents came to U of T's Rotman School of Management this week to unveil projects they completed using an innovative problem-solving technique coined by business strategist and former Rotman dean Roger Martin. 
Called integrative thinking, the method is meant to help anyone wade through enigmatic choices by weighing different ideas and coming to a "creative resolution of the tension" between them. 
It may sound complex, but teachers at the Toronto District School Board had apparently no trouble explaining it to students ranging in grades from 2 to 12. Students used integrative-thinking to solve an array of problems. 
Jade Mantadee and her classmates in the combined Grade 4 and 5 class at Fairbanks Public School tackled the question of whether to keep animals in captivity.
"We were trying to see if we could make both sides into one solution so we came up with virtual reality," she said.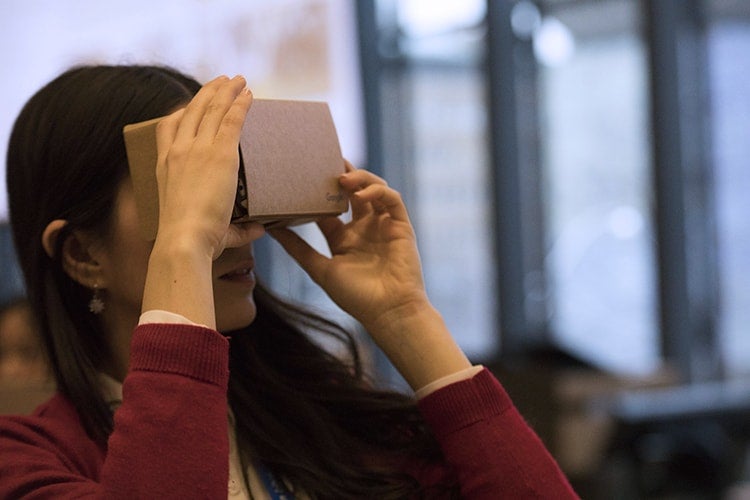 Becky Zaimi, a teacher at Fairbanks Public School, uses a virtual reality headset, which was part of her students' class project, looking at whether there should be zoos (photo by Yana Kaz) 
Their teacher, Becky Zaimi, a graduate of U of T's Ontario Institute for Studies in Education, said her class came up with the idea themselves after they read a collection of persuasive texts by fourth graders entitled Should There Be Zoos? and a book about cyberspace.  
They used a pro/pro chart, an integrative thinking tool, as opposed to the traditional pro/con chart to arrive at a solution. 
Another group, the Grade 1 class at Park Lawn Junior Middle School, analyzed problems of racism and sexism raised in the children's book, Amazing Grace, by Mary Hoffman.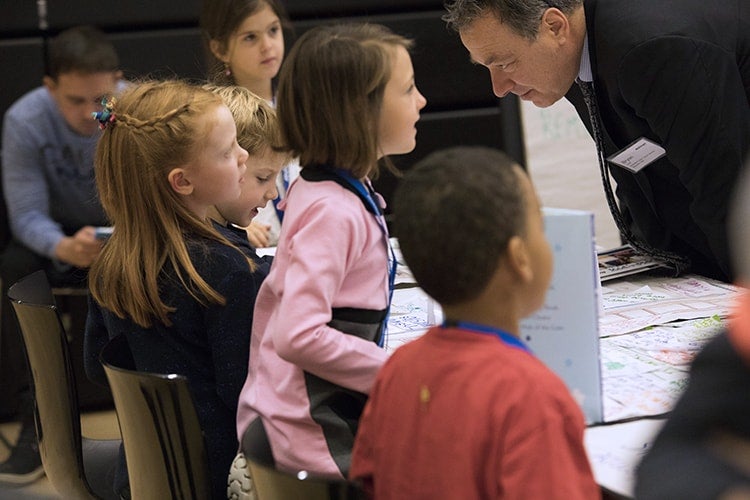 Students at Park Lawn Junior Middle School explain their project to grown-ups. Their project was based on the children's book "Amazing Grace" by Mary Hoffman (photo by Yana Kaz) 
"It's about a girl, Grace, who wants to be Peter Pan in the school play. But the other students say Peter Pan is a boy. He's white, and you're black," said a volunteer and recent OISE grad at the school, Kathryn Bryce. 
After a discussion about racial and gender stereotypes, the class – including Deandray Spencer – concluded that Grace should play Peter Pan anyway.
"It's awesome because they're so young, and yet they were still able to think in a good and productive way," Bryce said.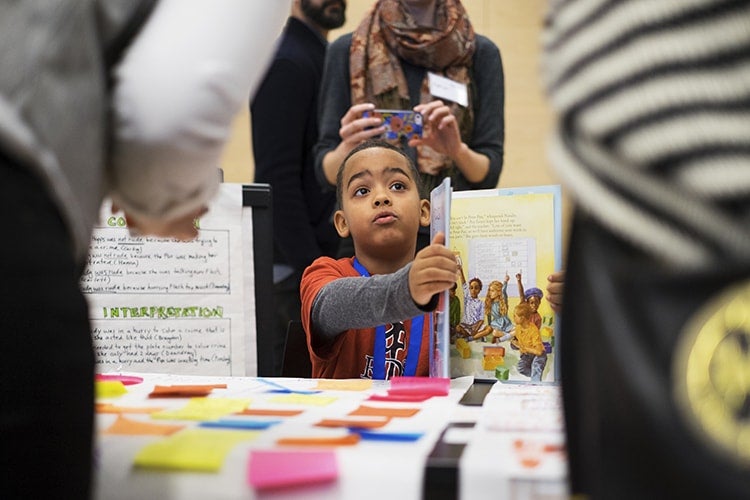 Deandray Spencer presents a class project on the children's book "Amazing Grace" by Mary Hoffman (photo by Geoffrey Vendeville) 
Mitzie Hunter, Ontario's minister of education and a Rotman graduate, came to the event to tell students that integrative thinking has applications outside the classroom. 
Speaking about the pro/pro chart, she said it was useful because it helps her balance the interests of many different stakeholders: teachers, principals, boards and labour unions.
"When I use pro/pro, I try to find elements of common ground where we can work towards an outcome, taking the best ideas from both sides," she said.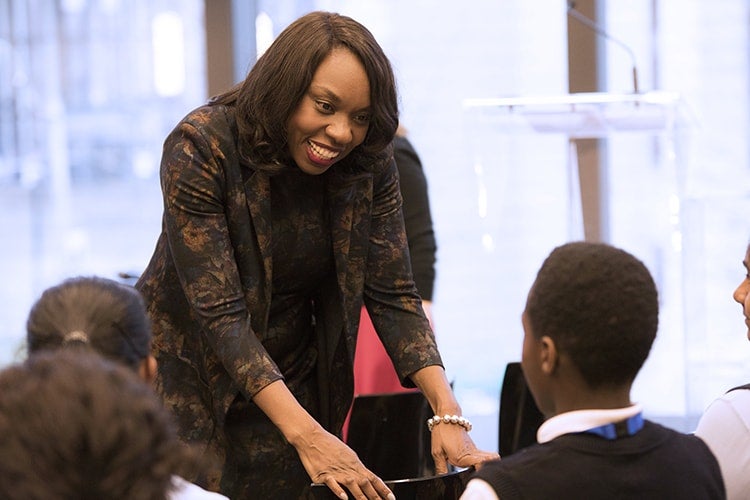 Ontario Education Minister Mitzie Hunter spoke to students at Rotman about using integrative thinking in her work (photo by Yana Kaz)  
For Grade 12 students at John Polanyi Collegiate, integrative thinking helped them take on a challenge posed by Metrolinx.
The students were asked to find the best way to build "employee resource groups" within the transportation agency's workforce as part of a new diversity and inclusive intiative. 
One group suggested organizing a "discovery fair," where employees could set up booths, showcasing their hobbies so they can find co-workers with similar interests.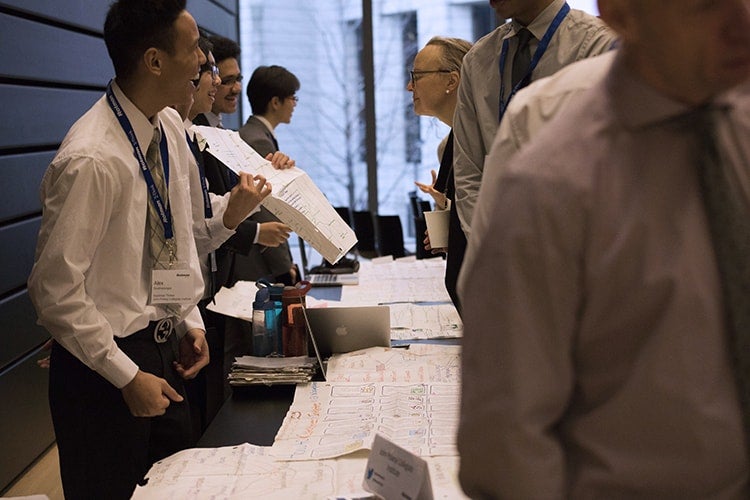 The Grade 12 business leadership class at John Polanyi Collegiate brainstormed ideas for building "employee resource groups" at Metrolinx (photo by Yana Kaz) 
A first-year Rotman commerce student and former intern at Metrolinx, Kate Azizova, helped arrange the partnership.
She had once learned about integrative thinking in Rotman's business leadership class. Martin is now the academic director of Rotman's Martin Prosperity Institute.
"This class is very different from any other you take in high school," she told U of T News. "There are no tests. Everything is based on whether you choose to speak up. 
"The biggest thing I learned was to take initiative."
UTC